I have a 7 week old puppy, can I give him garlic to get rid of his worms? I can not afford the vet bill right now
By Tbaby from Detroit, MI
Ad
---
By green living 5 2 08/07/20100 people found this helpful
I had always heard that garlic was good for your pet, after loosing my chocolate Cocker Spaniel to unknown reasons.
I read that garlic, grapes, nuts and apples, especially the seeds were deadly to a dog, don't know if it is true, but I was guilty of giving my dog grapes and an apple now and then to eat. They said that grapes would cause kidney failure.

I use Diatomaceous Earth to worm my little Cocker spaniel, Daisy. Diatomaceous Earth can be used by humans, all animals, plants and insects, very inexpensive for the amount you get.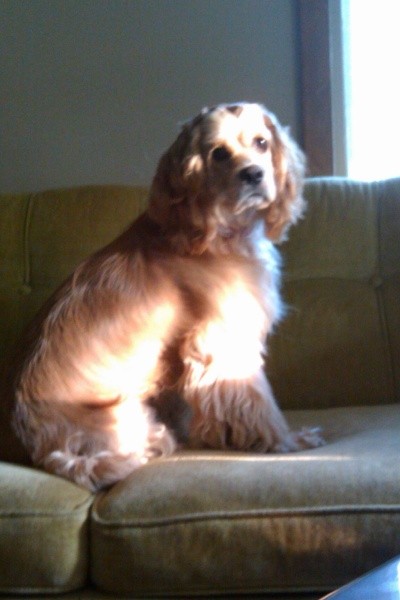 By Frances Adams 11 557 08/07/20100 people found this helpful
You can try some of the over the counter wormers, and give it according to label directions. Make sure it is safe for the pups age and weight before buying.
By Sherri 10 552 08/10/20100 people found this helpful
Hello, I have worked for a Veterinarian for over 27 years and the answer is no. Please take a stool sample to your Vet and have them check for worms and which kind they are. You Vet can treat them with medication once he/she finds out which type of worms they are. There is no home remedy to get rid of worms, it is an old wives tale. Good luck.
By Danialle 3 248 08/10/20100 people found this helpful
Please see your Vet. I don't mean to sound nasty or cruel, but if you can't afford the vet bills, you shouldn't have gotten a animal that will need vet care just as a baby needs Dr's. care.
By Virginia G. 9 12 08/10/20100 people found this helpful
I have used over the counter meds to worm my dogs with lots of success. Also you can buy worming medicine online at various pet stores. You do not need to visit a vet to buy the meds for worming.
08/10/20100 people found this helpful
Garlic is deadly to dogs and cats! Actually, anything in the allium family is and, besides a few other possible problems that can occur, it causes anemia! Please just take a fresh stool sample to your vets office and they will let you know what you need to do for worming and you do not have to pay for a vet visit doing that just the testing for the stool sample. Better safe than sorry because there are different kinds of worms and each need different medications and dosages depending on the dogs weight!
Archives
Thrifty Fun has been around so long that many of our pages have been reset several times. Archives are older versions of the page and the comments that were provided then.
I have a 9 week old boxer that has worms and I heard that garlic is good for getting rid of worms. How much do I use? Can I use garlic powder or does it need to be cloves of garlic?
Laila from Waxahachie, TX
---
RE: Does Garlic Help Dog With Worms
Actually, some say it is bad for dogs, and others say it helps with fleas, worms, general health. I know several people who sprinkle garlic powder in their dog's food for fleas/healthy coat. When I did this for my dog, it gave her dandruff. Here are some sites that talk about this in more depth:
Hope this helps! (04/29/2008)
By superwoman
RE: Does Garlic Help Dog With Worms
Garlic at one time was thought to be good for dogs, but more evidence is coming to light every day. Garlic can be fatal to dogs. The deadly toxic can build up in the dogs system, eventually leading to death. Look at it this way, is your dog's life worth gambling with? How important is your dog to you? Your dog's life is in your hands. Be informed of all the facts before rolling that dice. (04/29/2008)
By Chicklet
RE: Does Garlic Help Dog With Worms
I'm not sure about garlic with dogs. I've never heard of that one. I have heard of giving dogs sardines for worms (I believe heart worms). We always gave my dogs, when I was growing up a can of sardines (keep in mind that these were all big dogs). (04/29/2008)
By Cathy
RE: Does Garlic Help Dog With Worms
Your puppy should be checked out by a vet anyway, so he or she will be able to treat the worms. (04/29/2008)
By Maryeileen
RE: Does Garlic Help Dog With Worms
You should take your dog to a vet soon. Worms can be deadly for puppies. I took my cat to the vet soon after we got him and it only cost around $20.00. (04/29/2008)
By crazyliblady
RE: Does Garlic Help Dog With Worms
Both garlic and onion are poisonous to dogs. When you take the puppy for vaccines, should be getting the 2nd set soon (9 -10 wks), the vet can give worm medication as well. (04/30/2008)
By dj_pinkey
RE: Does Garlic Help Dog With Worms
Sardines and garlic are for people. Veterinarians are for dogs. Please take your dog to the vet, and have its shots done, a deworming, monthly heartworm preventative Rx, and spay/neuter. Vets don't just want to take your money. I promise. They are in the profession because they genuinely care. Responsible pet ownership is hard to come by these days. (05/13/2008)
By x
RE: Does Garlic Help Dog With Worms
Garlic won't hurt your dog. I've had several dogs over the years all living past 12. I have always used garlic to help deworm, and it works. (09/11/2008)
By tiger3do