I am looking for suggestions on what kind of entertainment for red hatters or some kind of trips for red hatters.
By Carol from MI
Recent Answers

By SweetTreat D.01/05/2014
I live in Michigan, I could do a Red Hat Lady cupcake stand. My Facebook page is SweetTreat Displays. Flushing MI. 810-577-5171. Thanks!

Christine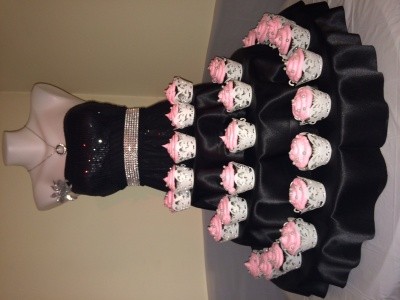 By vritcey10/20/2013
August Southern Belle Garden Tea

September All things Leather (car rally )

October Oktoberfest

November Nightcaps Breakfast

December Ugly Holiday Sweater Xmas Dinner

January Rubics Cube Morning( Dress in all the colors of the cube: red, yellow, blue, orange, green Eat out Breakfast

February Alice's Mad Hatter Tea Party

March 27 Dresses Eat out (dress up in your best classy outfit

April Pictionary Night potluck

May Bling and Glitter - Bling it on! eat out

June Home on the Range Western Theme BBQ Jeans, western attire. Beans, home made bread, etc

July Tiki Torch Luau theme potluck

By Louise B.04/29/2011
Hi, Our Red Hat group does lots of different things, and really, anything that you can think of that the group would like is good. We have had wine and cheese parties at a group member's house, everyone chipped in for the food with some cash. We like to go for lunch at various restaurants; ones that are a little bit special. We have pot luck suppers quite a bit, often in the local Legion lounge, and then have some sort of entertainment. We have had quizzes about the Olympics. At the March party, we all wrote limericks and we had a lot of Irish jokes read.

Jewelery displays and sales (one member's daughter made homemade jewelery). We've gone bowling, gone to fundraisers like lunches for Breast Cancer together. This month we are going to a Hawaiian supper together that is put on by one of our local churches. In the summer, one of the ladies invites the group to overnight at her lake cabin. We have weiner roasts. We invite a Red Hat group from a neighbouring town to come up for an event, and sometimes we go to theirs.

Some groups are quite ambitious with regard to trips; if you had gamblers, you could go to a local casino; any kind of show -- music, play, etc. You could tour a museum or art gallery, take in an art opening, go for tea at a tea house and then shop at some specialty store (like Ten Thousand Villages or something). We have gone bowling. We've attended a wine tasting at a local liquor store, and then gone for coffee at the Dairy Queen! Ha ha. We've had a tour of the greenhouses and nurseries in spring, and then gone for tea at a tea house. One group took a tour of a Military Base! We've taken trips on a local houseboat on the river.

You could go for a craft class at a craft store and then for tea. One of our members almost always brings jokes off the internet to share. People bring trip photos sometimes. If there is something going on in the community, we often go as a group of Red Hatters rather than just go with one friend.

By Joan04/27/2011
According to the write ups I read about the group meetings where I live, they go out for meals, sometimes they take a day trip to another town to meet with groups there, or attend a play or for sight seeing. They do a whole variety of things. It would be a good idea to visit with the members to see what they would be interested in doing. You could also tour museums, etc. There isn't anything that these groups do that doesn't cost money.
Questions
Here are questions related to Red Hat Society Club Ideas.
I am trying to find the connection between the Red Hat Society and the poem "Warning". It's really important. I need to find a few connections. Thanks :)
By mor
---
Most Recent Answer

By Lisa R.05/05/2013
The connection is that our Queen Mother Sue bought a red hat for a friend at a flea market and gave her the hat and a copy of the poem to cheer her up. She continued doing so and before long she had a whole group of friends who would wear purple and their red hats. Now the organisation is worldwide. Any female over the age of 21 can become a member but anyone under 50 must wear lilac and a pink hat until she becomes of age.
Archives
Thrifty Fun has been around so long that many of our pages have been reset several times. Archives are older versions of the page and the feedback that was provided then.
Has anyone else started a Red Hat Society Club for women who are Mentally Challenged in their day program site? I have a group with 6 other members from a Adult Day Treatment Center that I worked with years ago. I think we are all having a great time but we have had only 2 sessions and I am wondering if anyone has started such a group so I can brainstorm with them.
I hope to be doing this for a very long time and just need someone who has Red Hat ideas in terms of in house types of activities. There are 8 of us, 1 Queen Mom and 6 Sister Red hatters. Three have ambulatory issues, one is deaf and two are active women. We have done crafts, games, and teas. We need some more thrifty ideas. Thanks a lot.
Donna from Middletown, NY
---
RE: Red Hat Society Club for Mentally Challenged Women
I have no advice but I wanted to say God bless you for what you do. It takes a special person! (03/01/2009)
By Bethmom1961
RE: Red Hat Society Club for Mentally Challenged Women
Hi, While I'm not associated with your group, a good activity might be to make no-sew fleece blankets. You get two large squares of fleece, cut ~4-5 inch long fringe all around the two pieces, then tie the two squares together with each matching set of fringe. Here are some online sites with instructions: http://www.associatedcontent.com/article/83579/how_to_make_easy_nosew_fleece_blankets.html?cat=24 and http://www.instructables.com/id/No-Sew-Fleece-Blanket/ (this one is a video). Have fun! (03/01/2009)
By Mrs.P
RE: Red Hat Society Club for Mentally Challenged Women
You can get a hold of chapters of the Red Hat Society if you google.com red hat society. I am sure one of the members would be more than happy to to the proper place. Blessings and many red hats to all of you (03/01/2009)
By islandsage
RE: Red Hat Society Club for Mentally Challenged Women
Thank you for what you do. God Bless you and all your special Red Hat Ladies. What fun! (03/02/2009)
By Sherri
RE: Red Hat Society Club for Mentally Challenged Women
Hi, I'm a Red Hatter. So great of you to be doing this! I'd say take any craft, use purple and red materials, and adapt it. Check the National Red Hat Society Board (I don't know the website address) for more ideas. Best wishes! (03/02/2009)
By Nance
I have started a "red hat society" group at my mother's nursing home. Can anyone help me with ideas for entertainment to bring in for the monthly meetings or any type of things to do at the meetings? The ladies are 85-95 years old.
Thanks,
Patty from Bemidji, MN
---
RE: Red Hat Society Meeting Ideas
Hi Patty, What a wonderful, creative idea! How about getting straw hats and "decorating" them with purple and red items? Michael's should have the straw hats. There are "red hat" bandannas you can purchase at Wal-Mart that can be tied around the straw hats for cute decoration. The idea of the poem was to do things you wouldn't have done when you were young. This opens the door to memory making, movies the ladies loved with BIG tubs of popcorn or chocolates. Your visiting is the very best medicine! Thank you for being so special. (01/27/2006)
By Tedebear
RE: Red Hat Society Meeting Ideas
Perhaps your first meeting might be to make the Red Hats. Crafts are always good. In another meeting you may want to make jewelry or boas. Try to think about what another Red Hat Society might do. Mine has gone on a picnic, had a train ride, gone to the movies. and had a lunch at a fancy hotel. Game night is always good (bingo?) or sing along. You don't need someone to play for the sing along, just play old music. Check your local library for music and movies. You might be surprised. (01/27/2006)
By Carol
RE: Red Hat Society Meeting Ideas
I would suggest an elegant tea time. I have heard of the Red Hat Society, but since I do not drive I would have no way of participating. My #1 suggestion is always go to your fave search engine, never a lack of info there. JAN (01/27/2006)
By itsmejan
RE: Red Hat Society Meeting Ideas
This age group presents its own challenges -- limited vision, hearing, and mobility, not to mention arthritis. But on the plus side, these ladies will appreciate almost anything you do.
I've worked with a Red Hat Society in a nursing home, and here are a few things that worked for us:
Aromatherapy. Get some scraps of cotton fabric, cut in 9 inch circles, and place an herb or spice in the circle and tie up with pretty ribbon. Number them, and make a master sheet of which number is which spice. Pass them around and have each person guess which it is. You can use dill, basil, oregano, cinnamon, ginger --whatever!
Recite a favorite poem. Of course, you'll want to have some ladies "planted" who can start the ball rolling. It's surprising how much the ladies will remember.
Read a story from Good Old Days or Reminisce Magazine, and talk about the memories it evokes.
Old boyfriends! This one was a winner with our group. Start the ball rolling by telling a story about your dating years, then let them take it away. Maybe talk about getting flowers for the first time, and bring a silk rose or small corsage for each lady.
Kitchen band. Give the ladies spoons, washboard, kazoos, anything that makes noise. Bring in a keyboard and set it for a nice rhythm, then play along.
The ideas you've gotten so far are also good. One thing we learned though -- many residents have trouble swallowing, etc. So the activities department of the nursing home will probably want to provide any refreshments.
Keep it VERY simple, do the activity slowly, and avoid competition. This is very different from how you might do things in a younger group.
Bless you for your kindness to these ladies, and good luck with the group. (01/27/2006)
By Patti
RE: Red Hat Society Meeting Ideas
No matter how old my gran got she just loved fashion. How about putting on a fashion parade with a difference, have some girls model fashions from the 30s, 40s or 50s and play appropriate music. That should bring back some memories. Charity stores are great resources for clothing or someone might lend clothes if you explain what it's for, especially if you're advertising their store. (01/28/2006)
By jojo
RE: Red Hat Society Meeting Ideas
A local community theater group, school choir, or church choir would probably be willing to perform for the ladies for free -- and possibly have a singalong session at the end! (01/28/2006)
By Becki in Indiana
RE: Red Hat Society Meeting Ideas
I worked at a garden center/nursery. The Red Hat Society came to visit us at Christmas when we had our special displays (the best in town! and the ladies loved it!). Our garden center always provided free mulled apple cider for the clientele during the holiday season, but for this special trip other beverages and dainty Christmas cookies were also served. Check with management if they will do that. An early spring outing would be great to a place like this as the plants are already growing & many blooming. It really lifts your spirits!
I don't know if your ladies are up to outings. If not, see what you can do to arrange forced bulb displays and info nights this spring. Check with your local garden centre. (Bulbs come complete with fragrance!) or a caroling event at Christmas (many church groups will come in to carol, or try girl guides or boy scouts). Have fun! (01/28/2006)
RE: Red Hat Society Meeting Ideas
I congratulate you on a wonderful idea! My grandmother is 85, and still keeps up on fashion and beauty regiments. Check ahead of time for allergies, but think of a beauty makeover, or just a spa day with manicures, pedicures, facials and such. See if a Mary Kay representative will sponsor (without pressuring sales, of course) Having teas or elegant lunches are great, and you don't have to spend much (you can create it there at the home if needed.) They are not called "ladies" for nothing!
A lot of them also take trips to see the price is right, very popular. (01/29/2006)
By camo_angels
RE: Red Hat Society Meeting Ideas
Maybe you could arrange for a small, local "Red Hat"group to come to the nursing home one day, all wearing their finery, and having a kind of style show.
Red Hat groups usually go out to lunch, so maybe you could arrange for a quest group to have tea or even be able to buy and have lunch at the nursing home.
I think you should put some of the responsibility for meeting ideas on the member themselves. Having a different one in charge each month for an idea, and then of course you can help carry it out, if help is needed.
How about getting members of other ladies families to help.
Maybe taking picture of each one and putting an enlarged copy on ther door.
Try to get the activity director of the nursing home involved, so if you are not there, the meeting will go on. (01/29/2006)
By WIsgal
RE: Red Hat Society Meeting Ideas
How about crafts, knitting or crocheting and then they can make fashion show/parade of what they made. Or themed parties such as disco night /day. This works great! My mother has done this kind of party with seniors and they loved it. Good luck (01/29/2006)
By patg
RE: Red Hat Society Meeting Ideas
Hi, my girlfriend and I just turned 50 and had a Rederation Birthday Party. We had an inspirational speaker come and tell stories. She was really great. Good luck. (01/29/2006)
By Lady Gail
RE: Red Hat Society Meeting Ideas
My group the Red Hot Tamales ( from Springfield IL )started a Kitchen Band!! We go to nursing homes! They love it! They really like the 40's songs also! (03/11/2006)
By Queen MumChar
RE: Red Hat Society Meeting Ideas
We too adopted an assisted living home. Our first visit we took 41 red hats that we decorated and tried to auction them off with play money. Our 2nd visit was a tea and one visit was helping them pick out red hat names, Our best visit was my chapter gals playing the kazoos and we taught them the red hat words to three blind mice. It was so much fun. (10/20/2007)
By Queen Honey Bee Tampa FL
RE: Red Hat Society Meeting Ideas
Hi, I am brand new to this website and noted your great idea about going to Nursing homes. I am the author of a book called Hot Kitchen and Home Collectibles of the 30s, 40s, 50s.(Collectorbooks.com). My book is loved by mom's generation and yours too. If you adored going down the aisles of the old dime store you will have a ball looking through my book. Perhaps you could have a discussion group using my book to stimulate pleasant memories. For those of you in Connecticut or neighboring states, Id even come to a group. When you get done with this book, look for my sequel coming out this Fall on Hot Cottage Collectibles for Vintage Style Homes. Ill be real honest with you, Im so excited about your idea about visiting nursing homes that I just had to share my idea. Many libraries have my book. I would be so gratified to hear back from any of you who actually bring this book into a nursing home, this makes me feel so good. Please keep me posted. And I am glad to have found this site. Dianne (03/20/2008)
By ZweigCD
RE: Red Hat Society Meeting Ideas
Hi! I'm just trying to spread the word that http://www.RedHatNameBadges.com is giving free name badges to Queens of Red Hat chapters. D (11/03/2008)
By Dee
I am a new Red Hat Lady this year (turned 50 years old) and looking for Red Hat crafts to make for my Red Hat friends. Ideas for gifts and party favors holidays and birthdays. I appreciate any assistance. Thank you in advance. Sandy from Stewartstown, PA
RE: Red Hat Gift Ideas
My mother is a pink hat and she takes old hats that she had and cheap hats and they have a red hat decorating party were each red hat gets to design her own and she also set up a little thing were they all have a different name and they made there own special name tags and put it on like plastic name badge's for the hospital and they all had a ball! (12/08/2008)
By frazia
RE: Red Hat Gift Ideas
Welcome to the "Sisterhood"! Oh, there are so many things. There are Red Hat fabrics you can make tissue holders to go in purses, you can crochet tiny hats as earrings, pins, pin-cushions. If you rubber stamp, you can get tumbled marble square tiles at Lowe's or Home Depot, stamp them using an indelible ink, and mark them with permanent markers, then put felt dots on the bottom corners and give them as absorbent coasters. Our Queen taught us to make pillbox hats out of bleach bottle plastic, covered with padding and fabrics/lace! Any craft, done in red and purple! There's SO much! Go on a Red Hat website for your state or nationally and find more ideas. Have fun! (12/09/2008)
By Nance
RE: Red Hat Gift Ideas
I think it would be fun to make hat bands for one another, based on the other person's personality. Draw names from a hat, and let the ladies know that the bigger the better! I can see the feather plumes, and birds of paradise now! (12/12/2008)
By Dedeswrkshop
About a month ago, I asked for some ideas for using in a Red Hat Group with mentally challenged women. Thanks for your ideas. In case anyone wants to start one, here are some things we have done:
Pinning ceremony with homemade pins.
Boa presentation.
Decorated pin boxes.
Made hat shaped cookies.
Played tea time bingo.
Made dog toys for local pet rescue group.

We will be making hats, and totes, and photo albums with each group member.
Every meeting we have a dessert party with decorations and beverages along with goody bags. Everyone is having fun, especially me.
Thanks for saying "just do crafts that incorporate purple and red" (I was making something hard that was common sense) and making knotted blankets (we will probably make knotted pillows for stuffing).
They are the ones that are special human beings who basically see good fun and appreciation for whatever we are doing.
I hope someone else will start such a group. It is a highlight in my life. Thanks.
By Donna
---
RE: Red Hat Society Club Ideas
This spring you could plant all flavors of scented geraniums in pots. They come in all scents and are not that expensive. Not to be mistaken for regular geraniums, these are herbs. They come in lemon, apricot, orange, rose, lime, and many other scents. The ladies would undoubtedly find them interesting and could take one home with them. They smell terrific! (01/30/2011)
By NellieMary
Answer This Question
Add your voice to the conversation. Click here to answer this question.