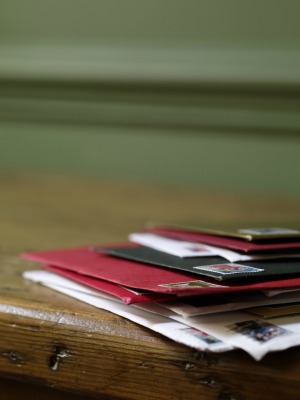 Questions
Here are questions related to Donating Old Greeting Cards.
Does anyone know where I can donate used greeting cards?
By Jaclyn T.
---
Most Recent Answer

By Marlene04/08/2013
Youe local Senior Center would welcome them.
Where do I donate greeting cards?
By B Turner
I have accumulated quite a lot of assorted greeting cards (birthday, get well, etc.) that I can't use, but surely someone can use them. Where can I send them by 3rd of 4th class mail? Thanks.
Anne
---
Most Recent Answer

By hopeful01/21/2014
You can take them to a Retirement Center in your hometown. They will either give them to the residents there, or sell them in their little (recycle) gift shop if they have one. You could probably also give them to a women's shelter, or a church for their missionary program. Some churches have a room where they stock shelves with donated items for their missionaries.

You could also send them to "Samaritan's Purse." They would find a good use for them.
I live in Twickenham TW2 7BS, UK. I am looking for a place to donate used greeting cards. Any suggestions?
By William
---
Best Answer

By Louise B.01/13/2014
Day cares, children's clubs, and schools sometimes can use them for arts and crafts.
I have several cartons of brand new notecards I received as samples from my factory. They are mostly full boxes, still shrinkwrapped. I would like to see them go to good use. I live in Hingham, Massachusetts on the south shore of Boston. Suggestions?
By George
---
Most Recent Answer

By Linda12/03/2013
The Red Cross sends Christmas cards to soldiers - maybe they take ALL types of greeting cards. Try to find a local Red Cross or Google where to send them.
I am going through my cards new and used ones and want to know if I need to just send the fronts of them or all of the card? I also need to have an address to send them to. Thank you.
By Carolyn from Edgar, NE
---
Most Recent Answer

By Casey Eckert01/18/2012
I am an environmental educator and would love to have your cards for the workshops I teach to kids, from preschool to high school. I can use the entire card, including the saying inside, which we use for multiple purposes. Also, I can really use everyday cards such as birthday, anniversary, get-well, etc. If you'd like to help, please send your cards to: Earth Inspired Crafts, P. O. Box 1981, Allen, TX 75013-1981. Thanks so much!
I have a large box of assorted greeting cards and would like to donate them. Could you give me an address to send them too?
By Ginny from Port Townsend, WA
---
Most Recent Answer

By Ginny [1]05/03/2010
Thank you all for your very good suggestions. I have several places I can go to now.
Ginny
Solutions: Donating Old Greeting Cards
Do you have knowledge about this guide topic? Feel free to share a solution!