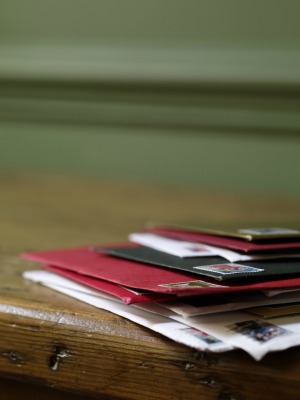 Certain charities, schools, and other organizations collect used greeting cards for fundraising activities and crafts. This is a guide about donating old greeting cards.
Ad
---
Solutions: Donating Old Greeting Cards
Read and rate the best solutions below by giving them a "thumbs up".
This is a tip to not only help sick children learn entrepreneurship, but a chance to teach your own children and grandchildren the gift of sharing and caring, particularly here at Christmas time.
St. Jude's Ranch for Children has a Recycled Card Program where the children takes used cards and make new ones; which they then sell on the St. Jude's Ranch website.
The rewards are great. You get satisfaction in knowing the cards are used to help sick children, plus it helps keep your storage area uncluttered. The sick children get satisfaction in taking an old, used card and making it into a brand new one; plus they receive money for their 'work' and they are taught entrepreneurship skills.
All it costs you is the price of mailing. Please consider this possibility when looking for something to entertain and teach your children during this busy Christmas season.
At this time, they are in particular need of Birthday and Thank You cards. Also, you can buy these 'refurbished' cards through their website.
The ladies in my Bible Study group sends many, many cards each year and split the mailing costs. This system works great for my group.
Their website is: Recycled Card Program
By Norma from Parrott, GA
I found a way to help my school, recycle, and make a child smile. I received a box full of old Christmas cards. Since most of them had been written on, I decided to fold them in half and glue them down. I passed them on to the librarian at the school where I work. Since they are in different sizes, the kids love them from kindergarten to 5th grade. I can also do this with old greeting cards for other holidays.
By Jetruth from Waterloo, IA
Give a "thumbs up" to the solution that worked the best! Do you have a better solution? Click here to share it!
Questions
Here are questions related to Donating Old Greeting Cards.
I live in Twickenham TW2 7BS, UK. I am looking for a place to donate used greeting cards. Any suggestions?
By William
Ad
---
---
Best Answer

By Louise B. [6]01/13/2014
Day cares, children's clubs, and schools sometimes can use them for arts and crafts.
Does anyone know where I can donate used greeting cards?
By Jaclyn T.
Ad
---
---
Most Recent Answer

By Marlene [20]04/08/2013
Youe local Senior Center would welcome them.
I have a large box of assorted greeting cards and would like to donate them. Could you give me an address to send them too?
By Ginny from Port Townsend, WA
---
Most Recent Answer

By Ginny [1]05/03/2010
Thank you all for your very good suggestions. I have several places I can go to now.
Ginny
I am going through my cards new and used ones and want to know if I need to just send the fronts of them or all of the card? I also need to have an address to send them to. Thank you.
Where can I take my used Christmas cards locally in the London NW3 area?
By Michael W
---
Most Recent Answer
By Sandi/Poor But Proud [446]01/04/2015
https://stjudesranch.org/recycled-card-program-now-open-all-year-round/

They just ask for non Hallmark, American Greeting or Disney. It's 5 by 7 or smaller, fronts only with no markings on the back.
Hope that helps.
PBP
Do I donate only front of card? The inside messages are personal to me.
By Marilyn
---
Most Recent Answer

By Mary Lou [14]04/24/2014
I always only donate the front of cards. But if there is a letter or message on the inside of the front that I want to keep, I photocopy or if you have a computer printer with copy feature, use that.
I have accumulated quite a lot of assorted greeting cards (birthday, get well, etc.) that I can't use, but surely someone can use them. Where can I send them by 3rd of 4th class mail? Thanks.
Anne
---
Most Recent Answer

By hopeful [26]01/21/2014
You can take them to a Retirement Center in your hometown. They will either give them to the residents there, or sell them in their little (recycle) gift shop if they have one. You could probably also give them to a women's shelter, or a church for their missionary program. Some churches have a room where they stock shelves with donated items for their missionaries.

You could also send them to "Samaritan's Purse." They would find a good use for them.
I have several cartons of brand new notecards I received as samples from my factory. They are mostly full boxes, still shrinkwrapped. I would like to see them go to good use. I live in Hingham, Massachusetts on the south shore of Boston. Suggestions?
By George
---
Most Recent Answer

By Linda [45]12/03/2013
The Red Cross sends Christmas cards to soldiers - maybe they take ALL types of greeting cards. Try to find a local Red Cross or Google where to send them.
Do you collect only the front part of the card or the entire card with writing?
By Paulette from Silver Spring, MD
Where are these cards to be mailed and how many can be sent? I currently support St. Jude's with a monthly donation and have an accumulation of cards for various occasions.
By Glenna
Where do I donate greeting cards?
By B Turner