Update:
Voting for Nino was not working, for some reason. Because of this, we have decided to repost him as a featured pet.
This is Nino, Spanish for little boy. He is 4 years old and a Yorkie-Poodle. I got Nino when he could fit into the palm of my hand. He was just a few weeks old and the ad in the paper said I was getting a purebred poodle. Whew, were they ever wrong! No curly poodle hair or long poodle ears. What a pleasant surprise my baby turned out to be!
Nino is a total lap dog. He loves to be with his mamma whether it be going for a ride in the car (of course, he has to sit on my lap the entire time), sitting and literally staring at me while we're watching a movie or tv, or refusing to leave my lap while I type on the laptop (even right now...he's helping me write this). Of course, I always fall asleep and wake up with him by my side. He's simply happiest being with his mamma!
I will say that Nino is not only a healthy and loved pet, but one of the happiest dogs I've ever known! I can honestly say I've never seen a dog smile so much. He wears a constant grin and always inspires me to remember how wonderful life is, especially because he's in it :)
By Organicals from Phoenix, AZ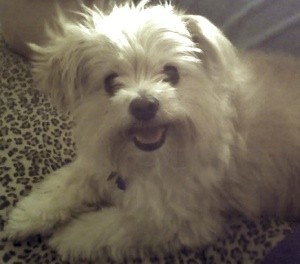 Add your voice! Click below to comment. ThriftyFun is powered by your wisdom!
Niño is a 6 year old Yorkie-Poo. I replied to an ad in a local publication in May of 2005 and visited the litter. He appeared to be the ambitious runt at 3-weeks old and since I always go for the "underdog", he stole my heart.
When he's not vying for my attention, since he is the epitome of a lap (and lick = kisses) dog, he loves to be outdoors running after birds, chasing bushy squirrels, sniffing the shrubs and marking his territory. He also loves going for walks, anywhere will do. I know he's happy when we're walking because he always looks back at me with his little grin and has an extra hop in his step.
He's not much of a barker, unless we're in the house and he hears an unusual sound. He takes a specific stance while he's barking, then listening, then barking, etc. He's definitely guarding our home.
He also tells me when he's hungry or needs to go "outside". He will patiently lick and nudge me until I wake up if it's during the night.
I know he is very attached to me, but it's not unhealthy. He doesn't appear depressed or act out if I have to leave for a weekend, for example. I have to say though, I have had never had such a loving, loyal, sweet, adoring, communicative dog as my "little boy", Niño.
*I took this holiday picture of Niño (2011).
By Nancy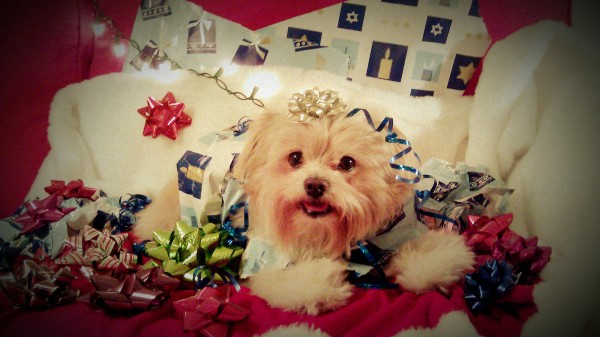 December 27, 2011
0

found this helpful
What an adorable pup and picture!
December 27, 2011
0

found this helpful
He is a cutie!