Soda Can Plant Labels
One of my favorite garden crafts is making homemade plant labels from aluminum cans and wire clothes hangers. Not only are they inexpensive and durable, but these labels are actually attractive and fun to make. They are designed to dangle freely on their supports, so when the wind blows their movement makes a gentle clinking noise, turning your tiny reflective plant labels into a collective army of rabbit repellents.
Materials:
assorted aluminum soda/beer cans
wire clothes hangers
gloves (to protect hands when cutting cans)
old steak knife
scissors
needle-nose pliers
paper punch
ball-point pen
embellishment tools used (from Michaels craft store):
scrapbooking scissors (Fiskars)
3 in 1 corner punch (Fiskars)
flower-shaped decorative brads (Provo Craft)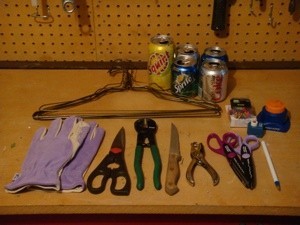 Directions:
Put on your gloves.
Use the tip of your scissors to punch a small hole on the side of each end of the can. If your scissors isn't sharp enough, use a steak knife or screwdriver to get the hole started.
Using your scissors, cut off the top and bottom of the can and discard the ends in your recycling bin. If you need to, trim off any excess sharp edges from the remaining piece of aluminum and finesse it a bit until it lays pretty flat.

Cut individual labels from the remaining piece of aluminum according to the desired size. The shape and style of your labels is highly personal. Cut them into circles, triangles, rectangles, even flowers. To add some decorative flair, use fancy corner punches or try trimming the edges with scrapbooking scissors.
I add color-coded brads to my labels (I found some in the shape of flowers). This helps me organize my plantings and remember what color flower is coming up where. You're only limited by your imagination so have fun with it! Just don't forget to leave room to punch a hole for hanging and space to write down the name of the plant.

To write names of plants on your labels, lay them on top of a notebook or thick stack of newspaper and press down hard with a ball point pen. Make sure to press hard enough so that when the ink wears off, the name stays imprinted in the metal. Create a hole for hanging using a paper punch (or a hammer and nail).
Finally, use a wire cutter or tin snips to cut 7-8 inch long support pieces from wire coat hangers. Make an "S" hook at one end using a needle-nose pliers, hang the label on the hook, and pinch the "S" shut to keep it from falling off. Voila! You've got durable, inexpensive plant labels!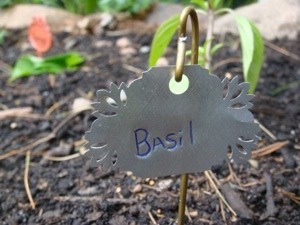 About The Author: Ellen Brown is an environmental writer and photographer and the owner of Sustainable Media, an environmental media company that specializes in helping businesses and organizations promote eco-friendly products and services.
Add your voice! Click below to comment. ThriftyFun is powered by your wisdom!
Add your voice! Click below to comment. ThriftyFun is powered by your wisdom!
Related Content
In This Guide
Categories
Guides
More
Categories