Storing Winter Scarves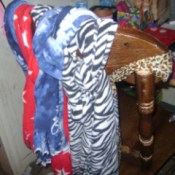 I make lots of scarves each year, really wide ones, out of fleece from Walmart. We really enjoy them a lot. I have found that they decorate the chair really beautifully. This gives our living room a more colorful look. The scarves are ready to untie from the chair the second we are ready to go, since they are right near the front door.
By Robyn from Tri-Cities, TN
Feedback
Post Feedback
Add your voice to the conversation.
Related Guides
Related Posts