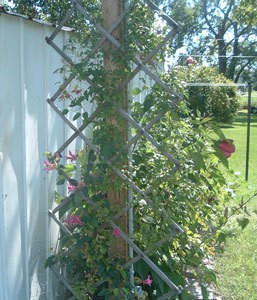 Do you remember the old wooden baby gates? If you see one at a garage sale or an auction, they make an excellent trellis. I have a clematis growing on mine that I started this year.
By Elaine from IA
Ad
---
Feedback Forum
Feedback about this article is posted here. Want to contribute? Click above to post feedback.

By Little Suzy [93]09/18/2007
Very, very cute. I love those ideas for the garden. Clever and smart.

By Kim Churchman [3]09/18/2007
Very pretty, I will watch for those in my area!
Post Feedback
Add your voice to the conversation. Click here to share feedback.