I started getting serious about being frugal when my husband lost his job. I checked out all the money saving books I could find at the library and by far the most helpful was "The Tightwad Gazette I, II, and III" by Amy Daczynzyn. It was written in the 1990's but is still very helpful.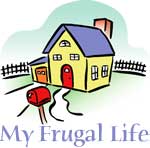 It's packed with lots of ideas on how to save and stretch a dollar.
I also make my own laundry detergent (check the Dugger website, you know that couple with 18 kids and one on the way). I make 10 gallons for under 2 dollars and it works and smells great. Have you priced detergent lately? 2 bucks wouldn't get you even 1 gallon!
Whenever something goes on sale at the supermarket, I get enough to last for a least 12 weeks. I've learned most items goes on sale at least once every 12 weeks. If you buy enough to last that long when on sale, you'll never pay full price again!
When our second car broke down once again, we realized it wasn't worth fixing and struggled to figure out how to afford another. Then it hit me, let's see if we can live without a second car while we save for another. So far two months later, we are doing fine with just one cars with just a little creative scheduling, saving on insurance and gas. We think we'll keep it that way until my husband is again employed.
This has been an adventure for us both and I know we will continue these strategies even after our circumstances improve. We feel we have better control over our money now then we did when we had more of it. Sometimes what seems like a bad thing turns out to be a blessing!
Amy from Rochester, NY
Editor's Note: Here is a link to The Tightwad Gazette on Amazon. You can always check it out at the library as well.
And here is a page on ThrifytFun about making homemade laundry detergent:
Do you have a frugal story to share with the ThriftyFun community? Submit your essay here: http://www.thriftyfun.com/post_myfrugallife.ldml
Comments
December 3, 2009
0

found this helpful
Love those books! I go back and re-read them every so often, just to make sure I'm still doing my best to be as thrifty as possible. :)
Reply
Was this helpful?
Helpful?
Yes
Add your voice! Click below to comment on this post or add your answer to this question. ThriftyFun is powered by your wisdom.
By Amy Dacyczyn
***
***
Learn how to save money and resources with this compilation of three successful volumes packed with sensible advice, hints, recipes, tips, tricks, and strategies.

Click here for more information.
Answers:
Thrifty Book Sale
The Complete Tightwad Gazette in Hardbound can be found on sale at Barnes and Noble for $5.98 in their discount book section. Or, go online, pay $3.99 shipping. This book is a bible for anyone who lives a thrifty lifestyle. Ordinarily this book is $24.95. Check it out!

By Shannon

Editor's Note: It's a good one! (01/20/2005)
The Complete Tightwad Gazette
I have the individual books I, II and III. Is there any new information in this one? Each volume was "the best" from 2 years of her newsletter. Total 6 years of awesome advice. I slip one in my purse when I go to the doctor for waiting time. Thanks, Debby (03/05/2005)
The Complete Tightwad Gazette
You can borrow them from the library too. (03/05/2005)

By Kathy