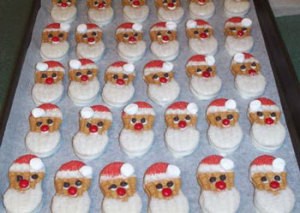 Here's a cute no bake Santa cookie to whip up on an hour's notice. Use Nutter Butter cookies from your local supermarket. Just dip top in (head end) melted white chocolate and sprinkle with red colored sugar. Dot with either a white chocolate morsel or 1/2 of a mini marshmallow for the pom pom. Let cool on parchment paper lined rack.
When that has dried, dip the beard end and if you want, sprinkle with sanding sugar (optional).
For eyes and nose use mini semi sweet morsels and use a drop of melted white chocolate to get them to stick and the same with the nose using a red hot candy or a small red M&M.
By Deb from Williamstown NJ (Originally Published 11/25/2005)
By luv
Ad
---
Feedback Forum
Feedback about this article is posted here. Want to contribute? Click above to post feedback.

By Donna [6]12/12/2012
Cute and fast! Thank You!

By Elizabeth11/04/2012
I Have made these for years for our annual cookie exchange. They always go over good and are fun to make.

By Carleen Seyller (Guest Post)09/22/2008
I love this idea they are so cute.I am going to make them for my great grand children.

By Julie (Guest Post)12/22/2007
I made these for my niece when she was three or four years old. She still asks me to bake them for her now. She is now seventeen years old! Very cute and so easy!

By Paula [14]11/12/2006
This is an older post, but these no bake santa cookies are really cute!

By Mitzi (Guest Post)12/12/2005
LOVED these! Thanks so much for sharing your recipe and for sure your photo. Made them for a party I had and also for a Christmas coffee. They were a HUGE hit ... only trouble is ... people don't want to eat them because they are so dad gum cute. Thanks again! Mitzi

By Vi Johnson [237]12/07/2005
The Nutter Butter cookies are flying off the shelves i'll bet. Great Idea, wish I was that smart. LOL.
GG Vi

By Deb/ Williamstown (Guest Post)12/02/2005
Thanks so much!!

By Linda Howe11/28/2005
The kids have decided to make these for Christmas gifts. Thank you!!!

Love & Prayers,
Linda

By Heather11/28/2005
I have a suggestion, if you don't want to use the red hot maybe you could use mini semi-sweet cherry chip. These are so cute and look so good.

By Annie Rios Hill [12]11/28/2005
Wow good idea sounds yummy...I am glad you won.

By maria [8]11/28/2005
This is just so cute!

By Jennifer, CA (Guest Post)11/28/2005
Great idea! These are so adorable! Thanks for the cookie tip!

By Carol Tewksbury (Guest Post)11/26/2005
These are so cute What a great idea! I'll make them for church to have with coffee after services. Hugs for sharing the idea with everyone!

By tctgrx3 (Guest Post)11/25/2005
Awesome recipe!! great for kids' school holiday parties. Thanks!!

By Stacey Silva [52]11/25/2005
CUTE!!! I love that!

By SL Edens [1]11/25/2005
What a wonderful idea!!! Thanx for sharing this.

By Trish (Guest Post)11/25/2005
These are adorable and so easy to whip together. I will add this recipe to my collection, for sure :D
Post Feedback
Add your voice to the conversation. Click here to share feedback.