My sister-in-law received, as a gift from one of her students, a Tin Man Birdfeeder made of used Tin cans. I would like to have instructions of how to make some.
Thanks,
Laurie from Whitman County
Ad
---
Recent Answers
Here are the recent answer to this question.

By Barb (Guest Post)09/13/2007
Thanks I just wish we could see the feet.

By tammy (Guest Post)06/14/2007
just wondering where the bird feed goes

By BRENDA, EMAIL BREYECTRL@AOL.COM (Guest Post)05/06/2007
I WAS WONDER HOW TO GET THE PATTERN TO MAKE TIN MAN BIRD FEEDER I MADE THE TINMAN TO HANG UP AND I WAS WONDERING IF I TURN IT UP AND CUT HOLES IN IT TO MAKE IT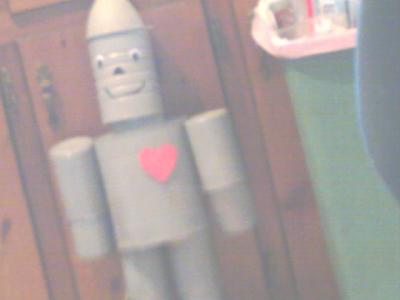 By Reetee Odom04/03/2005
Make Our Tin Man!

SUPPLIES:

- Awl or Ice Pick
- Heavy Wire or Clothes Hanger
- Wire Cutters
- 2 - 1" Wood Screws
- 1 - 1/2" Metal Screw with Nut
- 2 - 1" Moveable Eyes
- 32 oz. Coffee Can
- 13 oz. Coffee Can
- 20 oz. Fruit Pie Filling Can
- 4 - 15 3/4 oz. Vegetable Cans
- 2 - Sardine Cans
- 4 Soft Drink Cans
- Krylon® Silver Spray Paint
- Acrylic Paint - Black, Red
- 6" Funnel

DIRECTIONS:
1. Open tops of each can and remove contents. Drain cola cans. Spray all cans and funnel with silver paint. Spray funnel inside and out. Let dry completely.

2. With an awl or ice pick, punch holes in vegetable cans, each side, 1/2" from top and bottom. Punch holes in the cola cans, each side, 3 1/2" from the bottom. Turn vegetable cans upside down over the cola cans until the first set of holes on the vegetable can meet the holes on the cola can. Run a 3 3/4" piece of wire through both cans; bend ends of wire. You have just made the arms and legs.

3. Turn sardine cans with open side down (feet). Place each leg combo on the backside of a sardine can. Run wood screw from open side of sardine can through bottom of cola can to attach feet to leg.

4. Turn the 32 oz. coffee can (body) upside down and punch a hole in the center bottom. Punch holes on each side, top and bottom, 1/2" from edge. Punch holes in the fruit can (neck) 2 1/2" from the bottom on each side, and one hole in the center of the bottom. Set neck right side up on the body. Bolt together using a screw and nut.

5. Punch holes in the 13 oz. coffee can (head) in the center bottom and on each side 1 1/2" from the open end. Cut a 20" piece of wire, bend one end. Run up through can, leaving bent end inside can. Drop funnel (hat) upside down over wire and let slide down to rest on top of the head. Curl the top of the wire; this will prevent the wire from coming out and will also be your tin man's hanger. Place the head down over the neck until the holes meet. Run a 4 1/2" piece of wire through the holes; bend at both ends.

6. Place legs inside open end of body and attach a leg to each side of the body by running a 7" piece of wire through holes. Bend wires at the end. Arms are attached to the outside of the body with a 13" piece of wire.

7. Glue the eyes approximately 1 1/2" from the top of the head. Paint nose, mouth, and ears. Three 1" crcles (buttons) are painted on body. All are black. A red heart is painted on the left side of the chest.

By Bonnie (Guest Post)02/26/2005
I have seen the tinmen for sale in the window here.
http://www.cubbyholepottery.com/gifts.html


By Rosa (Guest Post)02/01/2005
I too would love the info on making one of these !!!

By Gladys Collins (Guest Post)01/31/2005
I have a friend who makes them, if you could send me your address I will pass it on to her.
ladyshamrock@excite.com

By LINDA01/05/2005
I WOULD LIKE TO HAVE THE PATTERN OR INSTUCTION FOR MAKING THE TIN MAN BIRD FEEDER. THANK YOU
SHADOWL

By Lynn (Guest Post)09/22/2004
Here is a pic I found!! I want one too!
http://www.voy.com/101077/3.html

By Mari (Guest Post)09/22/2004
Go here for MANY, MANY bird feeders including a tin can one.
http://www.agriculture.purdue.edu/fnr/wildlife/PDFfiles/NCR338.pdf
Answer This Question
Add your voice to the conversation. Click here to answer this question.