By guest (Guest Post)
September 17, 2008
0

found this helpful
There are four breeds of "pitbull": American Pitbull Terrier, Bull Nose Terrier, American Staffordshire Terrier and the Staffordshire Bull Terrier.
It's a dark photo and you really only show the face so it's hard to tell. It clearly is NOT a Bull Nose Terrier (totally wrong nose), American Staffordshire Terrier or a Staffordshire Terrier (head too small for either).
It could be a pure American Pit Bull Terrier or a mix of one of the Staffordshire breeds. Hard to tell from your photo.
Why do you need to know so badly? If it's a question of you keeping the puppy, you should have thought about what you were doing and learned about the dog before taking a puppy into your home.
If you're worried about a "pit bull" don't believe the PR that's spouted out about them. They are very loyal, SUPER people loving and determined to please dogs. It's not the breed; it's the deed.
By guest (Guest Post)
September 17, 2008
0

found this helpful
You generally cannot tell by a picture, you may have to talk to a professional breeder or a licensed veterinarian. Either way, he's super cute!
By guest (Guest Post)
September 18, 2008
0

found this helpful
The people you got him from should have any documents proving his authenticity.
By guest (Guest Post)
October 19, 2008
0

found this helpful
That's a pit alright, just look at that little block head and the way the ears rest. Looks like a little one though.
February 11, 2010
0

found this helpful
Your dog kind of looks like the dog my uncle has. His dog is a mixture of different breeds of pits. The mother has 3 different bloodlines and the father is a red nose. So the dog came out looking like a mutt. (Not calling yours a mutt.) Your dog does have pit features, but you can tell that it has another blood line in it. If you were to mate your dog you would have to find a strong blood line to keep the puppies in that strong line of pit bull breeds. My dog is a pit with 2 different bloodlines, but she is a full pit.
May 12, 2010
0

found this helpful
I just got a puppy from a friend. He said they were pitbulls. Tell me what you think? Thanks.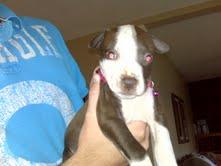 July 21, 2010
0

found this helpful
I am going to say a American Pit Bull Terrier, because she's all one color light brown but for her chest and head most 'APBT' are light brown when the puppie is about 1 year. You can really tell if it a 'APBT' or mix shell fill out really well, but the height is whats going to tell you. If her height is about to your knees (the top of her head). I would say she a mix of Staffordshire, but if taller, I would say full. I say this, because Staffordshire's are ugly, very short for female or male 'APBT' get a big head and an almost boxer looking body. Sorry, I couldn't be more help.
December 8, 2010
0

found this helpful
This is what a full blooded pitbull looks like.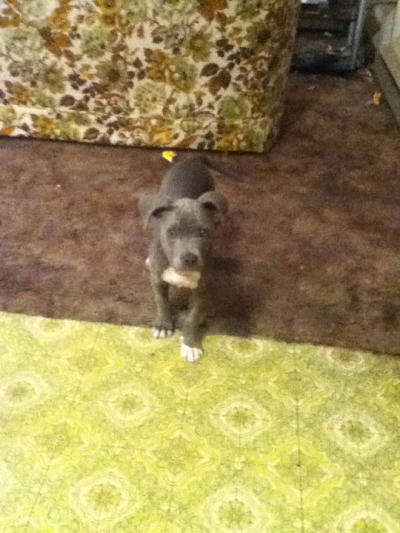 May 9, 2013
0

found this helpful
Yes. That blue thats shown in the comments isn't. By AKC and UKC standards a full blooded APBT has to have a black nose, medium length tail and high set ears. Also a real pitbull doesn't have large feet like most people think. They have smaller terrier feet while all their cousin breeds have larger feet. Recognized pits come in every color except full white. I attached a picture for you to compare.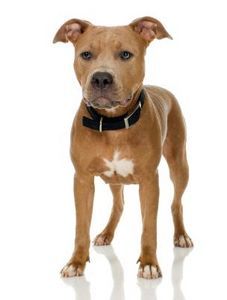 October 16, 2013
0

found this helpful
The poster asked a while ago. I'd love to see an updated pic. But honestly there is no way to tell. That lil buckskin pup looks like a pure bred possibly but no one will be able to tell from a picture. A dog can look like a pure breed but be mixed and in some cases a pure bred dog can look questionable when not bred to standards.
The same goes for the dogs in the pics. No way to give a completely accurate answer.
A lot of the comments don't make sense either. Many dogs come from multiple lines and are not mutts nor do they look like mutts. Since red nose is a color it's also not going to tell us the bloodlines of the sire to the dog that is said to "look like a mutt".
There isn't a Bull Nose Terrier breed at all. One needs to put forth proof of such a breed. That's an entirely made up breed name.
Pit Bull is short for American Pit Bull Terrier. Some people also will call an AmStaff a Pit Bull they are genetically the same breed but they've greatly diverged. I've heard people say SBT are Pit Bulls too but I've never heard an actual SBT breeder call their own dogs Pits that I can remember. It's alwats Staffy or Staffy Bull. One lady even told me I used to have Pits for over 27yrs till I got my first Staffy.
For the most recent comment by Joshua that is very untrue in regards to black nose. For one even if it were true a show dog must have black nose to be show quality a mismark doesn't mean a dog isn't recognized as pure bred. It's hard to breed them out when recessive. However that isn't true in the least. There are numerous blue AKC champs & at least 1 red nose AKC champ. Red nose is what most AKC breeders originally sought to breed away from and majority of foundation dogs were black nose.
AKC standard does call for nose definitely black BUT not being black is only a fault. Not a disqualification. The same with more than 80% white, ect.
There are many red nose or blue nose UKC champions. The standard clearly states the nose may be ANY color.
I had a pure bred APBT female with big feet, she mostly grew into them as most do. Some have really big feet as pups & grow into them & others unfortunately never do.
BTW I have entirely WHITE male champion APBT. You can't control how much white a dog is born with once you start dealing with high white you can easily produce solid white dogs. As his brother is also solid white.