Using a Chimney Balloon (Chimney Pillow)
Q: Has anyone used a Chimney Balloon (Chimney Pillow) to stop a draft from a fireplace? My brick fireplace is not being used - only on special occasions - and I want to prevent the outside (cooler) air from entering home when the flue is closed.
Mrsjean from USA
A: Mrsjean,
Chimney balloons (pillows) are a simple, yet effective, way to stop heat (or cool AC air) from going up your chimney. Fireplace flues are made from metal, and over time repeated heating and cooling can cause the metal to warp or break, creating a channel for hot or cold air loss. First manufactured in England, inflatable chimney balloons are designed to fit beneath your fireplace flue during periods of non-use. They are made from several layers of durable plastic and can be removed easily and reused hundreds of times. Should you forget to remove the balloon before making a fire, the balloon will automatically deflate within seconds of coming into contact with heat. Some manufacturers claim that the average household can save over $200 per year in heating bills, and up to $500 if your chimney has a severely warped or missing flue. Chimney balloons can be purchased from online retailers or from fireplace stores for between $40-$80 dollars depending on the size of your fireplace.
Answers: Using a Chimney Balloon (Chimney Pillow)
Read answers for this question below.
I dont know about the black one-size fits all chimney plug type. It seems to me that the clear Chimney Balloon that is made to fit the size of your fireplace flue would be a tighter fit. I bought a clear chimney balloon after seeing a thing in my newspaper about it. I did have to measure the damper opening to know what size to buy, but it did seal very tightly when i installed it. The black version looked way too big for my fireplace.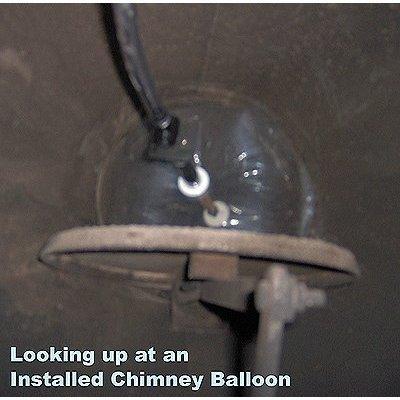 Another product is the Fireplace Plug. This inflatable plug goes below the damper, very quick, easy, and clean. Easy to remove when you want to have a fire. One size fits all too! Available on-line or at select ACE Hardware stores. thanks, mark www.batticdoor.com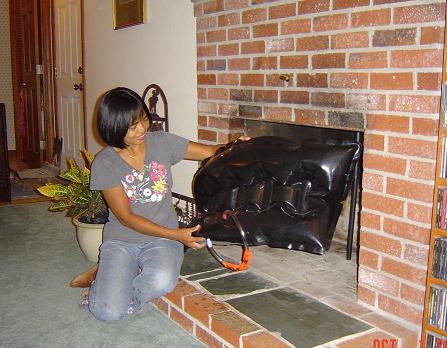 We have 2 fireplaces in our house. One on the main floor opens on 2 opposite sides to the living room and eating area. One in the basement is open on 3 sides. We currently have not very air tight glass doors on them. The house is insulated for electric heat and very air tight. when we have a fire in one of the fireplaces we get smoke back into the house through the one not in use. Would a chimney pillow help to stop the smoke from coming back in? Thank you.
The Fireplace Plug seals the fireplace with an inflatable pillow that is installed below the damper. Quick, clean, and easy to use. Stops your heat and AC from seeping out through the chimney 24/7! Costs about $55.00 - available by mail order from http://www.batticdoor.com or tel. 508.320.9082.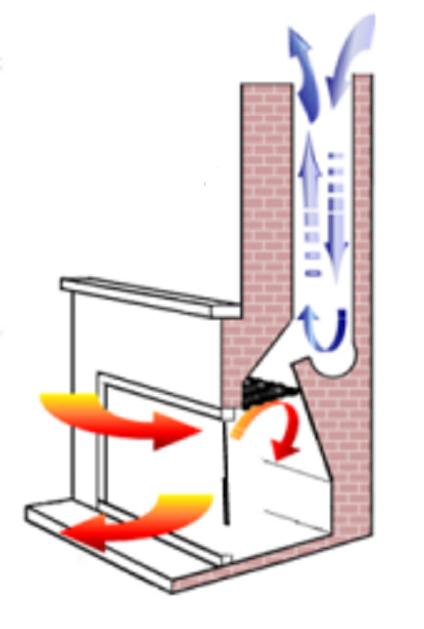 When we moved into an apartment with a smallish, metal fireplace, I immediately sewed a circle of fabric over several layers of an old cutter quilt to make a plug. The damper is so wobbly, it doesn't really close. I sewed an length of cord onto it so I can pull it out easily if ever we want to use it. (Not likely as we live in southern Arizona.)

No money spent; no heat and cooling lost.
My neighbor bought a chimney balloon (chimney plug) online out of some place in wisconsin and told me how it worked. We live in a cookie cutter house neighborhood so I tried one the same size as his. I have had it in since october and it did make a difference. The livingroom isnt cold by the fireplace like it use to be.
I cant see any reason not to try it. According to the website it will melt if you light a fire under it by accident. So you wouldnt fill your home with smoke. But you would be out a $40 Chimney Balloon. It looks like it is an insulator for the damper. What harm can that do?
Think it would be safer for you to get professional help, to many things COULD happen.
Answer This Question
Add your voice to the conversation. Click here to answer this question.
Related Guides
Related Posts