Can't Beat the Paw Prints?
I have 3 large dogs and was so tired of washing up paw prints I decided to join the dogs. I painted my vinyl flooring in my foyer with primer then a coat of white paint. Then I stenciled on the paw prints with black paint. Of course I still have to wipe up the floor but it makes me laugh every time! Can't beat 'em join 'em! I used a latex wall paint and poly sealer.
By Jackie from Middleton WI
Feedback
Read feedback for this post below. Click here to post feedback.

By
09/26/2012
You have an excellent sense of humor. I understand your situation perfectly. Our dogs will wait to have their paws wiped, but dewy mornings always mean muddy paw prints. I love your idea.

By
02/04/2011
I understand completely. I love your idea.

When it is wet, my three dogs sit and wait patiencely outside at the door. They know it is time to get their feet wiped one at a time. I have one who always finds the mud. LOL

By Gawdess (Guest Post)
04/24/2008
I know a lady who puts booties on her dogs when they go outside. LOL.

I primed by bottom kitchen cabinets the other day and let them dry overnight. I thought I had barricaded the kitchen well enough to keep my cats out of there for the night. The next morning my cat seems to have walked through the nearly dry primer, leaving little paw imprints all over my bottom cabinet. Fortunately it was dry so he didnt get any primer on his feet. Still the little prints gave me a good chuckle!

By DEBRADJ. (Guest Post)
04/18/2008
We have a dog also. What we did is put an old towel outside where the dog comes in and we wipe her feet with it. She's now used to the fact and stays right where she's supposed to till her feet get cleaned. When the towel gets dirty, I toss it into the laundry.

By JP (Guest Post)
04/18/2008
I too decided to paint my floor a few years ago when we were remodeling the kitchen. Got tired of the boring plywood floor so I drew a frog coming from under my fridge and my neighbor asked it it was her. So I drew a few more over the remainder of the floor and each represented a neighbor or friend. 4 year old gr.daughter helped colour them in. They are now covered with flooring... too bad as it was funny to see some of the looks I got when people came in. (And all my neighbors are French and in our area Frog is sort of a handle given to the French people.... lol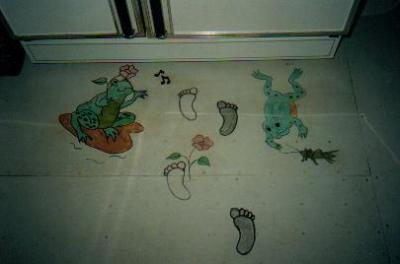 Post Feedback
Add your voice to the conversation.
Related Guides
Related Posts