I was wondering if anyone has the Lee Ward's reversible shell crochet afghan pattern. I would so appreciate having it. I made it about twenty-five years ago for someone and would love to make it for my daughter. She has had five miscarriages and has been blessed with a very special little girl who is due in July. I would just love to make it for her. Thank you so much.
Here's the pattern I am trying to track down:

Lee Wards Creative Crafts Center
Shell Stitch Baby Afghan
Art. No. 06-36662
Finished Size: 36 X 48

I need the pattern or kit for this baby afghan. It was made with the following yarn colors: White, pastel green, pastel yellow, pastel lilac, baby blue, and baby pink.

The pattern was sold at Lee Wards from 1975 till the 1990s. I have eight months and counting down.

Could someone please help me find this?
Thank you,
Kathleen
---
Lee Wards - Shell Stitch Baby Afghan
Why not just wing it? Just use any shell type stitch and just vary the colors. This one is a split shell with dc in between (3 dc 1/2 shell on ends) alternating colors 4-2-2, 4-2-2 with a common border.

There are plenty of shell patterns available, just alternate your colors, using white as a primary and you'll have a one-of-a-kind gift.
(03/28/2005)

By beanygurl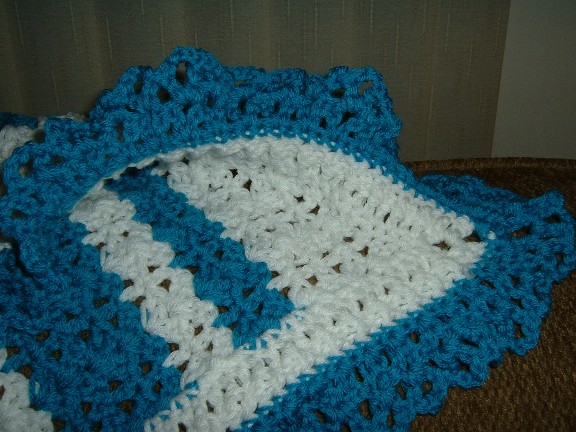 Lee Wards - Shell Stitch Baby Afghan
Since I don't know what the afghan you're looking for looks like I can't be of much help, but I did find a bunch of free baby afghan patterns here:
Maybe one of those are close.
(03/29/2005)

By Peggy
Lee Wards - Shell Stitch Baby Afghan
I had been looking for the Lee Wards reversible shell afghan pattern for about 2 years when I had almost given up hope of finding it when I stumbled across the pattern under a different guise.

I found it here: freepatterns.com You have to scroll down the page a bit, but it's called the "Opposites Attract Table Set" I've examined the pictures that come with the pattern and it looks exactly the same a the original afghan I received as a gift when my daughter was born.
The pattern calls for crochet cotton, but I'm hoping to replicate it in DK and scale it up to afghan size.
Hope this helps others who have been searching for the same pattern as I had. (06/16/2008)

By Diana
Comment
Was this helpful?
Helpful?
Yes