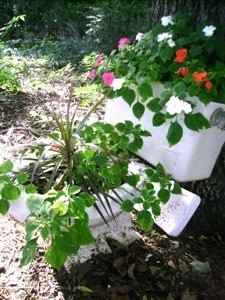 This is a picture of a commode that I use as a planter with lovely impatiens planted in it. I think it's very pretty! The commode was about to be thrown away so my husband got it for free from the literacy council here in town. They had just had some remodeling done and were happy to get it out of their way.
By Kflawson from Bolivar, TN
Ad
---
By mcw 80 1,753 09/29/20090 people found this helpful
I love your toilet planter. My husband and I rent a 2-bedroom apartment, and I know for sure that management would frown on this in front of my apartment.
By Luann D. 5 34 04/04/20130 people found this helpful
Not a fan of toilet planters is putting it mildly, and that goes along with bathtubs, and rubber tires [even those painted white]. How can someone driving by your home and seeing a toilet with plants growing out of it think that is attractive?
Archives
Thrifty Fun has been around so long that many of our pages have been reset several times. Archives are older versions of the page and the comments that were provided then.
I put our old toilet out to plant stuff in this summer (nobody wants it). But I noticed after the 3 days of hard rain the toilet part is half full of water. How can I make sure it drains somehow? The back part drains out of the bottom, but the seat part looks like it could root rot anything I put in there. It's half full of water.
Hardiness Zone: 5b
Lily from South Bend, IN
---
RE: Toilet Planter
That is exactly what I did. With a ceramic bit I drilled into the back bottom of the stool to provide drainage. I filled the stool and tank with pebbles allowing for about 5 inches of dirt on top if the stones. I wish I had a picture of my favorite "POT" with airplane plants out of the tank and ivy out of the bowl. I have this in my backyard, because my neighbors with $15,000 flower beds would call the deed restriction "police" if I put it in the front yard. Everyone of my back-door-friends loves it. Smile whenever you see it. (04/30/2007)
By lindajeang
We are replacing a leaking toilet. I would like some suggestions as to how to "recycle" the old, but clean and stain free, toilet into my garden. I can't make drainage holes in the tank without breaking it. What kinds of plants would you guys recommend that won't drown during our heavy rain storms? I am "creating" a cute outhouse theme corner with a scarecrow and an old wooden door.
Hardiness Zone: 3a
By catastrofy from Winnipeg, Canada
---
RE: Toilet Planter
It should already have drainage holes in the tank top & bottom (where the water comes in & goes out).
If it has no holes (which I kinda doubt) it's very, very hard to drill through glazed ceramics. (I'm a potter by trade). You'd need a diamond bit & water to cool it. The bit will slip around! I wouldn't even attempt it myself. Sorry. You could take it to a glass or mirror shop & have them drill it for you.
Also, in Canada it my break from freezing in the winter. I'd be best to cover it in the fall before it freezes. (07/28/2009)
By Cyinda
RE: Toilet Planter
I am having the same problem as one of the older posts. The tank is draining, but the bowl is filling up and staying full! As of now, I have marigolds in the tank, with a small sign that reads, "Stop and smell the roses", and miniature poppies in the bowl, with a small sign that reads, "Welcome to our funny farm" with a scarecrow leaning against the wall beside the "commode" and an old satellite dish connected to an old T.V. by a rope, in front of the "commode". It looks cute and funny, and my back door friends also love it, but I think the bowl is too wet for the poppies. Anyone know of any plants that don't mind having their feet wet all the time? (07/28/2009)
By catastrofy
***
*** Anything can be yard art!
By Laura from Sacramento, CA
---
RE: Garden: Toilet Planter
That is so nice! I once had a pink toilet with the tank still intact (from a relative that redid a 70's bathroom), and planted it with pink and purple toned plants. The only problem I had with it was that it tended to dry out faster than other plant holders, I am guessing because of all of the drainage holes, and I forgot to put rocks or gravel in the bottom first! Yours looks great! (08/05/2009)
RE: Garden: Toilet Planter
I am not a fan of toilet planters. (09/12/2009)
By meoowmom