Bread Bag Melted On Stove Top
Answers: Bread Bag Melted On Stove Top
Read answers for this question below.
The same thing happen to me.I put some ajax on the print, and with a damp cloth, it cleaned right up.
Try Mr Clean Magic Eraser. Just used it for the same problem on my toaster.
No problem, Just use the same stuff you'd use to clean an Iron. "Faultless Hot Iron Cleaner" (You get 2 tubes in a pack at Walmart for only $2.79). Simply squirt some of the cleaner on your burner, then wipe it all around the cold burner, then turn the burner to MEDIUM then wipe off the burner with a 100% cotton T-shirt or wash cloth. (Read the direction for cleaning an iron) The directions for an Iron would be "set on HIGH", but HIGH on an iron would only be MED on a burner! (Irons do not glow red-hot! like burners do!)

* The Faultless Hot Iron Cleaner is made to clean off melted plastic "Iron-on facing" (for sewing). I though I'd have to throw my iron away after I ironed the wrong side of the facing & plastic was FUSED to my iron, but NO! It's as good as NEW now since I used the "Faultless Hot Iron Cleaner"! They sell it where they sell the Irons at Walmart.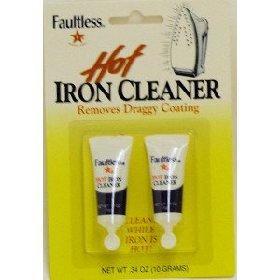 TRY WEIMAN GLASS COOKTOP CLEANER. MY HUSBAND WHO HAS BEEN WORKING ON APPLIANCES FOR A VERY LONG TIME SAYS ITS THE ONLY CLEANER YOU SHOULD USE. IT HAS A VERY MILD ABRASIVE IN IT BUT WILL NOT SCRATCH. IF THAT DOES NOT WORK TRY CALLING THE CUSTOMER ASSISTANCE LINE OF THE MANUFACTURER OF THE OVEN THEY MAY BE ABLE TO HELP. YOU CAN FIND THE NUMBER ON THEIR WEBSITE OR IN THE USE AND CARE BOOK .
Answer This Question
Add your voice to the conversation. Click here to answer this question.
Related Guides
Related Posts