Coupon and Rewards Card Wallet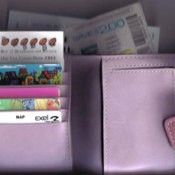 I love coffee, and great deals while shopping, so I have tons of "frequent buyer" coffee punch cards, coupons, and gift cards. But with all of them just loose in my purse, it was a mess! Worse yet, when I would clean out my purse and leave some of the coupons or gift cards at home, I'd often be at a store and find a great deal, then realize I didn't have the coupon or card with me--it was at home!
To solve this, I took an extra wallet that I had and put my coupons in the bill holder area, and gift cards and coffee punch cards (along with some other important ones) in the credit card area. Now I don't have to worry about running across a sale and not having a coupon or not getting credit for my latest cup of coffee! Finding things in my purse is much easier too!
By Lisa from WI from Kenosha, WI
By evan's"mama"
Feedback
Read feedback for this post below. Click here to post feedback.

By
06/01/2009
I do something similar. I tried the wallet idea and it took up too much space in my purse so I switched to a plastic checkbook cover. It has a plastic pocket on both sides and enough room to carry coupons on one side and punch/discount cards on the other. Takes up much less space and is the shape I can even stick it in my back jeans pocket if necessary.

By
06/01/2009
What a great idea. I put the little store tags on a clip and find that I forget them in the car when I am in the store. It's frustrating trying to remember to get in out of my console. This wallet idea will be given a try. Thank you for sharing.

By
07/15/2006
I keep all my "customer loyalty/rewards" cards, giftcards, punch cards, etc, in an empty Altoids hinged can. I might have to flip though it a bit, but it is less bulky than carrying an extra wallet. Whichever method you use (wallet or Altoids tin) alphabetize your cards/coupons to make them easier to access...

By
07/15/2006
love it ! great idea !
i got 2 really nice billfolds the other day at a rummage sale :
1 for .25c
& a like new leather one for only .50c !
& to think i was only getting them for
"just in case"...
...now i know !
(but i also like the "putting them on a keychain" idea ! )



By
07/14/2006
Great idea! I bought a wallet off the internet that was not what I had expected and instead of returning it, I did this. Thought I was so original, too - glad you shared your idea!!

By
07/14/2006
great idea. I've been keeping them in my wallet because I always forget to bring them, but I don't need them most times, ie. when I just going out for dinner, and they clutter up my regular wallet. Now I can just bring the wallet when i go shopping. thanks

By
07/14/2006
FOR ALL OF YOU WHO HAVE REWARD CARDS, I ALWAYS TOOK THE AMOUNT I SAVED BY USING THE CARD AND PUT IT INTO A LITTLE CONTAINER AT HOME(I JUST PRETENDED I NEVER HAD SAVED ANY MONEY ON MY PURCHASE)IN 2 MONTHS I HAD $200.00 SAVED

By CHRIS (Guest Post)
07/14/2006
What a great idea. I have a extra wallet and this will work out great. Thanks for sharing.

By
07/13/2006
I like this idea. I've been carrying mine in a coupon organizer and it's bulky in my purse. You gave a great idea, I think I'll try it.

Thanks,

Janet from Georgia

By
07/13/2006
Great idea!!
For the little rewards cards, I put them on a keychain---not with my keys!! And make sure they go with me when shopping!!
But, I do like this idea---since I often forget coupons and gift cards for places to shop and eat out---makes me made since I love to save!!! And I like to keep things all in one place and easy to find!!
Thanks for the idea!!!! :)
Post Feedback
Add your voice to the conversation.