Ideas for reusing the rings that come with six packs of aluminum pop cans and plastic bottles. Post your ideas!
Ad
---
Feedback Forum
Feedback about this article is posted here. Want to contribute? Click above to post feedback.

By Melissa [4]06/22/2010
I reuse large plastic bottles to plant seeds in. I cut off the top (and use it as a funnel). They are great to start getting plants started before transplanting.

By Bijie (Guest Post)09/17/2008
To all whom think that collecting metal pull tabs is a scam, you may want to think again. It's already mentioned through this Ronald McDonald House & the Shriner's put them to good use. The Spinal chord Injury Foundation also collects them for wheelchairs. Just check your phone book for a location near you. If charities isn't your thing, then just do a Google search of "Crafts ideas out of metal pull tabs." Recycling is keeping items out of our landfills to begin with. P.S. If one thinks that recycling doesn't work, take note of picture that I am enclosing.This 5 gallon jug took me 28 months to collect, with no help other than from myself! Now take that mud in your eye!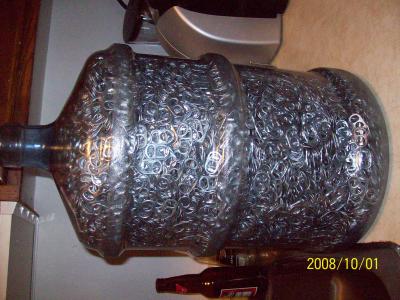 By Janetpurple4 (Guest Post)07/09/2008
Our Cub scouts and girl Scouts collect can tabs for Ronald McDonald House in Roanoke, Virginia. The website address is below. One of the girl scout troops in our service unit visited there and the aluminum can tabs are used and are very much appreciated.

http://www.roanokeronaldmcdonald.com/HowYouCanHelp.html



By David (Guest Post)06/19/2008
I know that many people save these things thinking that they can "donate" them for any number of well-intentioned uses; kidney patients, wheel chairs, cancer patients, but this is in fact just an urban legend.

Please read about this at snopes.com the site that debunks this and many similar rumors. You'd be better off donating cash to these charities than wasting your time collecting pull tabs:

http://www.snopes.com/business/redeem/pulltabs.asp


By belinda (Guest Post)05/05/2008
I am using them for raising money for a non-profit. My mother makes things out of them.

By KimAnn (Guest Post)04/11/2008
The Ronald McDonald house in Danville PA collects the can tabs. Our school and Boy Scout troops have been doing it for years. They recycle them and use the money to help out families at the house.

By linda c (Guest Post)04/09/2008
re:aluminum can tabs.
I have been saving them for years, supposedly "girl scouts, brownies collected them, received money for Ronald McDonald house,is that true?

By missm (Guest Post)01/24/2008
www.snopes.com reports that the redemption of tabs from aluminum cans for health services is an urban legend and is false. It is a rumor that has been circulating for years and is not true. Although good-hearted and should be true, sadly, it is not. Please refer to the website for further details.

By Claudia (Guest Post)10/17/2006
I'd like to create a wreath using the bottle pop rings but i just don't know how to get it started. I saw one many, many years ago and now i would like to show my children how to do one but i just don't know how....any help is appreciated (chiquita_206 AT hotmail.com)

By kathy from Calif. (Guest Post)01/05/2006
http://www.rmhc.org/content/rmhc/in ... donald_house/pop_tab_collection.html
Here is a site t hat talks about them..though its not available in all states.

By Martha (Guest Post)11/24/2005
can you turn the tops of the aluminum soda can tops in for money?
If so, where, how and how much money do you get for them?

By nilrebmik (Guest Post)11/03/2004
Do you have a pattern or website where we can learn how to make these?
Thanks

By Pee-Jay (Guest Post)10/10/2004
Aluminum Can Top Ring Redemption Programs

I am informed that there are several aluminum can top ring redemption programs that benefit several hospital/health-care programs:

1] that saved rings can be redeemed back to the aluminum can manufacturers (i.e.: Alcoa, Reynolds Aluminum, Continental Can, etc.) in exchange for kidney dialysis treatment [i.e.: 10,000 rings and the aluminum can companies will pay for 1 minute of kidney dialysis).

2] that saved rings can be redeemed back to aluminum can companies in exchange for [aluminum can co] contributions to such organizations as the American Cancer Society, Shriners, etc.

These programs are reportedly similar to the Campbell soups "Labels For Education" program, except that the aluminum can top ring programs are limited to health services, rather than to education.

I have been saving the rings for years for a woman with whom I worked, who is now retired. I never inquired as to the specifics or details, but the rings were supposedly redeemed back to the aluminum can companies to aid the kidney dialysis program.

Can anyone shed some insight as to how I can obtain info about these redemption programs [i.e.: via Internet or other means]?

Please repy to: peejay@inbox.net

Thank you!

By mandy (Guest Post)09/30/2004
I use can tops for picture hanging. All you have to do is use a small piece of strong tape to hold the tab on the back of a picture. If you can get the tab off without ripping the little part that holds it on the can, it can be placed on the bottom side of the wood in the back to add extra support. Eliminates the need for nails!!!

By Alphtoo (Guest Post)09/13/2004
Great ideas here! It just goes to prove that our universal landfill problem could be vastly reduced if we'd all just pay attention.

Regarding the volleyball net, that's a great idea but I'd tie it together with dental floss or monofil fishing line. That ought to REALLY hold up! And to anyone who has to sew a button on a shirt or whatever, use dental floss instead of sewing thread. That stuff will outlast the shirt!

Years ago I read an article in The Great Speckled Bird, an underground newspaper in Atlanta, that had a recipe for making napalm using the can holders and gasoline and stuff. I didn't save it because I had no use for napalm (and still don't), but I thought it was interesting in that most of us never consider the potential uses of the stuff we throw away. (Darn, I shouldn't have written that. Now I can just see all them darn terrorists digging in our landfields, collecting plastic to make napalm!)

By owenmohrbucks. (Guest Post)09/08/2004
If your are talking about those plastic rings that hold all the soda bottles together - you can save a bunch, tie them all together with kite string and make a volleyball net that will stand the test of time

By Renee (Guest Post)08/21/2004
Can top rings. I save them for the RONALD MCDONALD HOUSE here in Charleston. They have a system where they resell that type of metal to the metal companies here and they give them cash, which then goes to pay for families who can not afford to stay at the house while their children are in the hospital. It is right across the street from the children's hospital. It makes me and my family happy knowing it helps. Also when it is time to turn them in I take my children so they can see what the house is used for. I even have our cub scout pack saving them. Thanks all for reading it's for a very good cause! :)

By Susan Sanders-Kinzel [9]08/20/2004
I have been saving the rings from bottled beverages to make Christmas wreath ornaments to give out to the families that come to the food pantry that I volunteer at when the season comes. I get many because so many friends are willing to save them for me. I just press down the ragged edge and crochet snuggly over them.

By Sheila S
Post Feedback
Add your voice to the conversation. Click here to share feedback.