Here is an easy craft to make for teachers, co-workers or friends.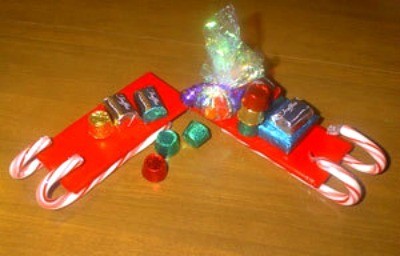 Materials
candy canes (2 for each sleigh)
any flat candy bar, Hershey's chocolate bar works best (1 for each sleigh)
various miniature candy, individually wrapped is preferable. This is a great way to use up the clearance halloween candy.
hot glue gun, with glue
assorted scraps of wrapping paper, tissue papers/cellophane and ribbons
tape
The first thing you need to do is to make the sleigh: Plug in your glue gun in a safe area; clean kitchen counter works well (high up from kids). Wrap your Hershey's chocolate bar with paper. To assemble sleigh, you want to make a line of glue on the bottom of the wrapped bar, on the long side but still underneath. Before the glue cools, press candy cane onto it, being sure the hook is over the candy bar (see photo). Do the same with the other side. Now you may unplug hot glue gun.
Wrap the miniature candy one at a time, or in bundles. You can see in the photo I also took a square of cellophane and placed some kissables in and pulled up the sides, and tied with a ribbon. This works well with loose candy (gumdrops, M&M's). The Christmas candy is usually already wrapped festively so you don't need to wrap them if you don't want to (great for kids too).
Once wrapped, "presents" can be taped on (tape loop) in any way you wish. Use your imagination! You could add a "rope" to pull the sleigh. My husband suggested a miniature chocolate foil Santa in the front. These make great gifts, and fun to make at family gatherings! Kids make them while the parents snack on the extra candy;-)
By starchild from Lamoille County, VT
Comments
December 4, 2007
0

found this helpful
this is really cute
thank you for sharing it Reply
Was this helpful?
Helpful?
Yes
Add your voice! Click below to comment on this post or add your answer to this question. ThriftyFun is powered by your wisdom.