My dog has just recently started putting her paw in her water bowl before drinking, then she'll drink a little bit, stick her paw in again, drink a little more, then purposely spill the whole bowl. Then I'll fill it and and a little while later it will happen again.
The dish is clean, the water is fresh, I don't know what she's trying to tell me, or if it's just a little dog game! Has anyone ever experienced such behavior with their pet?
We are giving away $200 in Amazon gift cards for people who answer questions on ThriftyFun this month! Click here to find out more...
Add your voice! Click below to answer. ThriftyFun is powered by your wisdom!
Add your voice! Click below to answer. ThriftyFun is powered by your wisdom!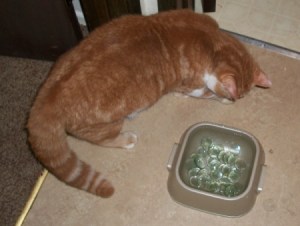 Cornelius has a habit of moving his water dish. And, even though it's wider at the base, he can tip it. So, I thought of something I could put inside that would not only weigh it down, but alert me that he is low. Summer is upon us, and pets can sometimes get left for the day without water.
I put some of the dollar tree clear rocks in the bottom of his water bowl. They weigh down the bowl and when he is low, I will hear them move around when he is trying to get to the bottom.
Now, before anyone starts warning me about a choking hazard, please don't. Cats don't have the "it's there, I must eat it" mentality that dogs do. Plus I made sure they are too big to even get in his mouth, much less down his throat.
As you can see from the photo, he was a bit, "what is that in my water dish," leery, but only for about 10 seconds, then enjoyed a drink from a bowl that will stay put.
Hope this helps.
By Sandi from Salem, OR
June 14, 2011
0

found this helpful
Have you considered a simple brick in large water bowl? And with no disrespect why would anyone even consider feeding any animal meat past it's "use by date" and to suggest Cats are smarter than Dogs is ridiculous my German Shepherds would like a contest with that statement. Just love your Cat for what they are.
June 21, 2011
0

found this helpful
My Mazy cat also puts a paw into her water dish to drink, glad to know she isn't the only one that does so. It is a curious habit, but then cats are a curious lot. She is 15 and 1/5 years old and still wraps her paws around my leg when I walk past and plays with anything that I drag by her. Gotta love that young attitude!
August 28, 2012
0

found this helpful
What a beautiful cat. And a great idea. thanks for sharing!
February 19, 2016
0

found this helpful
I think also a big paper weight may help I'm going to try it thanks
Read More Comments