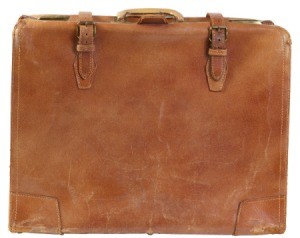 Mold and mildew can create strong odors when given a chance to grow. This guide is about removing musty smells from leather.
Ad
---
Questions
Here are questions related to Removing Musty Smells From Leather.
I have a pair of suede boots that smell like mildew. Does anyone know a way to get rid of this smell. Thank you for your help.

Lisa from TN
AnswerWas this interesting? Yes No
Ad
---
---
Most Recent Answer
By teatimelady (Guest Post) 11/07/20050 people found this helpful
Try stuffing your boots with wadded up newspapers...should work in 2-3 days time.
---
I have a vintage leather jacket that has a musty smell on it. What can I do to remove the aroma?
By Christopher from Stuart, FL
AnswerWas this interesting? Yes No
Ad
---
---
Most Recent Answer
By Marie 1 34 12/27/20100 people found this helpful
Whatever it is with a musty smell put it in a garbage bag with lots of crumpled newspaper. Leave it in the bag for a few days. If the smell is still there when you open the bag leave it there for another couple of days, replacing the newspaper.Use a twist tie on the bag to be certain it is securely closed.
I was sent a package and everything in it smells of mildew. Some things cannot be washed. How do I get rid of the mildew smell? The items that need treatment include a leather pocketbook and three small blankets.
Thank you.
AnswerWas this interesting? Yes No
---
Most Recent Answer
By PENNY K 14 562 09/08/20090 people found this helpful
The blankets: wash repeatedly in hot water with detergent, borax or baking soda, dry in air outside where wind can blow them a little. May take 3-4 times.

You have two problems: odor, and mildew, which is causing the odor. Mildew likes dampness, so dry the items if they are damp to stop the process. Prop open with crumpled newspaper (wallet).

Other things like wallet, put in a non staining container which has plain charcoal lumps, wrapped in lots of crumpled newspaper so the charcoal won't touch the item. Put in box and close it for a month, in the garage. See how bad it is after that. If the leather is wipeable before you put them away, wipe with a paper towel or cotton ball you've wet with alcohol. You could also put baking soda in bottom of box. Perhaps lightly wrap items in newspaper sheets. I've read that newspaper itself deodorizes. White vinegar also deodorizes. Anything that can be wiped could be wiped with that, if it's not acid sensitive.
I got a pair of leather pants on Amazon. Then when I opened it, they smell like fish. What do I do to take of the smell?
I want to keep my musty, mildewing smelly leather gloves and jacket. How I do I get the smell out of them?
By patsymargaret from Sydney, Nova Scotia
How can I get the mildew smell out of a leather purse?
By jesscuz
Solutions: Removing Musty Smells From Leather
Do you have knowledge about this guide topic? Feel free to share a solution!