September 19, 2006
I agree with the rest.. start training now before any bad habits start! We adopted two 7 wk old puppies while we were on vacation; Shep and golden lab mix (females) and began training them that very day. They are now 16 wks and they've learned to sit, lay, fetch, sit by the front door (they are outside dogs), stay in the yard & shake paws. They are in the process of being trained to not chew on my outdoor furniture and not jump on people! Rewards, Praise and above all Consistency are the keys to this success. Good Luck and btw... Cute Dog!!!! :)
By guest (Guest Post) Flag
September 23, 2006
I just adopted a 7 week old black lab, and he constantly goes pee. I've been crate training him but every once in a while he'll go in the crate, even though I take him out every 45 mins, then once we are outside he will walk around peeing. Sometimes it's just a few drops but he stops every few mins and pees again. Is this normal or a health issue? I have no clue as to how I'm going to train a pup that goes so much. Please help.....................
-Pam
September 25, 2006
i say start now. it wont hurt. just be consistant and praise her for everything she does right. i just got a 8 week old miniature pinscher and in one week she is starting to understand potty training (as soon as i take her out she pees and poos) Its funny cause she'll look at me like "am i doing good" After every pee and every poop i give her a treat and tell her what a smart puppy she is. if she starts to pee in the house i pick her up fast and take her out. a lot of people say to wait to crate train until the puppies 16 weeks, but i think she is doing pretty good considering that puppies dont have complete control until 16 weeks!
I have also taught her to sit! she learned in one day! i was totally amazed.
USE TREATS AND LOVE AND THEY CAN DO IT!
By guest (Guest Post) Flag
May 10, 2007
Start training your dog as soon as you can. We started training our American Pitbull Terrier at 8 weeks. Now, at 6months I would say we have a pretty well mannered dog who sits, downs, waits/stays, walks on leash, heals and gives her paw. The best thing you can do for your dog is SOCIALIZE it. Many places offer puppy kindergarten (trust me it's worth it!)
By guest (Guest Post) Flag
September 25, 2007
Help! I just bought a 7 week old shiba inu and potty training is hard. After playing, eating, waking up and suspicious sniffing I take her outside. But a lot of the time she comes inside after handling business and has an accident on the carpet. I even stand there with her outside for ten minuets but it still happens.
By guest (Guest Post) Flag
April 22, 2008
First of all, for those of you adopting/buying under 10 -12 weeks...Very, irresponsible breeders. If you are buying from a "store" - that's a huge NO NO - We should be boycotting 'stores' that sell live animals. Breeding should be left to responsible, knowledgeable professionals. Adopt, adopt, adopt... the shelters are full of lovely dogs that need your love. I have trained and bred dogs with my Uncle who was a professional dog breeder/trainer. Starting before 10-12 weeks may not be so good. The first training should be of the 'potty' variety. The rest can wait till 10-12 weeks. Of course, he/she needs to learn to walk on a lead - even if you have a yard, your dog should always learn to walk with you - you leading..Start with simple commands "sit" and "stay" you can give a small reward, be careful you don't want to over feed, you should make your puppy wait for your command when feeding - he should not rush the bowl, make him wait by standing in front of the bowl, do start this when he is young or you'll have a slobbering adult dog that cannot wait for it's food. Read Cesar Milan and the
Monks of New Skeete. Both are great references.
By guest (Guest Post) Flag
May 17, 2008
Hi, we just bought this beautiful baby pit bull. He's only 1 month and a half. My question is I also have a beagle whose 1yr old. They seem to be getting along okay for now. Should I worry when my pit bull gets bigger? Another thing - when should I start training?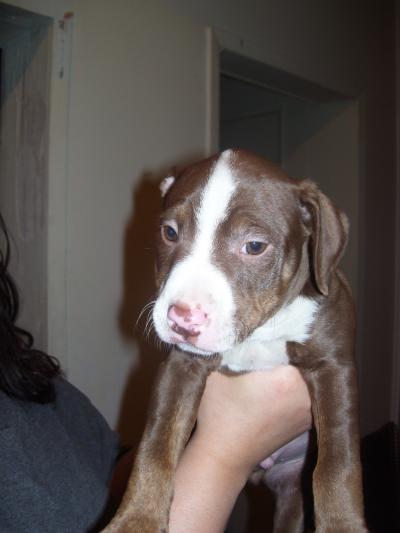 By guest (Guest Post) Flag
July 18, 2008
He does not want to eat, maybe once a day. What can I do or what can I give him? I heard I can give him cottage chesse? Is that good and if so how much should I feed him. We first fed him eukanuba now we are feeding him Purina Beneful for puppies. He eats but maybe just once a day. I see him thin. What can I do ?