I have a great deal of costume jewelry that I no longer use and would like to get rid of. I would prefer to either sell or donate it. Any ideas how I can do this?
By Rita from Rossville, Il
Ad
---
By katrina 5 232 09/18/20100 people found this helpful
Check out eBay; and get an inkling what prices go for; find a consignment shop and see if it's worth your time to put in there!
Christmas bazaar's will be here shortly; why not see about getting a booth or going in with someone to try and sell them there?
Give to Salvation Army if nothing else! They are FANTASTIC about giving items for FREE to whoever is in need!
By Joan 13 1,482 09/18/20100 people found this helpful
If this is actual vintage jewelry, there are people who buy it for resale, because vintage clothing and jewelry are really popular right now.
By Suntydt 75 877 09/18/20100 people found this helpful
My mother had a bunch of old jewelry (some of it broken), she had me give it to my 9 year old daughter who absolutely loved it.
By Dottie Stevens 3 25 09/20/20100 people found this helpful
If you have a nursing home nearby, they may love to have a donation of costume jewelry. The homes around my area give things like that out as prizes at bingo games and other activities. They also welcome small bottles of perfume, soaps, socks and such.
By Julia 147 1,074 09/21/20100 people found this helpful
Hi Rita,

If you are into crafts at all, here is a great idea that I ran across in some craft magazine years ago. I always wanted to make one, but never got around to doing it. I didn't have the old jewelry to do it with either, but you do. If I could remember the source of this picture, I would gladly share it, but all I have is the picture. It's still one of my "dream things to do".
Good Luck to you,
Pookarina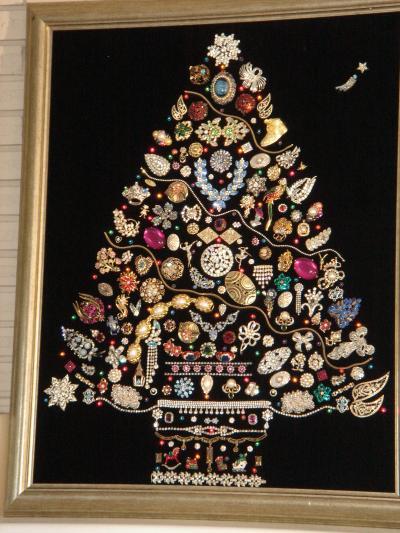 By Eileen M. 56 240 09/21/20100 people found this helpful
You could also donate it to your local Girl Scouts... In the phone book or internet under Girl Scouts - locate a council near you. The council will have a very local contact who would undoubtedly LOVE to relieve you of the unwanted jewelry to use in crafts projects!
By Della 55 09/22/20100 people found this helpful
One thing I have used them for is bingo gifts. I volunteer at shelters and church events. The jewelry makes wonderful gifts for the moms and daughters. I even have had a few boys get jewelry when they won, to give to their moms! :)
By Becky 1 02/18/20110 people found this helpful
Rita - I don't know if you've found somewhere to donate the jewelry you have but I started a project that collects, cleans, fixes, packages and re-donates jewelry to Women's Shelters in the Phoenix, AZ area. If you are interested in donating to this project let me know.
Becky