I need to know how to tie a neat bow for Christmas, decorating, just simple regular bow. Some step by step instructions would be great.

Michelle from OK
Answers:
Tying Bows
Here's a great link with instructions for tying bows:

There are more links on the site for other bows and gift wrapping instructions.

Susan from ThriftyFun (12/03/2006)

By ThriftyFun
Tying Bows
If you get the ribbon (comes in varying widths) with the wire in the edges, you can make the bow part larger and then bend it however you like and it makes it look like a larger bow than it is. (12/04/2006)

By Jane
Tying Bows
How about a simple bow like this. I got the fabric from the Dollar store. I folded the fabric with equal sides and tied it in a bow just like I do my shoe laces. One end will end up shorter and it will hang beautifully. (12/06/2006)

By danig1000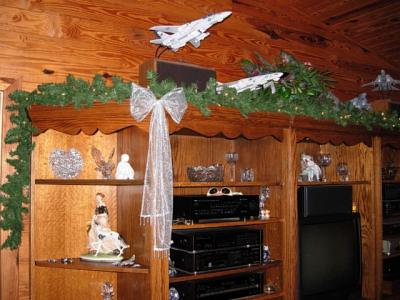 My mother showed me how to tie a perfect bow years ago and just can't remember. Hers looked just like the ones on the trees you see in department store windows. Can any body help me?
Darla
Answers:
Tying Bows
You can wire them in the middle rather than tying them. That's what designers do. Or, twist the second loop over so right side shows as you are pulling it thru the hole, but I really recommend tying it in the middle with a wire, then using that wire to attach it to tree, package, what ever. (12/10/2004)

By Linda
Tying Bows
Here's a good site with instructions and pictures. Is this the type of bow you are talking about?
http://www.craftygal.com/archives/1201/table1201.htm
Susan at ThriftyFun (12/10/2004)

By ThriftyFun