Caring for a 5 Week Old Puppy
I have had a five week old Poodle puppy put into my house. I am at a total loss as to how to deal with this. I have never had one that young. Help.
By Joy
Filter

: All Articles
Sort

: Relevance
March 6, 2011
0

found this helpful
I have a poodle mix that is turning 4yrs old and I've had him since he was five weeks old as well. What I did since he was so young I made sure to still feed him milk. I found in the pet area at Walmart the little milk carton looks like a little juice box very small. I also bought puppy food and made sure to grind it. The first week I gave him more milk and then slowly and the ground food to the milk. He was so small that I had to put my finger sometimes in his little bowl and then touch his mouth with so he would get the idea. Also, I went to the vet and payed for a puppy packaged that included all his shots (cheaper as a package). The milk was like $3.50 per carton so I made sure not to be wasteful. I stayed there and fed him to make sure he was eating. Seriously, I think this doggy of mine thinks I'm his mother lol. Good luck. :)
Add your voice! Click below to comment. ThriftyFun is powered by your wisdom!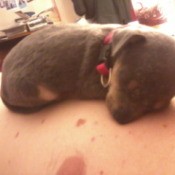 I was given a Min Chi pin a few days ago. He is 5 weeks old, and I didn't know he was suppose to be with his mom until 8 weeks. Can someone give me advice on the best way to care and train my dog?
By AnDria R
November 14, 2011
0

found this helpful
Tell the person that gave you the puppy they can not leave their Mother until eight weeks of age and it's mandatory (they can not be sold or given away) unless microchipped and ideally have first vaccinate needle. For God's sake in the best interest of this helpless little creature take it back to ( I can only guess) yet another "back-yard" breeder.
November 14, 2011
0

found this helpful
A five week old pet can eat wet dog food. I went out of town to get my dog when he was 5 weeks old. I agree that it's best if they stay with their Mom longer but my dog is now 4 and he's healthy, happy, and sociable. He ate wet canned food when I brought him home and shortly after was eating kibble.
November 14, 2011
0

found this helpful
Note that it is okay to socialize him with people who are gentle, but be careful taking him around other dogs until he has had his shots. A friend of mine introduced a five-week-old puppy to some other dogs and the puppy got distemper and died.
November 14, 2011
0

found this helpful
Be sure and see your Vet soon to see what puppy shots are needed. You need to be on schedule to avoid Parvo and distemper.
Read More Answers...
What should I feed a 5 1/2 week old puppy?

By Frankie from FL
Answers:
Caring for a 5 Week Old Puppy
The world appears to be cursed with totally irresponsible "back yard breeders". Please consult your veterinarian or a registered licensed breeder irrespective of their kennel breed. They will both be horrified, but will help. You are doing your best. Good luck. (02/04/2011)

By FARSTAR
Caring for a 5 Week Old Puppy
I got a puppy when he was four weeks old. Now he is seven years old. I had to hand feed him. I used whole milk diluted a little, with small pieces of bread in a bowl. I left it to soak for a little and then hand fed the bread to him. I also had to help him drink water with a syringe. I did this for a week; then he started to eat and drink on his own. Then I went to dry puppy food from Purina, I added water with a little milk and soaked it until it was soft. I did this up until he was 8 weeks old. I never feed him canned soft food and now he is a healthy and strong dog. Make sure you keep water available at all times. He used to cry too and I went out an bought him a stuffed animal that looked like a dog. He used to lay with it all the time and he stopped his crying; plus he had a blanket to lay on inside a box. with no lid. He was relaxed then. (02/06/2011)

By pved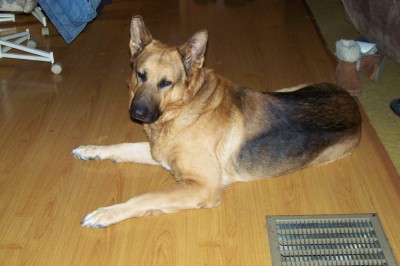 I have a 5 week pit bull puppy. I'm unsure on what to feed him. He also won't stop crying. Can anyone give me suggestions on what to do and tell me why he cries?

By Morena
Answers:
Caring for a 5 Week Old Puppy
I don't know the circumstances as to why you have a 5 week old pup (at 5 weeks they should still be with the mom) anyway, if for some reason she/he can't be with mom you can get some puppy milk and feed him with a syringe. Once he gets older (7-8 weeks) try adding some really soft moist food (like a/d, available at the vets) to the milk and continue to feed him with the syringe. Then you can try giving him the a/d -milk mixture on a plate till he learns how to eat solids. Hope this helps you out. (12/21/2010)

By lhasaangel
Caring for a 5 Week Old Puppy
Check with your vet about feeding. There is milk replacement available at pet stores. You can try putting a ticking clock in the bed with him. It seems to quiet puppies. Good luck. (12/22/2010)

By Lizzyanny
Caring for a 5 Week Old Puppy
Although I appreciate the sentiment, I would really think twice about taking this puppy back to his mother, simply because, if the mother dog's pet owners were irresponsible enough to give you this puppy at 5 weeks, I wouldn't trust them another day with this precious pup. On the other hand, if they were just unaware. Well, I'd still think more than once. He is crying because he was separated from his mother way too young. His future is now in your hands, Morena. Advocate appropriately.

Did the pup come from a healthy mom or was he rescued? Either way, please contact your vet as soon as possible. The vet can help you help this pup through this difficult transition (feeding advice and emotional support). This little puppy is counting on you to save him. Thanks for asking an important question (feeding) and best wishes for the two of you to have a long and happy friendship. Now go call your vet, okay? (12/25/2010)

By KansasCindy
I have a 5 week old puppy. My mother's dog is the mum, she hasn't got much milk left, so I decided to try and nurse him on puppy milk, but he won't lap. When I take him to visit my mum he will lap for her. What am I doing wrong? Please help, I am so worried.
I have a 5 week old puppy. He keeps throwing up after sucking milk. They are Chinese Crested Puffs. What should I feed them beside goats milk and pablum?
How do you care for a very small 5 week old puppy?
I have a pit bull/mastiff puppy that is about 5 weeks old. I just want to know what I should do with her to help her grow healthy. She cries most of the day, even when she's eating and drinking. I really need some advice on this.
Click to read more ideas from older posts on ThriftyFun.
Click to read more ideas from older posts on ThriftyFun.
Related
© 1997-2016 by Cumuli, Inc. All Rights Reserved. Published by
ThriftyFun
.
Page
generated on August 22, 2016 at 4:38:18 AM on 10.0.0.66 in 3 seconds. Use of this web site constitutes acceptance of ThriftyFun's
Disclaimer
and
Privacy Policy
. If you have any problems or suggestions feel free to
Contact Us
.