I have had a five week old Poodle puppy put into my house. I am at a total loss as to how to deal with this. I have never had one that young. Help.
By Joy
Recent Answers

By Jay03/06/2011
I have a poodle mix that is turning 4yrs old and I've had him since he was five weeks old as well. What I did since he was so young I made sure to still feed him milk. I found in the pet area at Walmart the little milk carton looks like a little juice box very small. I also bought puppy food and made sure to grind it. The first week I gave him more milk and then slowly and the ground food to the milk. He was so small that I had to put my finger sometimes in his little bowl and then touch his mouth with so he would get the idea. Also, I went to the vet and payed for a puppy packaged that included all his shots (cheaper as a package). The milk was like $3.50 per carton so I made sure not to be wasteful. I stayed there and fed him to make sure he was eating. Seriously, I think this doggy of mine thinks I'm his mother lol. Good luck. :)
Questions
Here are questions related to Caring for a 5 Week Old Puppy.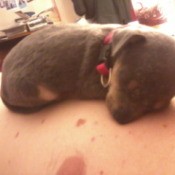 I was given a Min Chi pin a few days ago. He is 5 weeks old, and I didn't know he was suppose to be with his mom until 8 weeks. Can someone give me advice on the best way to care and train my dog?
By AnDria R
---
Most Recent Answer

By Lizzyanny11/14/2011
Be sure and see your Vet soon to see what puppy shots are needed. You need to be on schedule to avoid Parvo and distemper.
Archives
Thrifty Fun has been around so long that many of our pages have been reset several times. Archives are older versions of the page and the feedback that was provided then.
I adopted a 3 week old pitbull pup. Her mom was killing the puppies and she is the only one to survive. I have been bottle feeding her and she shows no signs of aggression. Now I want to make sure I raise her right. She is my baby and I love her with all my heart. Any advise will be appreciated.
Sheila from Bridgeton, NJ
---
RE: Caring for a 3 Week Old Puppy
You can never tell if a puppy will be aggressive or not. I have a 2 1/2 year old red-nosed pitbull that we got when she was 4 weeks old and we have never hit her...she has gotten very aggressive towards certain people...when me and my husband split up, he left the dog with me and when he comes over to see her, she is all excited to see him but if he gets to close to me she will attack him and I have to tell her that daddy isn't going to hurt mama..(he has never hit me)..then she gets all excited again...she is a very protective dog...she loves her 4 cats...good luck! (08/30/2006)
By Jannie
RE: Caring for a 3 Week Old Puppy
Sheila, Congratulations on your new family member! I use to work at a shelter and have met some very sweet pitbulls. Here's a few tips: The first few months of a dog's life (I believe 6 months) are critical for socialization. So, I suggest taking obedience training classes once your puppy is old enough. Also, pitbulls can be somewhat dominant dogs and your puppy will need to know that you're in charge. The classes can help with this. (08/30/2006)
By Michelle
RE: Caring for a 3 Week Old Puppy
what about the vet?? have they given you any advices. (08/31/2006)
By sandy63
RE: Caring for a 3 Week Old Puppy
my dd has a now 3 yr old white male pit that she hand raised from 2.5 weeks of age. he was also the sole surviver of the litter of 7. he was raised with an older, smaller female who was dominant. he is now with 2 chiwahwah(sp) and he has never been aggresive towards people or animals, including my 8 yo male boxer. just my 2cents. (08/31/2006)
By cleo235
I have two English bulldog puppies that are 5 weeks old. The mother has nothing to do with them. I have been bottle feeding since they were 1 week old. How often and how much should I feed them and when can they eat regular puppy food.
Josie from El Paso, TX
Editor's Note: Here are some other posts about feeding young puppies on ThriftyFun
---
RE: Caring for a 5 Week Old Puppy
At five weeks they could/should be eating dry puppy food. Mine started on their own at 3 1/2 weeks (08/02/2007)
By Glenda
RE: Caring for a 5 Week Old Puppy
If you can't find a source of fresh goat milk (ask at the feedstore or go to the American Dairy Goat Association online to find a goat person near you) then there is canned or powdered goat milk in the stores. Feed very tiny amounts and then feed water between times, at first. Never dilute milk with water as is commonly recommended. It is very important for the milk to react with stomach acids and form a solid in the stomach in order to be digested right and not cause diarrhea. With water dilution it won't set right. Your vet will have a very expensive formula to use if you are completely desperate. (08/02/2007)
By kimhis
RE: Caring for a 5 Week Old Puppy
You can start teaching the puppies to eat dog food at 2 weeks of age. I would put a little bit of the can dog food (this is mushy and easier for them to eat) on my finger and put into the puppy's mouth. I would do this twice a day for about a week to a week and a half as it takes about this long for them to learn to eat. At about the age of 2 weeks the mother does not constantly feed the puppies. By the time the pup is 4 weeks old, I would be using dry dog food with water on it so it is easier for the puppy to eat the dog food. You must remember the mother usually starts to wean her puppies about 6-7 weeks old. By the time she weans the puppy it can eat dry dog food with no water on it. I do not know how often to feed milk to the puppy. I have not had to do that in a very long time. (08/03/2007)
RE: Caring for a 5 Week Old Puppy
You must ask the vet. He will tell you exactly how often and what to feed. He might even have a formula for them or he will tell you what to feed them. If you can't afford a vet, an English Bulldog rescue will probably take them off your hands and give them good care until they can find them a loving home. If you need to find a rescue, you're local animal shelter or SPCA can help. (08/11/2007)
By Stngray
RE: Caring for a 5 Week Old Puppy
I have a five and half week old pit bull who wouldn't eat. I tried baby food and wet Eukanuba mixed together (it's very messy but he ate it). I wanted him to eat something more so I bought baby dog Royal Canine which he likes (but doesn't eat on a regular basis). What I found most helpful and what he guzzles down is newborn puppy milk that you can buy from PetCo (it's on the same aisle as the vitamins). Good luck! (03/22/2008)
new puppy
I am about to be given a 3 1/2 wk old puppy half Wiener dog, half mix of who knows what. I know it is probably too early to take the puppy away from her mother, but the family is just getting rid of all the puppies. Will someone please give me some suggestions on what to do to take care of such a young puppy? ex: food? environment? (b)Editor's Note:(/b) Way too early to take a puppy away from it's mother. 6 weeks is a minimum and 8 weeks is much better. Your pup will have a much better start if you can convince the owners to keep the pups longer.
(07/17/2008)
By Nickie
I have a pit bull/mastiff puppy that is about 5 weeks old. The breeder told me she was 8 weeks, but it's clear that she's not. He said that they had to get rid of all the puppies or they would be put down. I just want to know what I should do with her to help her grow healthy. She cries most of the day, even when she's eating and drinking. I really need some advice on this.
Lori from Thermopolis, WY
---
RE: Caring for a 5 Week Old Puppy
Besides the advice here, you should talk to your vet about this and contact the ASPCA and turn in the breeders. (03/11/2009)
By Deeli
RE: Caring for a 5 Week Old Puppy
Invest in the puppy milk for at least a few weeks. Make sure she is using the bathroom. You may have to stimulate her to go by rubbing her with a tissue or paper towel. Good luck! (03/12/2009)
By kflawson
RE: Caring for a 5 Week Old Puppy
All the ideas here have merit, but they don't address your poor puppy's true misery. I expect the poor thing is missing his/her mama. It's been a long time since we've had really small pups around here, but if you can get an old-fashioned wind-up clock (the kind that ticks), and a heating pad you can set on low to put in the pup's bed, that might help some.
Give your new "fur baby" all the cuddling and physical affection you can during waking hours, and try the heating pad-clock combo at bedtime. Hope it helps! (03/13/2009)
By JustPlainJo
How do you care for a very small 5 week old puppy?
By Jeisha from florida
---
RE: Caring for a 5 Week Old Puppy
Wow, 5 weeks old is very, very young to be away from its litter mates. A lot of dogs end up with biting problems because they leave their litters too young. They learn about the consequences of biting from playing with their brothers and sisters, but I'm going to assume it was not your choice to get a pup so young. Back to feeding, I feed pups that young dry puppy chow from Purina and I mix it with Alpo puppy food. Just enough canned food to coat the dry. Too much canned food will give it diarrhea. I don't know how big the pup is, but give him enough four times a day to fill him up and then let him have as much dry food as he or she wants. Eventually you'll be able to just feed dry food which I think is the best for dogs. I have raised Australian Shepherds for the last 8 years and my dogs stay on Puppy Chow until their 9 months old. Sure hope this helps you out. (08/25/2009)
By bsmoreland
I have a 5 week old puppy. He keeps throwing up after sucking milk. They are Chinese Crested Puffs. What should I feed them beside goats milk and pablum?
By Robbie from Winnipeg, Canada
---
RE: Caring for a 5 Week Old Puppy
Please get that puppy to the vet. You may have more than feeding issues going on there, and a pup that young can dehydrate from vomiting very quickly. At any age, dehydration can mean the systems of the body can shut down; it's even more potentially lethal in very young puppies. (08/06/2010)
By PupperMom
I have a 5 week old puppy. My mother's dog is the mum, she hasn't got much milk left, so I decided to try and nurse him on puppy milk, but he won't lap. When I take him to visit my mum he will lap for her. What am I doing wrong?
Please help, I am so worried.
By JLB from Yeppoon, QLD
---
RE: Caring for a 5 Week Old Puppy
5 weeks is too soon to be taking a puppy from it's mother. They should be 8 weeks before taken from her. (11/03/2010)
By patches
RE: Caring for a 5 Week Old Puppy
I used a large eye dropper for a kitten with the same problem and I only had to do it for a few days. (11/04/2010)
By marie1623
I have a 5 week pit bull puppy. I'm unsure on what to feed him. He also won't stop crying. Can anyone give me suggestions on what to do and tell me why he cries?
By Morena
---
RE: Caring for a 5 Week Old Puppy
I don't know the circumstances as to why you have a 5 week old pup (at 5 weeks they should still be with the mom) anyway, if for some reason she/he can't be with mom you can get some puppy milk and feed him with a syringe. Once he gets older (7-8 weeks) try adding some really soft moist food (like a/d, available at the vets) to the milk and continue to feed him with the syringe. Then you can try giving him the a/d -milk mixture on a plate till he learns how to eat solids. Hope this helps you out. (12/21/2010)
By lhasaangel
RE: Caring for a 5 Week Old Puppy
Check with your vet about feeding. There is milk replacement available at pet stores. You can try putting a ticking clock in the bed with him. It seems to quiet puppies. Good luck. (12/22/2010)
By Lizzyanny
RE: Caring for a 5 Week Old Puppy
Although I appreciate the sentiment, I would really think twice about taking this puppy back to his mother, simply because, if the mother dog's pet owners were irresponsible enough to give you this puppy at 5 weeks, I wouldn't trust them another day with this precious pup. On the other hand, if they were just unaware. Well, I'd still think more than once. He is crying because he was separated from his mother way too young. His future is now in your hands, Morena. Advocate appropriately.
Did the pup come from a healthy mom or was he rescued? Either way, please contact your vet as soon as possible. The vet can help you help this pup through this difficult transition (feeding advice and emotional support). This little puppy is counting on you to save him. Thanks for asking an important question (feeding) and best wishes for the two of you to have a long and happy friendship. Now go call your vet, okay? (12/25/2010)
By KansasCindy
What should I feed a 5 1/2 week old puppy?
By Frankie from FL
---
RE: Caring for a 5 Week Old Puppy
The world appears to be cursed with totally irresponsible "back yard breeders". Please consult your veterinarian or a registered licensed breeder irrespective of their kennel breed. They will both be horrified, but will help. You are doing your best. Good luck. (02/04/2011)
By FARSTAR
RE: Caring for a 5 Week Old Puppy
I got a puppy when he was four weeks old. Now he is seven years old. I had to hand feed him. I used whole milk diluted a little, with small pieces of bread in a bowl. I left it to soak for a little and then hand fed the bread to him. I also had to help him drink water with a syringe. I did this for a week; then he started to eat and drink on his own. Then I went to dry puppy food from Purina, I added water with a little milk and soaked it until it was soft. I did this up until he was 8 weeks old. I never feed him canned soft food and now he is a healthy and strong dog. Make sure you keep water available at all times. He used to cry too and I went out an bought him a stuffed animal that looked like a dog. He used to lay with it all the time and he stopped his crying; plus he had a blanket to lay on inside a box. with no lid. He was relaxed then. (02/06/2011)
By pved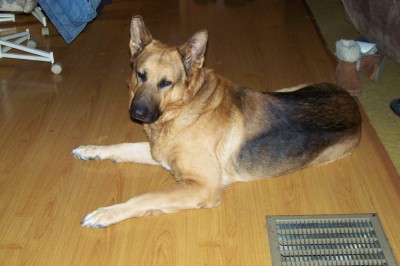 Answer This Question
Add your voice to the conversation. Click here to answer this question.