Light Bulb Christmas Ornaments
When making light bulb ornaments, how do you drill a hole into the plug side of the bulb to thread wire?
By Annie from Glasgow, KY
Answers: Light Bulb Christmas Ornaments
Read answers for this question below.
einna68/Annie,
How funny! Well, we all have 'duh' moments. Part of being human and learning humility ;-) I love your light bulb decoration and Bless you for recycling those bulbs! You should submit that to the weekly ThriftyFun Craft Contest with how to directions!
Right after I posted this I realized that. (I'm almost embarrassed to say this) I had the drill in reverse. It definitely works better when you are drilling in the right direction!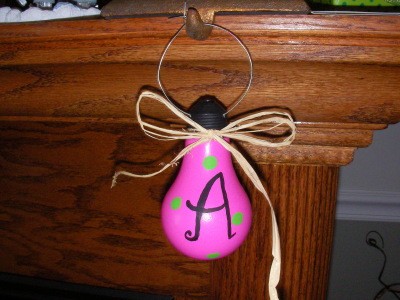 That sounds dangerous to me. Everyone I know just takes ribbon or thread to match the tree and ties it at the base of the bulb just above the part that screws into a lamp.
I'm confused, too. :-( Wouldn't a small drill bit from one side of the bulb's base (the part you screw in) to the other make a large enough opening for you to thread light weight wire, or sturdy thread through? Perhaps I'm misunderstanding the craft project itself. It sounds interesting, though. More info?
Archives
Here are archived discussions related to this page.
Light Bulb Christmas Ornaments
I would like to know how to make burned out light bulb Christmas ornaments.
Thanks,
Lilly from Scranton, PA
---
RE: Patterns for Light Bulb Ornaments
Make a reindeer by taking a Christmas tree light bulb, holding it socket end up, center and wrap a brown chenille stem around the socket once and then bend or twist the ends into antlers. (I like to wrap around a pencil for a spiral shape.) Glue on a pompom nose, red, or course on the front near the tip and add jiggly eyes. Good and easy enough for kids. You can add a pin back to wear it, or a string(clear fishing line) to hang it. (10/05/2004)
By Linda
RE: Light Bulb Christmas Ornaments
An easy beautiful ornament is to take some red paint, paint a swirl all the way down the bulb as if you were making a candy cane and decorate the top part (which is the screw part), with a cute wired ribbon etc. you can use any color paint and get creative. Makes a great gift for a teacher, too. (12/01/2005)
By melfrmNY
Answer This Question
Add your voice to the conversation. Click here to answer this question.