A warm engine compartment can be enticing to rodents looking for shelter. This guide is about mice nesting in a car.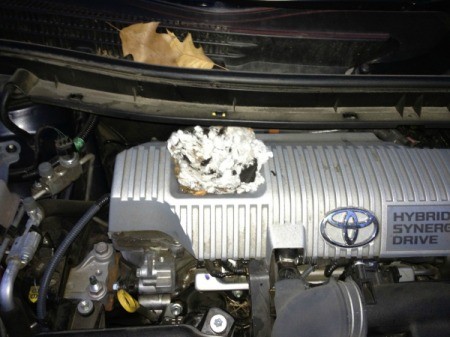 My car broke down beyond repair and I could not afford to by another one at the moment, fortunately my parents had a car sitting in their yard that was in seemingly good condition and was only there for about a year

When I Begin cleaning it out I discovered that there had been several families of mice living in it! Fortunately they all seemed to have deserted the car, however they left behind several little presents for me to clean!

I got the car repaired (the things the mice had chewed through and I also needed a strut). The mechanic told me that not only were they living in the car (and trunk) they had also built a nest in the blowers (for the AC and heat).

So I cleaned out the car I shampooed the interior and vacuumed and sprayed almost a whole bottle of fabreeze all though out the car and the smell is still there! (although it is not as strong)

I personally hate mice and their smell makes me sick but I can't afford to buy another car for a little while so I don't know what to do. I would like to get every little bit of smell out of the car not only because it makes me sick but also it's really embarrassing (I could not imagine taking out a date or going somewhere with my friends and them having to smell mouse!)

So please, any tips or ideas would help. Everyday I drive to work in this thing and it makes me nauseous.

Matt
---
Most Recent Answer
By Michael Stierle 1 Flag
September 21, 2014
Maguiuers car care makes a fogger? atomizer air freshener. You start the car and put the air conditioner on high then pop the top on the canister and close the doors for 15 minutes while the ac is on recirculate and let run. It cost 8 dollars at Walmart and it worked better than anything I ever used. It is made by maguires (not sure if spelled correct) they make a bunch of different car care products
---
How do you keep mice out of your car when it sits for a while? We have a camp truck that sits for period of time. Mice seem to get into the car. Is there a way to keep them out?
- cory
---
Most Recent Answer
September 21, 2010
Thanks for your ideas. Have a nice day.
---
My mom has a severe problem with field mice getting into the heating/air fan housing in her car. No one else has had a problem when they visit her, but she has had to have her car in the shop at least 10 times for this in the two years that she has owned the car. The car is a Chrysler Sebring. Does anyone have any ideas on what she could use to stop them from coming in? She has outside pets and is afraid to put out any poison.
By binkylou from Wingo, KY
---
Most Recent Answer
July 2, 2009
Mice POOF I had a 22" snake in mine
---
Does any one have any idea to keep mice out of my car engine? They have been making a nest in my engine a couple of times. I don't want them making things dangerous for me and my car.
By Donna from Foymount, Ontario
---
Most Recent Answer
---
By erica 1
I need help. I have mice under the hood of my car nesting, chewing, and I'm so afraid after pulling all that junk out every night, cigarette butts, dog food, dried grass, just trash, that I will have a fire. My car is brand new and they have chewed wire and most of the insulation off of my hood. Can anyone help me please. I need a magic cure to stop these mice.
By Erica from AR
---
Most Recent Answer
March 20, 2013
We have all kinds of animals that get in our cars in Arizona. Our hardware stores sell a great new product that doesn't kill but just chases the animals away.It has saved me a lot of money this year.
My friend in Prescott got one when he saw a rabbit in his car and had to have it repaired 3 times in the same week. He opened the hood and saw the rabbit.
We are both very happy with our rid-a-rat. It is green and just some how chase the animals away. I don't want poison around it can kill hawks and other animals.
All of my neighbors use them.
---
I bought a 2007 Jeep less than a year ago it wouldn't start. I had it towed from the dealership (not under warranty). They said mice had chewed wires and plastic to the tune of $1100. Before I purchased this car it was garaged for a few years.
Could this damage have been from it being garaged before I bought it? Could it have been driven by me for 8 months with no infestation on my end? Or would it have to be recent? I want to challenge the dealer, but don't want to have this sound totally ridiculous on my part. Any advice?
By Karen
---
Most Recent Answer
June 7, 2013
I would ask to see the old parts before I believed them about this. In fact, ask to see all old parts, when they are removed, and you can explain that you like to keep photographs or a record of all parts you have to have replaced.
---
By Jennifer 2 6
I have mice in my brand new car! I first noticed them in my glove box, they ate ketchup packets, so I took everything out of there. I also put peppermint oil on a cotton ball. They still go in my car. NOW they are all over, on the seats, on the dash, steering wheel. It is like they have set up camp, yet I have never seen them, just the droppings!

We park the car in the garage (which is infested with mice this time of year) and I was wondering if anyone has ever had this problem. My car is starting to smell! I use urine spray that I got for my dog who pees on the floor, it works well, but every morning they leave more. I set traps and they are constantly full. Is there a hole I can plug up or something! AHHHH!

Jen from ILLINOIS
---
Most Recent Answer
By guest (Guest Post) Flag
January 9, 2009
That is funny I live in Illinois too, also have the same problem. Last year I parked my car in our garage and started noticing chewed up papers, phone books, stuffing from under my back seat. We set traps and caught them. We took out the backseat to find underneath they had a nest, so we put out rat poison in the trunk and under the seat. Well this year same problem I don't know how to get rid of them little rodents. We stopped parking our car in the garage. Have you found a cure yet?
---
I have a cute little brown mouse living in my brand new CTS coupe. I have tried moth balls and a bar of Dove soap, but from what I am reading these strategies don't claim to work! Do you have some ideas to get rid of my mouse humanly?
By Barbara
---
Most Recent Answer
March 18, 2014
Try Irish Spring soap bar the smell hurts their eyes so they leave. Dove is just not the way to go...
---
How do I keep mice out of the engine compartment of my car?
By Bob G.
---
Most Recent Answer
By Louise B. 6 2,509 Flag
June 23, 2014
Well, I am not sure how to do this, but one thing you DO NOT want to do is put mothballs in there. Mothballs are often given as a solution for keeping rodents out of places, but the stench from them is sickening, and very difficult to irradiate. Besides, they are poisonous to people as well as to all animals and the moths they are supposed to get rid of.
My remedy for getting rid of mice is always a cat, or several.
By cinlb 1
Can the smell from the mouse urine hurt you it in the vents of a car?
By Cindy
---
Most Recent Answer
By Sandi/Poor But Proud 466 2,132 Flag
December 29, 2013
Probably no more than the smell of baby urine in the carpeting. If you are sure it's mice, get them out before they eat vital wiring.
I had mice nesting in the car, now the heat won't work, but the blower is. I am also hearing a loud click from under dash when turning the temp from hot to cold. The AC works fine. It is a 1998 Ford Taurus.
By Scott from Columbus, OH
---
Most Recent Answer
April 26, 2012
It would appear to me that the mice nested in the ducting either between the air intake and the heater core or between the heater core and the ducts under the hood. Check this hose under the hood for holes first. In either event first disconnect the intake air hose where it connects to the heater core and clear any debris. This is most likely the location of the blockage.
Determine how the mice got in and determine how to prevent the entry in the future. I do not advise blocking the hose but some hardware cloth (mesh wire with 1/4 or so openings) from a hard ware store of feed and seed. Most feed and seed stores sell buy the foot.
. I have had this happen to my truck.