My refrigerator has a bad odor coming from the bottom drip pan. The pan is not removable. With my old refrigerator to clean the odor I would put baking powder all over the pan and the odor would be gone. How do I eliminate the odor if the pan is not removable? Thanks.
Our new Frigidaire fridge has lost all coldness in the freezer. The tech said it was the evaporator and ordered the part. We removed all the food from the freezer, but now there is smell coming from underneath the fridge. The smell is not inside the unit, just blowing out from underneath. I removed the grill and checked out the non-removal drip pan and it is dry.

I was wondering if anyone has an idea on what this smell is and could it be toxic? I also did pull out the fridge and saw nothing underneath it. Also, the fridge section works fine, any suggestions would be great.

Thanks.

CC from OR
Answers:
Smelling Coming From Under My Frigidaire Refrigerator
The smell has finally gone. I put some bleach water in the drip pan and it went away. Not sure if something dripped down there when the freezer went bad.

We are stuck with this fridge because it was the only one in our area that was the size we needed. I am going to buy the extended warranty next week.
(03/16/2007)

By Topaz1
Smelling Coming From Under My Frigidaire Refrigerator
If you use a cleaner with orange in it that will help in eliminating odors. (03/16/2007)

By nmcl
Smelling Coming From Under My Frigidaire Refrigerator
The odor comes from the base tray that gets the defrost water. The design is bad because the tray cannot be removed to be cleaned. Remove the base front plastic grill, use a long brush to scrub and after clean with a wet rag with soap around the brush. Put a removable smaller tray in the original tray, so the next times you remove the tray to clean it. Also, you can clean behind the Frigidaire using a foam brush. (See pictures)

French: Les odeurs proviennent du cabaret au bas du Frigidaire qui reçoit l'eau de la glace fondue du dégivreur. Enlever la grille avant au bas et frottez le cabaret avec une longue brosse. Apprès lavez avec un chifon savonné attaché au bout de la brosse. Lorsque terminé, insérez un petit cabaret mobile pour faciliter les prochains nettoyages. (Voir photos) (11/15/2008)

By Renaud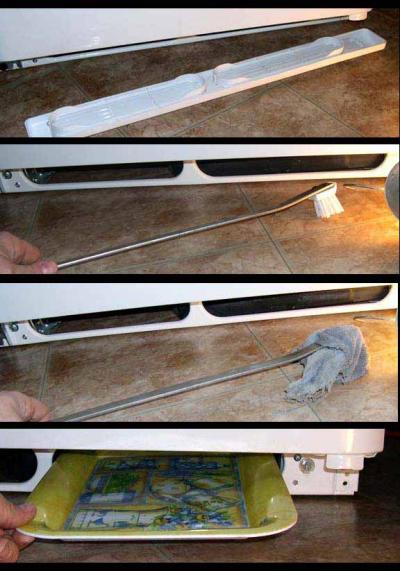 Comment
Was this helpful?
Helpful?
Yes