By Fay from Brooklyn, NY
Recent Answers
Here are the recent answer to this question.

By Got19s11/30/2010
I can sell you pop tabs in bulk! :) I have over 150,000 right now! How many do you need? Email me at got19s AT yahoo.com for a price. Include your zip code, too.

By Vicki [21]11/12/2010
Well, I don't know about New York, but people sell them in bulk on ebay.
Questions
Here are questions related to Buying Bulk Aluminum Pop Tabs.
I would like to buy pop tabs for some crafts I'm doing. Any suggestions?
By Kenneth R.
---
Most Recent Answer

By Maryeileen [76]10/18/2011
Send me your address and I'll mail some to you.
Archives
Thrifty Fun has been around so long that many of our pages have been reset several times. Archives are older versions of the page and the feedback that was provided then.
Where can I buy bulk aluminum pop tabs other than eBay?
By Niki from Fredonia, KS
---
RE: Buying Bulk Aluminum Pop Tabs
Put add in the newspaper that you want to buy them, good luck. (03/10/2010)
By kffrmw88
RE: Buying Bulk Aluminum Pop Tabs
Post an add in the wanted, Barter, and Free part of Craig's List in your town and also nationally.
* You'll have to word each ad differently, or their computer will automatically kick them off thinking they are duplicate ads. (03/10/2010)
By Cyinda
RE: Buying Bulk Aluminum Pop Tabs
Go to one of these groups on yahoo and sign up to the closest one in your area, there are people in my area posting they want these all the time and people are saving them to pick up for free. http://groups.yahoo.com/search?query=freecycle+kansasandsort=relevance (03/12/2010)
RE: Buying Bulk Aluminum Pop Tabs
http://www.etsy.com/shop/popcantabs Washed, airdried, and decurled. Ready for crafting. (05/27/2010)
By blovas00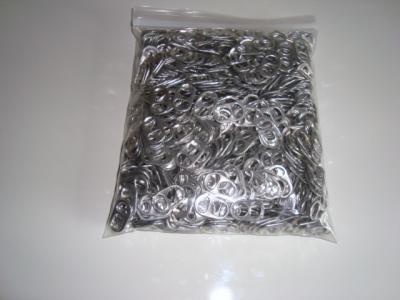 Answer This Question
Add your voice to the conversation. Click here to answer this question.