I would like to know if anyone has a pattern for making yorki clothes. My daughter just got a yorki and she weighs 5.01 Lbs. I have checked out some of the clothes they sell, the price is insane! If any one can help me out I would like to make her some clothes for her puppy. Thanks.

As soon as I get my digital cam. Fixed I'll send you all a picture of her baby. Her name is Aruba!

Destiny
Ad
---
Recent Answers
Here are the recent answer to this question.

By Betty [13]03/11/2011
There are patterns in the pattern books for even a wedding dress for any size.

By Sunj02/25/2010
Hi, I have 2 small Yorkies. Mine weigh in just under 5 lb. I have never tried to make any clothes for them as I have never seen any patterns. But I have found some reasonably priced clothes for them in a catalog that I get or you can shop on line for specials at petedge.com. Look at the clearance specials. Oh, I love her name Aruba! Good luck!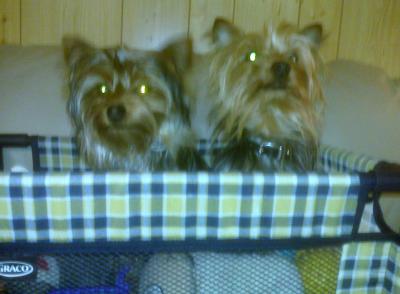 By Vita [1]02/25/2010
Hi I have a little 5 lb. Yorkie myself. I have found that some doll clothes or stuffed animal clothes will fit him. Saves you time sewing. Anyway you can locate some of this at the thrift stores and yard sales. When you find something that fits take it apart and use it as a pattern to make more. Good Luck! V
Answer This Question
Add your voice to the conversation. Click here to answer this question.