Answers: Making a Bulletin Board
Read answers for this question below.
You can also get a tri fold Elmers' Display board that is made of some pretty sturdy cardboard.

Or, you can get foam board for 1.00 at the Dollar Trees. I hope this helps.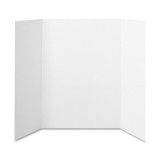 Go to Lowe's or Home Depot and have them cut a thin piece of plywood to your measure. Glue 12" corkboard squares to this. I have done this for my sewing room, but used a large piece of corrugated cardboard for the backing and put it up on the wall with mirror hangers.
Answer This Question
Add your voice to the conversation. Click here to answer this question.