Easy Earrings from Vintage Buttons
Do you have any beautiful, old buttons in your collection that either don't number enough for the front of a shirt, or just don't seem to match any fabric you have? You can turn them into unique earrings quite easily.
Supplies:
two buttons, preferably flat-front (not the kind w/two or four holes)
craft glue
needle-nosed pliers
polymer clay or air-hardening clay
2 earring posts and backings OR the posts and backings from a pair of earrings you're bored of
Directions:
This is so easy and the end result is stunning!
First, what you'll need to do is clip the back loop off of your buttons with needle-nosed pliers. Be careful to clip as close to the button's surface as possible.
You'll probably be left with two sharp nubs on the back of each button that you just can't get close enough to clip off. To glue the earring post onto the back of the button, you'll need a flat surface. The best way to solve this issue is to take a small amount of polymer clay (if you're using metal buttons) or air-hardening clay (if you're using plastic buttons, or buttons with plastic features) and smooth it onto the back of the button. Try and make as thin of a layer as possible, just enough to cover the sharp nubs. If you used polymer clay, bake the two buttons, clay side up, for 15 minutes at 350 degrees F.
When the clay has cooled/dried, put a very small amount of glue on the back of each button and press the earring posts on. Earring posts bought at bead stores have a large, flat end, so this should be easy. Wait for the glue to dry and the earrings are finished!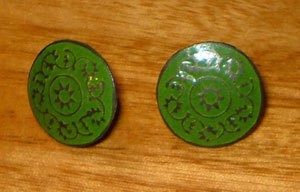 About The Author: Jess Hampton has been an active DIY devotee since she was 15. Now, 10 years later, she uses her creations to furnish a little house in Regina, where she works as a freelance editor and lives with her husband, cat and 2 rats.
Feedback
Read feedback for this post below. Click here to post feedback.

By Katyusha (Guest Post)
12/22/2008
Thank you for your straightforward advice! I spent 30 minutes sifting through instructions for hanging earrings until I put in "button craft glue earring finding how to" and found your great site.

By
08/07/2006
Thanks for sharing this....I don't have the money for buying new ones (I'll be cutting my hair short and need some new "big" earrings) and I love the ability to customize with outfits!

By
08/06/2006
I have been making this type of earring from buttons for many years and want to share a tip with you. I use a tool that I bought in the crafts section at Walmart that cuts the shanks off of buttons. Then I use my Dremel drill to sand down any remaining nubs, and the sanding makes for a nice flat surface. The glue also adheres better to a rough finish versus a smooth one. I really love buying unusual things to make earrings from (buttons, embellishments, flowers, ...). Does anyone know where I can buy inexpensive earring posts? I can't find 6mm and 8mm flat posts. I don't want the expensive sterling silver or 14k gold; just the cheap kind. Thanks! Debbie

By Dawn (Guest Post)
06/20/2005
I bet that earring wires could be threaded through the back button hole to make dangling earring as well. Good ideas!

By Michele (Guest Post)
06/19/2005
You can also take the buttons with the 'nubs' as someone called them, and put them thru a ponytail holder for lil kids. Seen this on a craft show I think.

By
06/19/2005
Hi - - I did this last winter with some buttons that I found at Wal-Mart. In fact, I've gone back several times and bought different buttons to make lots of different earrings. I just wanted to say that what I did to get rid of the nubs on back was to just use a nail file and file them down. It worked fine.

By Cherokee Council of America (Guest Post)
06/19/2005
The earrings look great! The green color and design evoke an Indian theme and look to the project. Come and visit us online and learn more about us:
www.cherokeecouncilofamerica.com

By
06/19/2005
This is such a great idea. I enjoy crafts & sharing ideas. Thanks so much for posting this, I'm going to try making myself some earriings. Also this makes a neat gift to give. Have A Wonderful Day!
DolphinLuver77
Post Feedback
Add your voice to the conversation.