Sewing Machine Model and Serial Numbers
Where do I find the model number and serial number on a Good Housekeeper Deluxe 30 sewing machine? I just bought it and would like to see if I can find a manual. I'm new to sewing so I will be practicing on it.
Thank you,
Cindi from Maine
By misskitty
Answers: Sewing Machine Model and Serial Numbers
Read answers for this question below.
Do you have a manual/parts list for this machine?

burton32 AT verizon.net
I just recieved an old sewing machine with the number at the base. Trying to figure out the manufacturer. Thank You.
That is nice that you are going to practice and teach yourself, I did...however, you WOULD find the manual very helpful, even though machines are somewhat alike, when there is a difference, there is a difference and you need the manual. I would call a local repair shop and ask them where on the machine you could locate the Model and Serial # and then work from there...ask again on here and do a Google search for sewing machine manuals.
If you can find the company, they may be helpful.
I got a very, very nice used Viking, minus the manual and the company copied and mailed me free of charge the majority of the pages to the manual...which I truly needed. Good luck. Also, find a friend who sews and use her brain, that is what I did with several friends.
B. Wilson
Don't fret, pretty much all sewing machines have the same things. buy yourself a generic sewing book and figure it out , or check out yard sales or thrift stores which have quite a few actually. Good luck
Questions
Here are questions related to
Sewing Machine Model and Serial Numbers
.
Finding Model Number of Brother Sewing Machine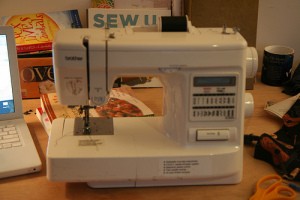 I bought this from a used sewing machine dealer and there are no numbers anywhere. I need a manual for it, but cannot without a number. I am hoping someone will recognize the model. Thanks in advance.
By Oneta
---
Most Recent Answer

By minkuti
12/24/2012
I had a similar problem - was missing my Brother manual and couldn't find the number, even with the webpage help. I had to call the 1-800 customer service number and the agent helped me locate it. The number can be found on their website! Good luck!
Answer This Question
Add your voice to the conversation. Click here to answer this question.
Related Guides
Related Posts