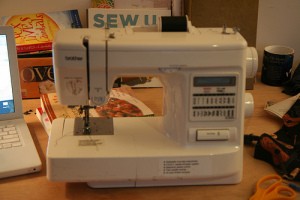 I bought this from a used sewing machine dealer and there are no numbers anywhere. I need a manual for it, but cannot without a number. I am hoping someone will recognize the model. Thanks in advance.
By Oneta
Answers
December 18, 2012
0

found this helpful
I also bought a Brother machine years ago, no manual. Google 'Brother sewing machine manuals'. Go through all the manuals and maybe you will find a manual for your machine. I found a manual, but it was not exactly the model I owned, but mostly similar. Hope this will help you.
Marlene, South Africa
December 24, 2012
0

found this helpful
Finding the model number can be difficult on some models of all manufacturer's sewing machines. Going to the manufacturer website can save hours of searching through Googled images, so here is a link to the Brother US site:
http://www.brot rt/#.UNgcKRy-czA
Scroll down to find the contact feature, you can choose 'home sewing and embroidery' then use the comment box to ask them how to find your model number. I don't think you can attach a photo so you may want to ask in the email if you can send them a picture to make it easier to identify your machine.
Good luck, let us know if you find your instruction manual.
December 24, 2012
0

found this helpful
I had a similar problem - was missing my Brother manual and couldn't find the number, even with the webpage help. I had to call the 1-800 customer service number and the agent helped me locate it. The number can be found on their website! Good luck!
August 6, 2017
0

found this helpful
My mother recently passed away and she had this brother sewing machine. Can someone tell me the model number as I need an owners manual.