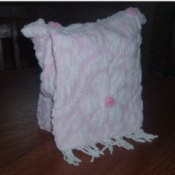 If you have any of those old chenille bedspreads around, put it to good use and make a handbag. I made this one to show off the pink center in the daisy. That part is the flap of the bag. Then on the other side I put on a pocket to hold my sunglasses and phone.
By Elaine
Ad
---
Feedback Forum
Feedback about this article is posted here. Want to contribute? Click above to post feedback.

By Maryeileen [76]08/22/2007
Can you give us the pattern for your handbag? Thanks!

By (Guest Post)08/21/2007
That is very pretty, I like it a lot! You are very creative!:)

By Julia (Guest Post)08/21/2007
Elaine, this is a good idea...and you did
a lovely job making your bag. Now, I want one. :)

Julia in Orlando, FL
Post Feedback
Add your voice to the conversation. Click here to share feedback.