Bending Silverware for Crafts
I am trying to figure out how to bend silverware for craft projects. Will I need a torch and will a torch be okay for silverplate? I saw the silverware handles, but can't find instructions on how to do this, and I want to bend them for more than that project.
By Suzy from Merlin, OR
Answers: Bending Silverware for Crafts
Read answers for this question below.
For my bent silverware that I glue onto glass butter dish (see on Thriftyfun), I simply used my hands to bend into the shape I wanted and that fit the top. More modern flatware can be harder to bend than the old silver stuff. I've never used heat with any of my projects. For place card holders using forks, I used a pair of needle-nosed pliers to bend the tines into the shape I wanted. Very easy to do with the older silver. Longer tines are easier, too. I think it's a lot of experimenting. For making finer jewelry, you will probably need more equipment. Rubber mallets, dowels and possible heat. Hope this helps.
The way I learned was to use a wooden dowel the size I wanted my curl or circle to be, using a rubber mallet, slowly pound the handle around the dowel. You might try jewelry sites for more information. I just typed in making jewelry out of silverware and found info. I did not make this bracelet but shows what can be done.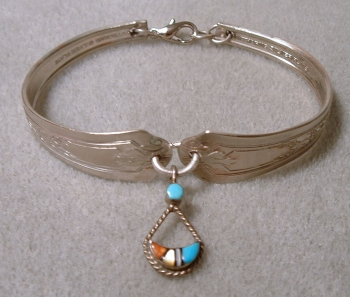 Answer This Question
Add your voice to the conversation. Click here to answer this question.
Related Guides
Related Posts