By SL Edens 1 395 Flag
November 16, 2005
What a clever idea!!! I love it!!! Thanx Hvnlyhills!!!
By guest (Guest Post) Flag
November 16, 2005
I love this idea!!! How sweet!
thank you!
By guest (Guest Post) Flag
November 17, 2005
I DID THIS AS CHRISTMAS GIFTS LAST YEAR FOR ALL MY CO-WORKERS AT THE HOSPITAL. YOU CAN FIND NEAT INEXPENSIVE MUGS AT THE DOLLAR STORE. I USED INDIVIDUAL PACKS OF COCOA MIX INSTEAD OF MIXING UP MY OWN. I PUT THE MARSHMALLOWS IN A BAGGIE AND TIED IT UP WITH A CANDY CANE AND RIBBON THEN PUT IN THE MUG. I FILLED THE REMAINING SPACE WITH CANDY KISSES.
thr417085 Flag
February 11, 2006
I HAVE DONE SNOWMAN SOUP AS GIFTS FOR CHILDREN - PUT POEM AND INGREDIENTS IN A CERAMIC MUG; TIE IT UP WITH CLEAR WRAP, TIE A PLAID RIBBON.
I TYPED THE SNOWMAN SOUP POEM AND FRAMED IT; IT SITS ON AN EASEL ON MY KITCHEN COUNTER NEAR MY BEVERAGE CENTER AT HOLIDAY TIMES; I KEEP IT OUT UNTIL WINTER IS OVER!
By guest (Guest Post) Flag
December 11, 2006
What a fantastic idea, esecially with most folks here in the south unemployed.
Thanks for taking the time out to write this out for us.
December 11, 2006
luv it.....the grandsons will luv it...thanx for the neat and cheap idea :0)
December 12, 2006
I plan on using this recipe this year but with a little twist -- it's gonna be from Santa to all my children (ages 15, 13, 11, 9).
I changed the poem a bit to reflect that:(caps)
I KNOW you've been good ALL year,
I'M always glad to SEE it . . . (rest is the same)
then I will sign it with a big LOVE, SANTA!!!
December 26, 2007
I got my Christmas mugs from the local Habitat ReStore for 25 cents each, washed them, filled them with wrapped seasonal candy, and gave them to a minister friend for a party for underprivileged children.
By guest (Guest Post) Flag
January 2, 2009
I wanted to use some "shiny" twist ties to close the cellophane bag and came up with the idea to just wrap one in aluminum foil. Worked great!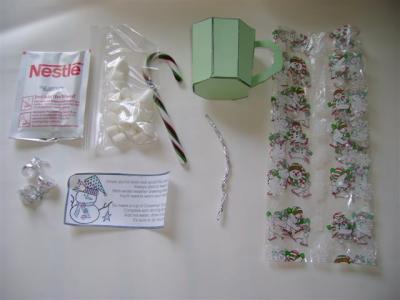 By WeepingHead 1 Flag
December 9, 2009
I love using this, last year I found this and used it to put in Christmas candy bags for our church. Instead of mugs I use plastic baggies from the craft area of walmart, and place everything neatly in them, with the marshmallows in their own bag. For all my ingredients I spent less than $20 and have enough for 100 bags of Snowman Soup.
By Sherry Stinson 1 Flag
November 26, 2010
Thanks so much for this great idea! My husband and I are both outh of work this year so I am trying to find Christmas ideas! So glad I found this website!