Snowman Soup Recipe I
I have seen several varieties of Snowman soup on the internet. Here is my version. I buy my mugs at the dollar store ($1 each). Wash them well. I got approximately. 12 gifts out of this recipe.
4 cups powdered coffee creamer
1 cup cocoa
3 cups powdered sugar
12 oz milk chocolate chips
6 oz semisweet chocolate chips
2 Tbsp.. vanilla powder (optional)
Miniature marshmallows
Candy canes (wrapped) or cinnamon sticks.
Mix all ingredients well. Place 3 heaping tablespoons per serving in a small plastic bag (I used enough for 2 servings) and close with a twist tie. Place candy cane or cinnamon stick in mug. Place plastic bag in bottom of mug then place a paper cupcake liner on top of bag. Fill with approx. 15 mini marshmallows. Place filled mug into a small plastic bag or wrap with plastic wrap and tie at top (I found a mug fits well into a Glad sandwich bag if you line the handle up with the corner side). Decorate with curly ribbon, etc. Attach following on a card:
Snowman Soup
"Was told you've been real good this year. Always glad to hear it! With freezing weather drawing near, you'll need to warm the spirit. So, here's a little Snowman Soup, complete with stirring stick. Add hot water and sip it slow, it's sure to do the trick"
Add a message on the back of the card for directions: Mix 3 heaping tablespoons with hot water and enjoy ! If you use enough for 2 then add a message noting there is enough for 2 mugs of soup to enjoy or share with a friend.
This was an easy and inexpensive treat for craft shows, small gifts, etc. Hope you enjoy!
By Hvnlyhills from Peebles, OH
---
Snowman Soup II
This comes from somewhere, it was sent to me. If its yours, let me know and I'll put your name in here!
1 package Hot Chocolate Mix
3 Hershey Kisses or Hugs
10 miniature marshmallows
1 Peppermint Candy Cane
Place all of the above into a new mug, then cover or wrap with cellophane, decorate and attach the following poem...
"Was told you've been real good this year, A
lways glad to hear it
With freezing weather drawing near
You'll need to warm the Spirit
So here's a little Snowman Soup
Complete with a stirring stick
Add hot water, sip it slow
It's sure to do the trick!"
Ad
---
Feedback Forum
Feedback about this article is posted here. Want to contribute? Click above to post feedback.

By Sherry Stinson11/26/2010
Thanks so much for this great idea! My husband and I are both outh of work this year so I am trying to find Christmas ideas! So glad I found this website!

By WeepingHead12/09/2009
I love using this, last year I found this and used it to put in Christmas candy bags for our church. Instead of mugs I use plastic baggies from the craft area of walmart, and place everything neatly in them, with the marshmallows in their own bag. For all my ingredients I spent less than $20 and have enough for 100 bags of Snowman Soup.

By servantof_jesus @ hotmail. com (Guest Post)01/02/2009
I wanted to use some "shiny" twist ties to close the cellophane bag and came up with the idea to just wrap one in aluminum foil. Worked great!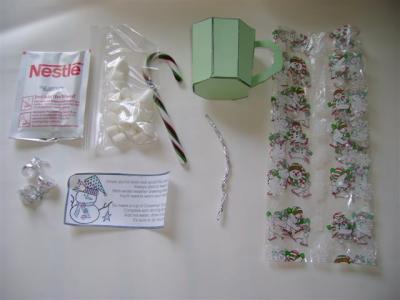 By Nancy Collins [6]12/26/2007
I got my Christmas mugs from the local Habitat ReStore for 25 cents each, washed them, filled them with wrapped seasonal candy, and gave them to a minister friend for a party for underprivileged children.

By Karen12/12/2006
I plan on using this recipe this year but with a little twist -- it's gonna be from Santa to all my children (ages 15, 13, 11, 9).
I changed the poem a bit to reflect that:(caps)
I KNOW you've been good ALL year,
I'M always glad to SEE it . . . (rest is the same)
then I will sign it with a big LOVE, SANTA!!!

By Ruth Kennedy [4]12/11/2006
luv it.....the grandsons will luv it...thanx for the neat and cheap idea :0)

By Paula Jo Carr, Mebane NC USA (Guest Post)12/11/2006
What a fantastic idea, esecially with most folks here in the south unemployed.

Thanks for taking the time out to write this out for us.

02/11/2006
I HAVE DONE SNOWMAN SOUP AS GIFTS FOR CHILDREN - PUT POEM AND INGREDIENTS IN A CERAMIC MUG; TIE IT UP WITH CLEAR WRAP, TIE A PLAID RIBBON.

I TYPED THE SNOWMAN SOUP POEM AND FRAMED IT; IT SITS ON AN EASEL ON MY KITCHEN COUNTER NEAR MY BEVERAGE CENTER AT HOLIDAY TIMES; I KEEP IT OUT UNTIL WINTER IS OVER!

By MARCY (Guest Post)11/17/2005
I DID THIS AS CHRISTMAS GIFTS LAST YEAR FOR ALL MY CO-WORKERS AT THE HOSPITAL. YOU CAN FIND NEAT INEXPENSIVE MUGS AT THE DOLLAR STORE. I USED INDIVIDUAL PACKS OF COCOA MIX INSTEAD OF MIXING UP MY OWN. I PUT THE MARSHMALLOWS IN A BAGGIE AND TIED IT UP WITH A CANDY CANE AND RIBBON THEN PUT IN THE MUG. I FILLED THE REMAINING SPACE WITH CANDY KISSES.

By Karen in SC (Guest Post)11/16/2005
I love this idea!!! How sweet!

thank you!

By SL Edens [1]11/16/2005
What a clever idea!!! I love it!!! Thanx Hvnlyhills!!!
Post Feedback
Add your voice to the conversation. Click here to share feedback.