Kittens! Lots of Kittens!
These kittens are about five weeks old. Mom Cat brought them into the world with the help of a local Tom Cat! They ride my feet like children on a swing. I would like to share my kittens with anybody who wants one. I have eight kittens and two adult female cats.
By Joseph from Laval West, Laval, Quebec, Canada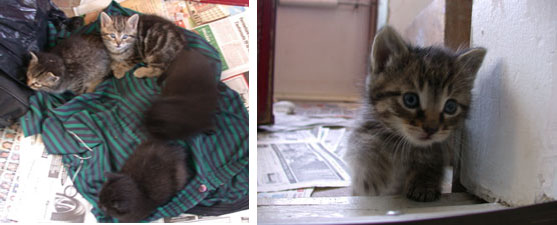 By human4us
Feedback
Read feedback for this post below. Click here to post feedback.

By
09/30/2012
Had you had the female cats de-sexed, you would not be trying to find homes for their kittens. Talk to your Veterinarian.

By
11/22/2010
Good luck finding good homes for those sweet kittens! I have had my 2 kitties for over a year now and I can't imagine life without them! They will make lovely pets for someone.

By
05/03/2007
They are very cute. I hope that they all find loving homes and hope you give the Mama a good present by fixing her when she is ready. There are too many cats out there without homes, kittens are so cute but kitten season means death to thousands of teenage/adult cats that have lost their "kitten" charm.

Good luck in the home finding process, they all deserve good loving ones! Too bad I couldn't take one! I think my 2 indoor and 1 outdoor cats would NOT be happy though, plus I live in CA!
Post Feedback
Add your voice to the conversation.
Related Guides
Related Posts