I use my Jack LaLane juicer to juice 4 pounds of lemons to make a quart of lemon curd. I also strain the lemon juice after using the juicer to avoid pulp in the smooth texture of the creamy, luscious lemon curd. Straining and stirring are the key components into preparation of lemon curd.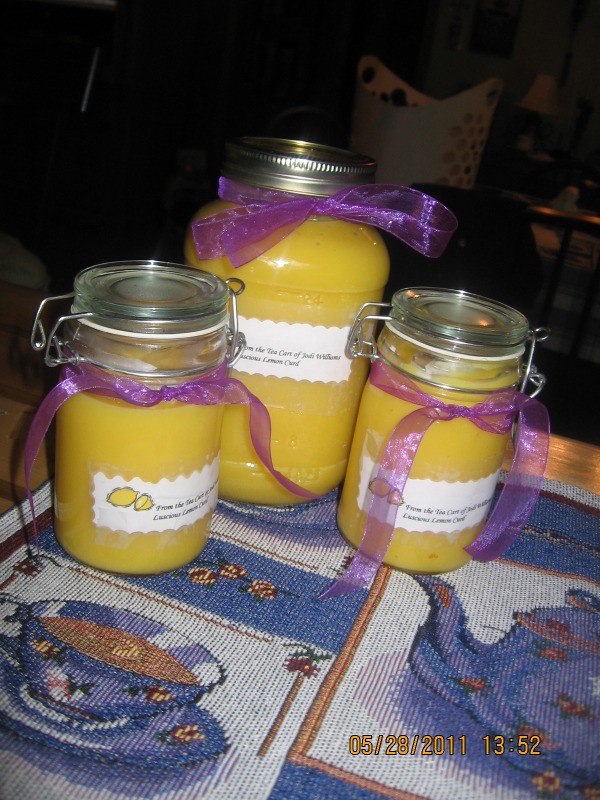 Egg yolks can be separated quickly if eggs are at room temperature.
You need to sift granulated sugar to insure lump-free curd.
I use a double boiler to make my curds; simmering water on the bottom of the double boiler, not touching the top boiler containing the curd mixture; stir with wire whisk until smooth, creamy and thick.
Strain into a large spouted measuring cup (to insure spillage when pouring into sterilized jars). I strain the hot curd on top of the unsalted butter; let stand and then whisk until velvety smooth; pour into sterilized jars, cover top with a round of wax paper, seal and cool down; then refrigerate.
By JOSE from Collierville, TN
Showing: Comments
Sort

: Relevance
June 4, 2011
0

found this helpful
Best Answer
Recipe for Lemon Curd:
Sterilized 8 oz jars with lids
5 Egg Yolks
3/4 cup sugar - sift the sugar to remove lumps
1/2 cup freshly squeezed lemon juice - do not use bottled lemon juice
Finely grated lemon zest of 1 lemon
1/4 cup Unsalted butter, diced - do not used salted butter or margarine in this recipe.
Separate egg yolks, strain egg yolks; add sugar and whisk together in a metal bowl, whisk in lemon juice and zest. Pour into a double boiler with the water in the bottom of the double boiler simmering; do no allow top of the double boiler to touch the simmering water underneath; cook and whisk constantly until very thick; it should coat the back of a wooden spoon; run your finger down the spoon, a line should remain on the spoon with the cooked curd. Remove from heat, add the cold diced butter into the bottom of a large mixing bowl with a spout; place strainer on top of mixing bowl; pour hot curd into the strainer, using a rubber spatula, press the curd mixture through the strainer; allow curd to stand until the butter has melted; whisk until velvety smooth; pour into sterilized jars; leaving about 1/4 inch from top; cover with rounds of waxed paper, seal jars. Cool jars of curd briefly, refrigerate. Curd will remain fresh in refrigerator for 10-14 days.
June 3, 2011
0

found this helpful
Would you please send the entire recipe? Thank you.
June 3, 2011
0

found this helpful
Lemon curd is wonderful. Would you post your recipe for it? Thanks, Elaiine
Add your voice! Click below to comment on this post or add your answer to this question. ThriftyFun is powered by your wisdom.