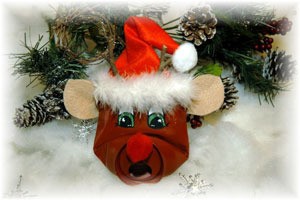 This Rudolph ornament is made from a soda can. Bend the top of the can so the opening is in front and looks like a mouth. The top of the can is now the bottom of Rudolph's face. Spray paint brown. Paint on eyes and inside of mouth, let dry, then spray on a sealer. Glue on a felt hat and ears, stick antlers, and a pom pom nose. Glue a looped ribbon or cord to the back of the hat to hang your ornie. Rudolph is now ready for Christmas.

By Helen from Louisville, TN
By Helen Reagan
Ad
---
By Jean in GA (Guest Post) 12/20/2007 Flag
Very cute! You are so smart to have thought of a good use for those soda cans!
By mary maharg (Guest Post) 12/21/2007 Flag
I am always looking for new ideas for empty pop cans. Good idea, thanks.
By Liz Yancey 1 12/28/2007 Flag
I am looking for things to do for gifts next year, darling idea!