I got this table free at a garage sale. It was not in the best of shape as one drawer was stuck and the outside just needed help. I was pretty sure I could refinish the top, but the bottom of the end table had too much "curly ques" to spend the time on. This table was definitely outdated with the old hardware too. My "after" pic does not show handles as I redid this for my son and thought he might like to pick out his own handles.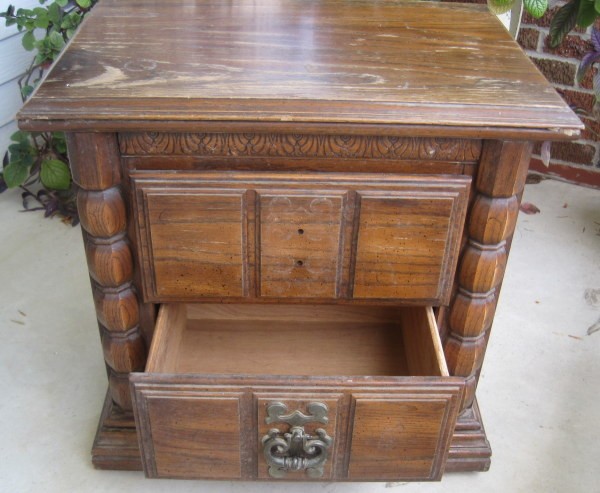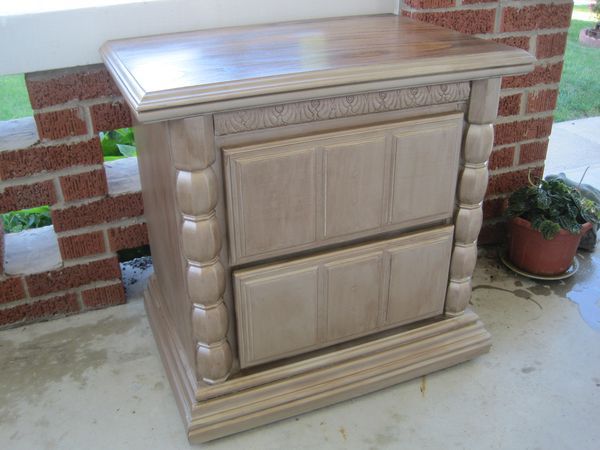 Approximate Time: 6 hours
Supplies:
electric sander (opt) but makes it easier
stain (unless leaving it natural on top)
primer paint (I used Kilz)
water based polyurethane
spray paint (I used Kryon's Caramel Latte)
brush for applying primer
brush for applying poly
metallic glazing paint (I used Decoart Metallics)
Instructions:
Before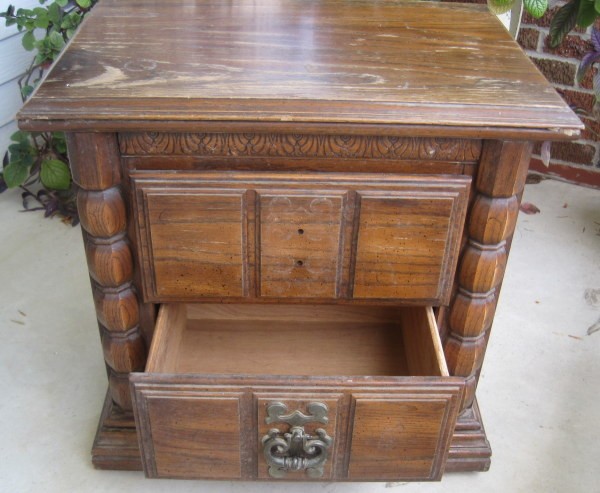 Take all hardware off.
Remove drawers.
If they stick, sand down the tops of the drawers till they don't stick.
Sand the top of the table till all varnish is off and you have raw wood.
If you choose to stain, do it now.
Clean well, both the table and the drawers.
Apply polyurethane, at least 2 coats, letting dry between each one and using a piece of cardboard to knock down any bubbles you may have. Just run the cardboard across the top a few times. It works great.
Apply primer paint to the bottom of the table and drawers.
After that is dry, spray paint the bottom part of the table, including drawers. It is better to give it two thin coats than one coat because it will eliminate the possibility of runs.
After thoroughly dry, apply glazing paint that has been mixed with a small amount of water (I would say about 25% water) immediately wiping off most of it. It is desirable to leave some in the cracks and crevices of the design. I used a rag for this, but you can use a brush.
After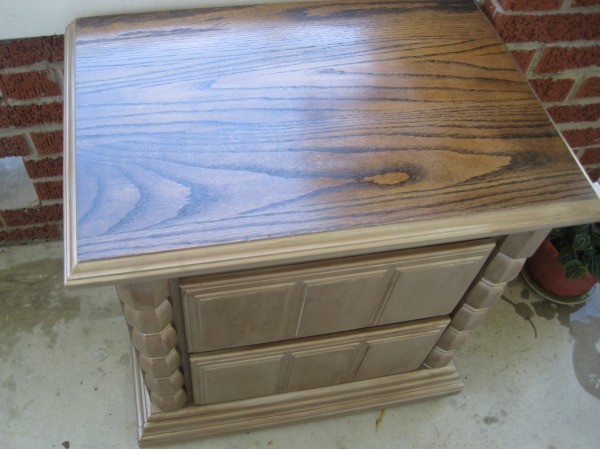 By Elaine from Belle Plaine, IA
Ad
---
By Lee 150 08/26/20110 people found this helpful
A very well done job. What a difference 6 hours and some work made. Kudos to you, and thanks for sharing your handiwork with us. Lee
By Elaine S. 39 243 08/26/20110 people found this helpful
Thanks Lee. It was fun to do!
By Keeper 58 1,056 08/27/20110 people found this helpful
Beautiful job. 2 thumbs up. Thanks for sharing with photos.

Keeper
08/31/20110 people found this helpful
I've been waiting to see a photo of your project and it was well worth the wait, Elaine! You did a beautiful job! Will you come visit and do my coffee table for me? I'd gladly cook oodles of good meals for you in exchange ;-)
By julie 6 83 08/31/20110 people found this helpful
Looks lovely Elaine, Is your topcoat (for the bottom part) like a varnish with a metallic sheen to it? That's clever! Nice job!
By pam munro 523 790 09/01/20110 people found this helpful
What a nice & fancy job! I just sand out imperfections & touch up the finish - If I sand, I use an oil finish - either Watkins - or, I have even used just baby oil! Very easy! (but I always perfer the wood itself.)
By Heather Stimmel 2 31 09/05/20110 people found this helpful
Gorgeous! I love frugal projects such as these. There's not much better than getting something for free, and making it beautiful again with minimal cost and effort;)
By Elaine 173 890 09/10/20110 people found this helpful
For Ausjulie, yes the bottom is a metallic paint. It is "Caramel Latte" by Krylon and then is glazed over that with a metallic craft paint by DecoArt called "Rich Expresso".