When you kitty has an accident on the carpet it can be difficult to remove the pee and the odor. This is a guide about removing cat pee and odor from carpet.
My daughter is moving out of an apartment and the management company tells her they have a device that will detect cat pee in the carpet because cat pee doesn't dry - has ANYONE heard of this before? I've contacted the company that sells this device - it is actually used to detect moisture from water damage, water, etc. nothing about cat pee, and am awaiting a response from them. I cannot find anywhere on the internet if cat pee truly does not dry - I need to find out how they can use this as a defense before we do the walk through.

Charob
August 20, 2005
0

found this helpful
this sounds like a scam to me, just do the walk thru and take an empty spray bottle, preferably new and in a sealed store bought package, and a video camera. Tape the walk thru under the disguise that you want proof of how you are leaving the apartment, (a good idea for any one that rents) when they "detect" urin simply open you spray bottle and walk to the sink, fill it with ordinary water walk over to a different spot on the carpet and mist it, have them check this freashly sprayed area, when this device says that is urine, politly ask them to prove the first spot was not just water, they should have quite a hard time doing so if you are savy with your words, not to mention you'll have one heck of a funny video.
April 16, 2007
0

found this helpful
Yes, cat pee DOES dry... it just has an oily texture to it that does leave a residue unless cleaned properly.
The only device that would be able to differentiate cat pee from other substances would be a blacklight.
August 19, 2008
0

found this helpful
Cat pee does indeed dry - but under a black light it will show (glow). But so won't spit, blood and other bodily fluids. Even though the stain looks gone.
October 23, 2008
0

found this helpful
I'd suggest Anti Icky Poo, or other products that contain bacteria (not just enzymes). The bacteria in Anti Icky Poo is purportedly hardier than the other brands such that it can withstand some disinfectants, not a problem unless you tried disinfectants first. The bacteria will spread to follow its food source (the cat pee, wherever it managed to soak) until it has been consumed. It might temporarily stink worse until the bacteria have finished. The phosphorus salts in the urine are not affected, and will still show under black light. But they can be removed from the surface by conventional shampooing.
Read More Answers...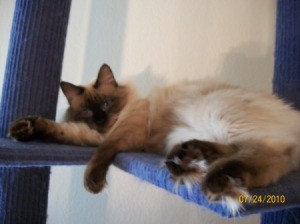 My cat who is being treated for a UTI is adamant that he will continue to pee on the carpet in the same area rather than use his litter box; however, he does use the box at times, it varies. I've use peroxide, vinegar, and baking soda in past, but I am out of it at home. Sometimes it worked; sometimes it didn't. My question: I do have rubbing alcohol in my cabinet at this time,. Does anyone know if this will discourage a cat from peeing on the carpet once he smells this strong, unpleasant odor?
By Kathy
July 13, 2011
0

found this helpful
My cats do not like the smell of lemon, citrus. It might be worth it to squeeze the juice of one in that area and see if he stops using it. Grate some peel on the area! Of course, he may just switch areas, cats are strange creatures. I have four; three males and one female. Never thought I would like cats but these adopted us one at a time. And I find them quite interesting.
July 13, 2011
0

found this helpful
I mixed up white vinegar and water l/2 cup of white vinegar to gal or less of water. Then I took a couple handfuls of baking soda and put on the place where the pee was and all around it making a white place on the carpet and poured the hot vinegar water into that place. It fizzes and soaks all the way to the base floor, ours is concrete, and then I take the shampooer and just pull the liquid out of the carpet.till no water comes up and let dry. After it is dry I put garlic powder and Black Pepper sprinkled all around the area he liked. He didn't go there again. Doesn't like the garlic and pepper and the vinegar and soda took care of the odor. This is just what I have done that worked.
July 13, 2011
0

found this helpful
If your cat keeps peeing in the same spot, shampoo area then put cardboard box on top then the litter pan, keep changing paper box,helps get rid of order, I also put plastic on top of box then litter pan. It has helped me with my cat using his box again and the plastic catches accidents which you roll up and throw away.
July 13, 2011
0

found this helpful
The is a product called Comfort Zone with feliway (onlynaturalpet.com and many pet stores). It is pricey. It comes in a spray and diffuser. Cats will not mark where it is sprayed. It works very well (spray is best, diffuser helps) but you must use it daily, or even twice daily. Be sure you have gotten rid of as much odor as you can with the enzymatic cleaner (it can take a day or two to dry) I like Natures Miracle. Many pet stores carry it.
Read More Answers...
I took my cat to the vet and she did have a UTI. She still is peeing in the same spot. What do I do? We live in a an apartment and that will be a pretty fee when we are out of here. I did get a new cat box, the Tidy Cat Breeze one, with pellets. Should I go back to the old way or the electronic way?
By Kim from Mishawaka, IN
January 14, 2011
0

found this helpful
I suggest you try an enzymatic cleaner. It'll break down urine, feces, vomit (biological wastes) so that the cat doesn't come back to the same spot. You'll have to saturate the area to get down to the padding, and you might want to treat the area twice, just to be sure.
Just a few days ago, someone posted about a dog peeing on the floor. Maybe it'll be of some help to you.
January 14, 2011
0

found this helpful
If you look further down this page I have listed a recipe that most folks have in their cabinets and I do guarantee it works. Please scroll down to see it. I would post it again, but then it would be repetitive.
Hope it works for you, it has worked for us in many situations including a cat that got into my husband's van (we forgot to close the back door all night long) and he no longer has that nasty smell.