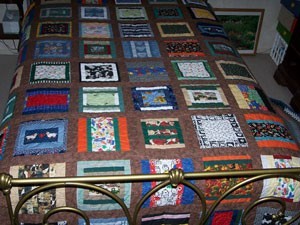 I had a lot of novelty print scraps of fabric. I started cutting my scraps into 1 1/2 inch strips for rag rugs. Then I thought, "What better use can I get of these cute motifs?", a quilt of course. Then I sewed squares together using a piece with a picture on for the center and built around it to get it the size I wanted to use in the quilt. I decided 9 inch squares would work. Some pieces were already cut into 1 1/2 strips strips so I used them too. I had cows, ants, hearts, tractors, lady buds, flowers, trains, teddy bears, bunnies, doggies, sheep, western, apples, and frogs; anything a youngster would love to look at and talk about. I decided it would be my granny quilt for a child to use as a learning tool. However, it got a little big and turned out to be a full size quilt. I guess I was having too much fun.

By D.Lockwood from Millbury
By Little Suzy
Ad
---
By louise (Guest Post) 06/11/20080 people found this helpful
I made something for my son who retired from the navy. I saved all the sweatshirts and t-shirts both he and I purchased over the 22 years he was in. Well I made a quilt out of them and needless to say he was very moved. Out of one of my favorit sweatshirt I made a feather filled pillow also. He was totally moved. Made me feel extra special too.
By Debra Williams 42 11 06/11/20080 people found this helpful
THIS IS GEORGEUS.I WANT TO START QUILTING.IF YOU WOULD SHARE YOUR INSTRUCTIONS WITH ME I WOULD REALLY APPRECIATE IT.MAY GOD BLESS YOU. DEBBIE IN TENN
redbarn816@yahoo.com
By Trish Sablic 16 06/12/20080 people found this helpful
Your quilt came out great! Your children will treasure it in the years to come.