January 10, 2008
What a cute looking dog you have, I bet you get a lot of compliments.
January 10, 2008
She is adorable. Does she sleep under the covers??
January 10, 2008
I think the cold ears can be blamed on the dachshund in her. I have a female beagle/dachshund and her ears stay cold, also! They do make good snuggling bed partners, tho, don't they? She's really cute and loveable. Thanks for sharing and God bless you!
By guest (Guest Post) Flag
January 10, 2008
What a lovely dog! It looks as if she's posing for the pix.
By guest (Guest Post) Flag
January 11, 2008
My vet once told me that cool/cold ears was a sign of wellness. If they are warm, then they might be sick.
By guest (Guest Post) Flag
January 12, 2008
That Roxy is one cute dog. I too think he was posing for you.
By guest (Guest Post) Flag
January 17, 2008
As the mother of a Min Pin, I know a good looking dog when I see one, and Roxy is a doll. Min Pin's are my favorite dogs in the world, Rowdy is our 2nd one.
By guest (Guest Post) Flag
September 4, 2008
My wife and I have tried to figure out what mix our new adopted puppy is and had decided on the D/Mini Pin. Seeing the picture of your baby proves it out. Our Dogs name is Drei because she only has three legs. Got chewed up when she was a pup and sent to the Humane Society where the vet amputated her right rear leg. The description of your dog fits Drei to at T. Glad we found her. She is 7 months. Will try to send an image.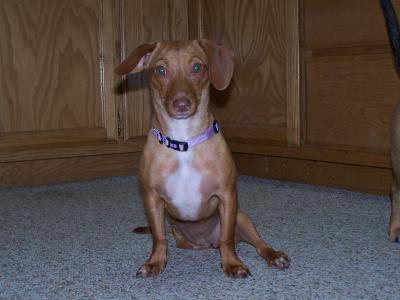 By guest (Guest Post) Flag
November 5, 2008
Dear Roxy,
Hi, my name is Rascal. I am a 8 month old min/pin/dashund mix and everyone tells me I am adorable too. I entertain everyone for hours with my great personality and sense of humor. I love my new family and I especially love my new master. she is so good to me. My masters daughter said you and I should have puppies, they would be absolutely adorable. Well, have a nice day and I look just like you. bye, love, Rascal
By guest (Guest Post) Flag
January 11, 2009
I love my Daschund/ Min pin. His name is Merlot. He is the sweetest dog I've ever known. He's a cuddler and loves to give kisses. This picture is when he was only about 14 weeks old it's my favorite pic of him. He is now 10 months now.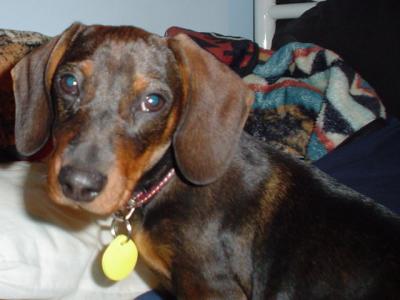 September 29, 2009
Love your Roxy! So cute! Here is Scooby a min pin/Dachshund mix. I think these dogs are the cutest mix ever.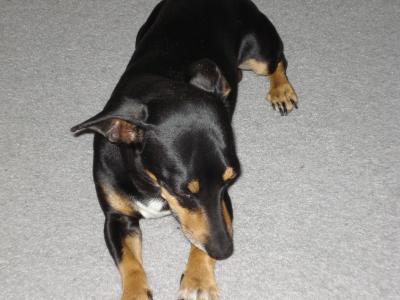 By TrinaLynnConner 1 Flag
August 11, 2011
My daughter-in-law just sent me a link to this site. naepae I love your Scooby! My Rok looks a lot like him! We aren't for sure what mix he is but we do know he is part Corgi for sure. We have speculated that he may have some min pin and now I am convinced! Wasn't sure about the Dachshund but it may be so also. Rok is a cuddler too and loves to sleep under the covers up next to my leg. And he is very feisty! Thanks for sharing about your dogs!