Solutions: Storing Fabric
Read and rate the best solutions below by giving them a "thumbs up".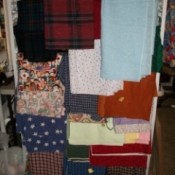 I found a shoe rack when I was browsing the local "as is" store. It was $1.00 so I scarfed it up and have all my larger pieces on it. Smaller ones I put in zip lock or clear veggie bags so I can see what I need. Clear plastic tubs can be so very handy, and I get mine secondhand to save money.
I hope this helps. Staying organized means never having to say "where is that"!
By Sandi from Salem, OR
Most of the fabric I purchase is on bolts that are 54 inches long and difficult to store. I found a cardboard blueprint storage box at Staples and now all my bolts are stored on end. They stay neat, don't fall all over the place and I can easily view the fabrics.
By Gon2oahu from Victoria, B.C.
Share Your Feedback:
Once you try any of the above solutions, be sure to come back and give a "thumbs up" to the solution that worked the best for you. Do you have a better solution? Click "Share a Solution" above!
Questions
Here are questions related to
Storing Fabric
.
Fabric Storage Tips
Tips for storing and organizing fabric for crafts. Post your ideas.
---
Most Recent Answer

By Louise G (Guest Post)
01/26/2009
I am storing some costumes and some fabric in a small store. We don't have a lot of room in our store to hang things, so ideally I want to use one of the shelves for costumes and fabric.

Can anyone help? If I store the fabric in plastic containers with holes in, will the fabric keep? Thanks for reading
Louise
Storing Fabric
I am looking for ideas to store large, heavy quantities of fabric. I read some posts and saw some really cool ideas, yet my problem is a lot larger. I have approximately 35 bins of wools and denim given to me and I would love to find a better way of storing them. The woolen are about 5 yards each.

Your help would be great!
---
Most Recent Answer

By jantoo (Guest Post)
02/19/2007
You lucky duck! I'd go through them all to make sure they're clean and in good condition (no offense to the donor), then make a master list of everything, and on each bin put a list of its contents with a small scrap of each fabric, all in a zip-lock envelope. I have bins of fabric too (about a dozen), and I wish I'd done this right when I bought each piece. I also wish I'd done this as I bought yarn.
Storing and Organizing Fabrics
I'd like to know any suggestions for storing and organizing fabrics. I have bolts and bolts of it, probably close to 100 bolts or folds of fabric. Right now it's all in huge TV boxes and 30 gallon plastic containers.
By Winnie-007
---
Most Recent Answer

By frugalsunnie
12/09/2011
Oh wow, I have definite fabric stash envy! And a lot of empathy for your storage predicament. Have you considered trouser hangers for the off-bolt stuff, and maybe several of those cascading hangers to keep types together?

Considering the amount of space the boxes must take up, I'm wondering if wardrobes (armoire) wouldn't be a good way to organize, too-the bolts could be stored upright inside a wardrobe right along with the loose fabric you've organized on hangers, and it would probably take up much less room than the boxes. Depending on how big your stash is you could have a wardrobe for each type of fabric you have.

You could hit the yard sales and thrift shops for a wardrobe, or you can buy fabric/vinyl ones at big-box stores. A wood wardrobe here in the UK can be found for as small an amount as £5 in the charity shops (lol, just found one last week, and it turned out to be a 1930s Art Deco), the last time I was in the States I saw a really lovely one at a yard sale for $10.

I am using my £5 wardrobe for my clothes, but I think I'll go looking for another to use for my fabric stash-I think I'd feel very chic with my fabric stash peeping out from an open wardrobe:)
Related Guides
Related Posts