Does anyone have any directions or info on how to make those candy wrapper purses/coin purses?
By SandraA from San Jose, CA
Archives
Thrifty Fun has been around so long that many of our pages have been reset several times. Archives are older versions of the page and the feedback that was provided then.
I am looking for a pattern to make purses out of candy wrappers, etc. I know they use a gum wrapper chain but then how?

Karyn from Indepedence, MO

Answers:
RE: Candy Wrapper Purse
08/12/2005
I saw something along these lines on the Martha Stewart website just yesterday. Look in "Good Things".
By Peggy
RE: Candy Wrapper Purse
08/13/2005
http://www.henriettashandbags.com/free-handbag-patterns.html

THIS IS A LINK FOR FREE PATTERNS FOR TOTES AND PURSES. HOPE THIS HELPS.

By SNIGDIBBLY
RE: Candy Wrapper Purse
08/13/2005
http://www.craftster.org has a section for purses and handbags and a special section for reconstructed purses made out of wrappers and other recyclable items.
By Linda
RE: Candy Wrapper Purse
01/12/2006
I made a purse out of all the different kinds of skittles bags. All i did was put 4 different kinds of skittles wrappers on each side then for the the sides and the bottom i used the sour skittles wrappers because they are made of stronger plastic in comparison the the origial bags. i put the bags side by side and seperate the sides from the bottom. i then glue them to hardstock paper and them laminate them. You buy some clear plastic at any craft store in the fabric area and you sew the pieces together. I then lined the edges with ribbon and sewed 2 peices of ribbon together for the handel to make it more sturdy. Its kind of hard to explain, but its quite easy and pretty effortless. And it makes for a cute unique purse that everyone will love!
By hEaThEr-LyNNe at hotmail.com
RE: Candy Wrapper Purse
05/25/2006
www.sweetiepurse.com
By Diana
Making Purses Out of Candy Wrappers. I am looking for instructions on how to make purses, belts etc. from recycled candy wrappers.
Thanks for any help.
Elizabeth
---
Directions
I believe that I figured it out and i'll do my best to explain. you just make all of the strips slanted to the right (or left) three squares long and all of the strips slanted in the other direction two squares long. If you don't understand, maybe these pictures I made will help.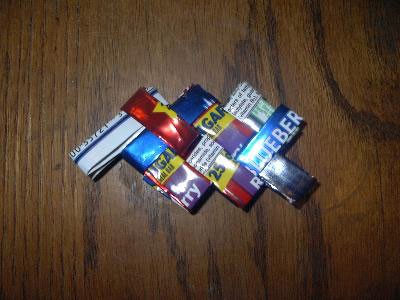 Good luck! (07/16/2006)
By Flim
RE: Making Purses Out of Candy Wrappers
Have you created the purse yet? I have been looking for hours on the web. I have come close but not a full description of how to make it. I bought one in Honduras just last month. It's a small clutch. It was only 7 dollars american. I have several pictures of the complete display (including a used Doritos bag!) I was really short on cash, otherwise I would have purchased many many many. Next time I go, I am buying them and will take one apart. I just don't want to ruin my only purse. (07/27/2006)
By Cherry tArt
RE: Making Purses Out of Candy Wrappers
Here's the deal. You don't want to know how to make these purses and here's why. While in Honduras, I purchased a small pencil-case sized purse made from recycled snack bags (like Doritos).
When I returned to Cleveland I used Google on the internet and found http://www.basurabags.org/ This is the site for a micro-business created by a woman named Analea Bruaburger who spent 23 months in Honduras via the Peace Corps.
Originally, I was hoping to learn how to make the purse, but, I changed my tune within minutes of speaking to Analea.
Here's the really neat thing:
ALL the proceeds are returned to the people who make the bags. Every last cent and they are made from trash! (Honduras has a huge trash problem) so she found a way to help educate people about recycling and found a way to help them make a living!
I encourage you to check out her site and then buy a purse. If you saw the kind of heartbreaking poverty most Hondurans live with, you'd feel like I do. As soon as I heard her story (since I did call her) You would realize how unethical it would be to copy this idea and make them yourself.
You can make a REAL difference in the world and in the lives of these people. Buy purchasing a bag, you a paying for a lifestyle. So... stop the angst over trying to make these, and instead, make a difference in the lives of some very poor and very beautiful people.
Her story is wonderful about the handbags, how they are made, how she is in the process of upgrading the website for more visibility-particularly because people have ripped-off the idea and are selling bags that are...
A. not made from trash.
B. don't support the poor in Honduras.
I hope you'll check it out and spread the word, and do something good for others,.
End of sermon.
Cherry tArt in Cleveland Ohio, Humanitarian and cheerleader for the under-served (08/19/2006)
By Cherry tArt
I am trying to find a pattern and directions on making a purse out of candy or gum wrappers. I've looked all over the Web and haven't found anything promising.
Kim from Hurricane, WV
---
RE: Making Purses Out of Candy Wrappers
www.ecoist.com has a tons of things made form it. (03/25/2007)
By Alana
RE: Making Purses Out of Candy Wrappers
While I was in prison, I saw all kinds of things made in this style of weaving wrappers from picture frames, to little booties, to bud vases for paper flowers, to purses, and cigarette cases.
You start with a piece of paper 3 times the width of the "square" that shows and a little less than 6 times the length of the"square". You can use the wrappers or plain paper, even wrapping paper covered with a piece of cellophane the same size.
You fold it in thirds lengthwise. ( the folds running the long direction)
You then fold it in half with the folds from the previous step on the inside so the cut edge is inside the piece. (the fold runs across the length)
Next fold the halves in on themselves so you have a piece about twice as long as it is wide.
Once you have a whole pile of these pieces you can begin to weave them.
This is done by interlocking them. The folded half of one fits into the inside folds of the next.
You continue to add pieces and weave them into your shapes. Rectangles are easiest.
After you have them all woven, you can lock them together with dental floss or other strong thread using a wide plastic needle to pull the floss though the joints in a pattern, that adds strength. The thread/floss can't be seen as it is the inside of the folds.
Guys used plastic from plastic bottles to cut into a wide long shuttle to weave the thread/floss. A drawing would be easier to explain with. Take apart one and find out how they are made. Hope this helps. 10/15/2007)
By Mark
RE: Making Purses Out of Candy Wrappers
(submitted via email) http://candywrapperpurse.blogspot.com/2007/08/chip-wrapper-purse.html Try this address. It shows step by step how to complete a folded potato bag (purse) same for any candy wrapper or gum wrapper purse you want to make. Emily (08/15/2008)
By jess_admin
I've been searching to find a way to make a candy wrapper purse, but they all involve weaving the wrappers. I want to make it different, somehow, so you can see all that's on the wrappers. Maybe including thin plastic, like the kind in the fabric section of craft stores.
I have an idea in mind, but am not sure about how to attach the wrappers to the plastic, then attaching all purse pieces together. Any suggestions would be helpful. I know this will involve effort and time (I have plenty of time and I don't mind the effort), but I really want to recycle my wrappers. Thank you in advance.
By Craftymama
---
RE: Making Purses Out of Candy Wrappers
I have never made these, sewing with fabric is my field, but I use a lot of fuzzing paper to my fabrics when wanting to make applique or just to make a piece of fabric stiff. I was thinking it would work good for your project, but the fuzzing paper has to be connected to the fabric with an iron so since your using plastic not sure that would work since it could melt it.
I even thought you could stitch your wraps to your plastic by machine, maybe that would work. Because when I make my vinyl beach totes I attach fabric to it by that method and the stitch is very binding. I use decorative stitches with different color threads which looks great by over lapping the squares. But again your wraps are what "waxed papers?" so not sure how that would hold up if stitched.
Maybe the clear tacky glue would work between the 2 pieces to attach, then sew them together? I hope you post a picture when you make it a different way. As you say they are always criss crossed and the view of the design is not seen much only giving you multi color. I have seen the Kool aid packets sewn into totes so I would think the 2 are much the same. Good luck. (04/09/2009)
I have seen some origami "fabric" made out of sweet papers (candy papers), but cannot find out how to make them. I want to make a handbag or purse with these for a recycling show due here in Wrexham in June.
I cannot find any instructions for the origami, how to make into "fabric", or how to make the purse. However, it is the origami part I really really want to know how to do. Does anyone know where I can get these instructions please?
By Karen from Wrexham, Wales, UK
---
RE: Making Purses Out of Candy Wrappers
Here's a link to directions on You Tube: http://www.youtube.com/watch?v=tTjw0mMueOAandNR=1 There are others on the website too. Go to www.youtube.com and do a search. Hope this helps. (04/28/2010)
By Momof1
Answer This Question
Add your voice to the conversation. Click here to answer this question.