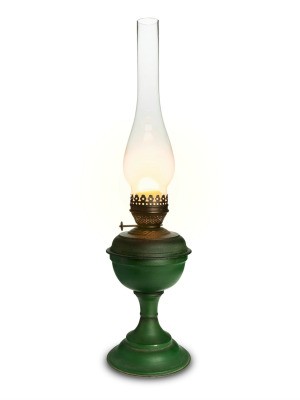 Olive oil has low volatility and generates less smoke and less soot than most other oils. This is a guide about using olive oil as fuel for oil lamps.
Ad
---
Solutions: Using Olive Oil as Fuel for Oil Lamps
Read and rate the best solutions below by giving them a "thumbs up".
I just came across this great 'How to make your own Olive Oil Lamp' tutorial and I think you guys will like it a lot, too! Be sure to also read page 2 and there is a button to click and enlarge the photo for easier understanding of the instructions. Oh, and there's a comment section at the end of page 2 to see other peoples ideas and links for different oil lamp models ;-)
Happy olive oil lantern making!
By Deeli from Richland, WA

View This Page
This page is not on ThriftyFun, but we had to share it. Be sure to come back and rate it.
Give a "thumbs up" to the solution that worked the best! Do you have a better solution? Click here to share it!
Questions
Here are questions related to Using Olive Oil as Fuel for Oil Lamps.
Q: I have read somewhere that olive oil is a safe, inexpensive and non- toxic substitute for lamp oil. I tried to use it in one of my oil lamps, but it didn't work. The wick burnt, smoked and went out.
Does anyone know if a special lamp or wick is required to use olive oil?
Terry Lynn from Toronto, Ontario
A: Terry Lynn,
It's a safe, renewable alternative, but I'm not sure how inexpensive it is. It's safer to burn because olive oil has low volatility due to its high flash point (it won't burn until it reaches 550°F). Burning olive oil also generates less smoke and leaves behind less soot than most other oils. Older olive oil tends to burn the best, and even when rancid is practically odorless while burning.
The key to burning olive oil is to keep the wick saturated at all times. The thickness of the oil affects the capillary action so soaking the wick in oil before lighting it works best. Use wicks with a large weave or even tightly twisted strips of cotton cloth. You can also make a wick from a cotton swab. Dip the swab into the oil and then twist the oiled end off of the swab stick and shape it into a teardrop. Float the "teardrop" onto the oil and light. Use low-grade olive oil. It will burn just as well as any high-grade olive oil, but will be cheaper. A little will go along way because it burns quite slowly.
Ad
---
---
Most Recent Answer

By Abigail A. [12]12/03/2014
Look on Lifehackers website for a DIY recycled kitchen fat-burning oil lamp. Interesting.
I just purchased several inexpensive oil lamps and I placed them around the house in case of power outage. I decided to do a trial run; I went ahead and lit them, all burning a cheaper Walmart product, Medallion lamp oil.
I am curious to know the rate at which olive oil burns, specifically, how long will the 1/2 cup of olive oil I've just put into my first homemade olive oil-Mason jar lamp last? In my workplace we use numerous paraffin tea lights every night.
I am hoping to find an inexpensive, eco alternative that I can turn my bosses onto. I'm guessing they will want to know how long the olive oil will last so they can calculate costs for this lighting option.
Thanks!
By kb
Ad
---
---
Most Recent Answer

By Alynn Williams01/21/2014
Can't you just light one and time it? Also would probably vary on the quality of the oil and wick that you use.
I know there's a proper name for the poor quality, high-acid, non-food use olive oil that's preferred as lamp oil. It would not be sold in grocery stores.

By Pat M.