My husband and I recently repainted our house, removed all the front hedges, poured in 17 bags of river rock over landscaping fabric, built and installed porch railings and installed a new garage door and opener.
I sanded, primed and painted the front door red. It was an ugly dark brown and the house color was a faded tan before.
We will plant flowers in the Spring but until then, the flower bed has two lonely hibiscus plants.
Our house is twenty years old, is on a corner lot and is a 1/4 acre.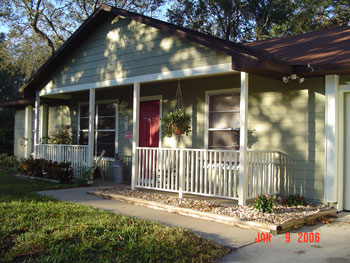 By Sandra from Orlando, Florida
Ad
---
Feedback Forum
Feedback about this article is posted here. Want to contribute? Click above to post feedback.

01/20/2006
thank you everyone for your nice compliments, they are very appreciated.
I had thought of adding more hanging plants but I really don't want the water and sometimes dirt, getting on the railings. I am considering a one-person porch swing to hang on the right side of the porch area closest to the garage. A friend of mine is giving me several pots of Nandinia (?) plants. The only problem with that plant is they are invasive and will spread like wildfire if not controlled. The bear red berries and flowers and apparently are very nice year round.
Thanks again!!

By Holly [349]01/17/2006
Am thinking a couple of planters or pots with bright red (to match the door) flowers would look great on the porch or on the white river rock. Go to the Dollar store for them. I had to do something similar in an area that doesn't receive enough water from the sprinkler system.
Can also do hanging baskets with bright red flowers. I mixed the fake plants with the real ones and no one can tell the difference.

By Ruth Kennedy [4]01/17/2006
Wonderful job.....we have red doors too.....enjoy!! :0)

By Debbie Dzurilla [24]01/17/2006
You did a very nice job and I love the red door! Enjoy all the compliments!

By Stacey Silva [52]01/17/2006
Ooh, very nice! I like that a lot!

By Katie [3]01/16/2006
It looks wonderful and well-taken care of. Nice job.

By Brenda from Fort Wayne (Guest Post)01/16/2006
Your home is absolutely Beautiful. All that hard work certainly paid off.
Post Feedback
Add your voice to the conversation. Click here to share feedback.