Storing Light Bulbs Out of the Package
We purchased a lot of fluorescent light bulbs at Sam's (size of an incandescent light bulb) because DH likes to have lots of spare 40 watt equivalent bulbs in the house. They come in long sheets, too big to store in our usual light bulb cabinet. I decided to trim the cardboard wrappers to get them to fit, but it's too thick. What's a good way to store them out of the sturdy packaging and limit breakage, yet keep them convenient?
By cookwie
Answers: Storing Light Bulbs Out of the Package
Read answers for this question below.
Thanks Poor But Proud for that photo. I never thought of that way of storing odds and ends. You are soooo clever. I really appreciate the photo. A picture is worth a thousand words, You are poor but smart ;-)
Sounds like you have the long, tubular bulbs. If so, some of the following may work: a canister type umbrella stand (about 2 ft. tall), a plastic Rubbermaid wrapping paper holder (maybe without the lid - depends on the length of the bulbs), or cardboard box that wallpaper rolls come in (ask a store that sells wallpaper to save one). Hopes this helps!
Try a pringles can, with some wadded up plastic bags in between. I also keep my longer ones in a shoe bag that is also my "junk drawer no more"!!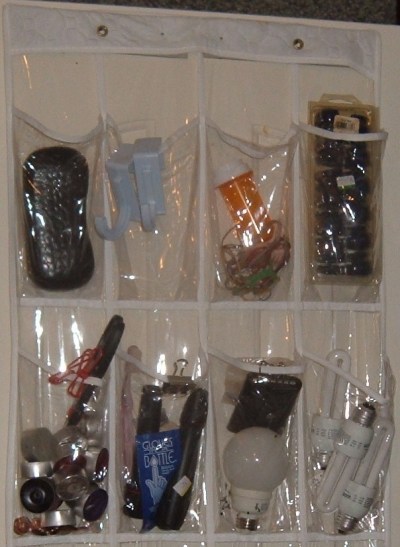 Answer This Question
Add your voice to the conversation. Click here to answer this question.