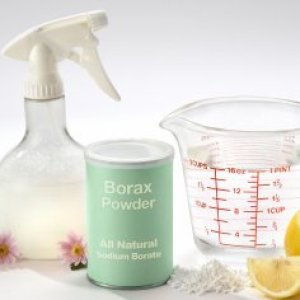 Borax has many uses when it comes to cleaning. Not only is it a great stain remover it also works well as a deodorizer. This is a guide about cleaning with borax.
Ad
---
Solutions: Cleaning With Borax
Read and rate the best solutions below by giving them a "thumbs up".
I have hardwood and tile floors. I tried everything to make them shine. One day I was in a hurry. I grabbed a bucket, put in about 1/2 cup of borax, filled it with hot water, and mopped all the floors. When they were dry, it looked like I waxed and buffed them! So simple and so cheap! No more Mop & Glo!
Hi, I have seen some tips about using borax for many different things from cleaning to pest control. I looked every where for borax to no avail, but I did find a 12 oz. can (looks similar to a can of comet, just a little smaller) of Boraxo Powdered Hand Soap. It is absolutely fabulous! It works great on tough laundry stains. I had clothes that my husband owned that I thought were ruined but after using Boraxo the stains are gone. I have had several people ask me how I get his jeans to look so good considering the kind of work he does, and I tell them about the 12 oz. can of $2 Boraxo that works wonders. It is also good at getting rid of roaches. A neighbor brought some clothes over in a box so I could go through them and see if any would fit my grand children. Not long after that, I saw a few roaches. I have never had roaches before, so I freaked out. I fogged part of the house and used some Boric Acid but I was very concerned about what to use in the kitchen until I found out that you could use the Boraxo. I tried it and it worked fantastically. It is safe around food because, like I said it is a hand soap, and so you can put a little in each drawer and in each cabinet. It has several more uses; it is a wonderful little $2 can of possibilities!
By nickykitty from Cullman, AL
I discovered this by accident since I am trying to go chemical free and organic. My young boys love blueberries, and one got them all over a white shirt. I decided to put the shirt in a big bowl of water with about 1/8 cup of borax and left it in the sink overnight. The next morning you could not tell it ever had blueberries on it! I have done this with another type stain (something red), and it worked on it too.
By Kim from Midlothian, TX
Give a "thumbs up" to the solution that worked the best! Do you have a better solution? Click here to share it!
Questions
Here are questions related to Cleaning With Borax.
I have a 17 month old daughter who has a heart defect, allergies to wheat and dairy, and is asthmatic. My landlord is currently wishing to send Rentokil to my home to treat woodworm which is rampant throughout the timbers of my home. Rentokil wishs to use borax and boric acid in order to treat the problem (Control Fluid SB). My concern is for my daughter who, as I have listed out above, may come to harm. Can you advise please?
Thank you.
By Julie E.
AnswerWas this interesting? Yes No
Ad
---
---
Best Answer
By Lisa [2] 07/11/20110 people found this helpful
Julie, I think you should be asking your daughter's pediatrician or specialist about this. Surely they can give you better advice than us. I imagine they have a nurse who will speak to you. If the nurse cannot answer your question, s/he will check with the doctor and call you back. Best of luck, and I hope your daughter is doing well!
---
Borax is a cheap magic additive. First it makes the detergent more effective. The clothes will be cleaner and dust mites cannot live in it. Children and adults would eliminate dust mite allergies. But the other great attribute is that it kills 100% of mold.
In the wash cycle Borax provides a great boost to the cleaning, kills mold and dust mites and other parasites. It is about the gentle alkaline of the Borax. These bad actors just can't survive in Borax. But Borax should also be added to the last rinse.
Borax permeates the fabric and makes the fabric smell fresh, but the borax particles remaining are actually good for the skin, eliminating body odors, killing mold, parasites, fungus, and dust mites as your body contacts them. But here is the big problem. To maximize the wash Borax needs to be part of the detergent. To provide an even more protective barrier it needs to be added to the last rinse so it remains in the dry fabric after the wash.
Borax is so cheap and does so much. Why washing machine designers do not provide options to inject Borax at multiple times is something that has always perplexed me. For front loader machines Borax is an absolute "must". It prevents mold and mildew around the door seal and does so automatically. Instead of chlorine which destroys the rubber seal. Borax added to the wash and rinse would keep the front load machine fresh and clean forever with no fuss or muss.
The big question is when and how to add it? Adding it with the clothes would help, but the addition to the last rinse is the most crucial point to introduce Borax. Any feedback would be appreciated.
By old chemist from Midwest
AnswerWas this interesting? Yes No
Ad
---
---
Most Recent Answer
By Julia [147] 03/15/20100 people found this helpful
I've used 20 Mule Team Borax in my washing machines for years with excellent results. Never a problem whatever. I use it in both the full wash cycle, then again as a final rinse.

If you have a top-loading machine, just run your laundry all the way through the complete wash and rinse cycles, then reset the control to wash, and again add about half a cup of Borax. You'll have to be able to catch it before it starts to drain though.

Switch the control to the Final Spin Cycle, and let it spin out...then into the dryer it goes.. (or out on the clotheslines). I set a timer for 10 minutes so that I never have a problem catching it in time to switch to Final Spin. The Borax really makes a lot of difference in the way your clothes feel and look and smell. If you want to, add a little bit of liquid Snuggle or Downy in with the Borax, and your clothes will be as soft and as fragrant as you could wish for.

Doing laundry is one of my favorite household chores. That and cooking or baking, and I'm luck to have our laundry room right next to the kitchen. I can do both pretty much at the same time.

Even if I have to go away before my laundry is finished, I can always come back, reset the machine to Wash...for 10 minutes with the Borax, then to Final Spin, and it's ready to go into the dryer.

You can do exactly the same thing with a Front-loading machine too. You just have to pay attention to the cycles of each machine and be ready to stop and change it.

Good Luck. Julia in Boca Raton, FL
---
Can somebody tell me if I can substitute bicarbonate of soda (easily available here) instead of borax (non-existent here) when I make up my own homemade washing powder?

I'm using plain soap (grated) and washing soda as my ingredients but I feel I need a bit more boosting to the mix. Something to brighten and whiten clothes would help but i don't know what to add. any suggestions please?

P.S. I use vinegar as a fabric softener in my final rinse, too.
AnswerWas this interesting? Yes No
---
Most Recent Answer
By stinkeyfeet 11/15/20100 people found this helpful
I had difficulty finding borax in the UK. Turns out they stopped making it in the summer and have now released a new thing called borax substitute. If you google it you should be able to buy it online. Hope that helps.
---
Can anyone tell me what borax is? I see it used for many things and it does not seem to exist in my country. is there a substitute for it or is it a brand name? i live in Malta, Europe. Is there anyone out there who can help?

Cettina
AnswerWas this interesting? Yes No
---
Most Recent Answer
By Marlene C. 06/20/20140 people found this helpful
Yes, Borax is a must to have around the house. Unfortunately it is not easily accessible in Malta. Certainly not in any laundry section or at hardware stores. I looked for it recently to get rid of an invasion of tiny black ants in my backyard which were making their way to my kitchen!
Well, luckily I managed to get hold of it from Levi Laboratory supplies. Perhaps you can find their address on the yellow pages.
I do hope this is help full.
Marlene
---
I just bought a 7kg front-load washer. I expect to use 1/2 cup borax per load. However, we normally wash in cold. Does borax dissolve effectively in cold water?
Thanks!
By CJ Hinke
I recently saw your video on youtube about cleaning mold with borax. The problem is I live in Holland and I can't find it at local stores.
Is bicarbonate sodium a good subtitute for cleaning mold out of my bedroom?
By Jamylle Vuyk
Archives
Thrifty Fun has been around so long that many of our pages have been reset several times. Archives are older versions of the page and the comments that were provided then.
Borax is an effective ingredient in many cleaning recipes and also is a good laundry booster. Add one tablespoon of Borax to 1 quart of water and use it as a safe all-purpose cleaner. Dissolve a 1/2 cup of borax in a sink full of water to clean delicate dishes like fine China.
Follow the directions on the box to use it as a laundry booster. If you do construction or landscaping work and have really dirty work clothes adding Borax to your laundry helps a lot.
Borax can be purchased in the laundry section at your local grocery store. Sweeten musty basement floors by sprinkling around on the concrete, let it sit for a while, then sweep up.
---
RE: Cleaning With Borax
That was really interesting. (07/15/2005)
By nmcl
RE: Cleaning With Borax
I love borax, been using it all over the house since my first baby with cloth diapers (only lasted 2 months, but loved the laundry/deodorizing results!) I use it as the base for homemade laundry soap, to boost store detergent (and extend it); to clean greasy messes; and take care of any other cleaning when my baking soda runs out! I never have to use bleach on my clothes! (03/25/2006)
By camo_angels
RE: Cleaning With Borax
The only problem with borax is the skull and crossbones. It's there for a reason. It's dangerous. It's great for laundry, but I'd stay away from putting (sprinkling) it anywhere where a child or pet could be exposed. Go for something biodegradable or organic. (07/14/2007)
By gddyup2
RE: Cleaning With Borax
Use 1 cup of Borax two teaspoons of Palmolive with Oxy *dish soap* and 1 cup hot water to clean deep dug in dirt in carpets. Allow to sit in carpet for an hour. Cover with a newspaper and dry. Thats one clean carpet!
Editor's Note: I'm not sure why you would need to cover with newspaper. I'd be worried about the ink staining the carpet. (10/30/2007)
By Cd
RE: Cleaning With Borax
I am a big Borax user. We use it with our dish detergent whenever we wash. It really gives a clean rinse on the dishes and, especially the greasy pans! I also use it as a ceramic stove top cleaner. Just sprinkle some on a wet rag, and rub together to make a paste. Rub on all those stains and burned on spills. It's really great. I too use it in the laundry. With dark clothes, I put it into the water on a small load setting until it starts to agitate. That way you make sure that it is dissolved in the cold water. Then add the rest of the water and soap, clothes, and wash away. The clothes really come out fresh, and well rinsed. It works really well as a suds enhancer and rinse agent. I may try it in the water the next time I wash my car (probably next Spring). (11/11/2009)
RE: Cleaning With Borax
I use it for carpet cleaning. Borax will also kill fleas in the carpet and with 4 dogs who love to be outside, this has the added side effect of keeping an infestation from occurring.
In a gallon of hot water, I mix 1 cup of white vinegar and 1 cup of borax and stir until the borax dissolves. I put this in my carpet cleaning machine. It's amazing how clean it gets the carpets without all the chemicals and, of course, it's a lot cheaper.
If I have any of the solution left, I add a little natural soap that I make myself and use it to mop the kitchen floor! Clean, deodorize, and sanitize all in one. (04/27/2010)
By randyw36