Some clothing just seems to be a lint magnet, marring its appearance. This is a guide about removing lint from clothing.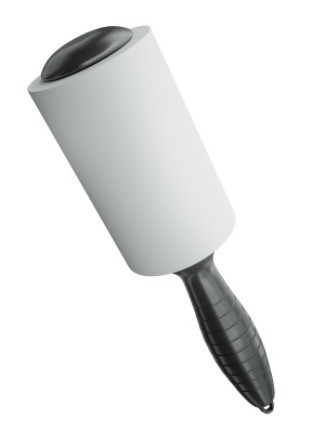 Filter

: All Articles
Sort

: Relevance
You have the ironing board out, the iron is turned on, and you get your first item out - a black pair of trousers. Oh my gosh! the trousers are full of lint, but you have no lint brush. What do you do?
My tip - Take a piece of Glad Press 'n Seal and use that as your lint remover. It works great! I use it on all my clothing that is in need of lint removing. Put the sticky side on item, press with hand, then peel up. The lint is gone!
By VaLady10 from Gloucester, VA
My cleaning lady washed some sheets that had some Kleenex with them. I believe it shredded and when I used the washing machine to wash a dark load, the Kleenex got all over the clothes. Two black pair of women's pants are now impossible to get clean. The pair that is a linen blend can only be cleaned with my fingernail and it is coated with lint.
I washed the clothes twice after this happened and most of the blouses are pretty lint free after being dried, but the two black pairs of pants are impossible. I needed these particular clothes for a forthcoming vacation trip and I am sure there must be something that will remove the Kleenex lint. I have never had this problem before when there was a little Kleenex left in a pants pocket. The only other thing that it might be is the lint from a washed rug, but I don't see any rugs that have just been washed by my cleaning lady. Help!
By Pat from Los Angeles
Answer
Was this helpful?
Helpful?
Yes
I put tape on my black clothes any kind of tape except duct tape. I tape up my black clothing including black jeans and pants, then i remove the tape. The tape will get enough lint off that no one will be able to notice. It works for me. I hope it works for you too.
Reply
Was this helpful?
Helpful?
Yes
Read More Answers...
Last week, I checked ThriftyFun for ideas on how to remove lint from dark clothing and fleece garments. I found the standard roll of sticky tape suggestion. Well guess what else works? I attached the furniture brush attachment to the hose of my vacuum and lightly brushed the surface of the clothing, back and forth, back and forth, etc. It is slow tedious work, but isn't a sticky tape roller too? This works, you won't have to rip the used section of sticky tape off the roller so it is much less costly!
By Bob from WI
How can I get lint off my clothes? Also, how do I get washing powder off them? They are all types of fabric, but mainly cotton or synthetic.
By Sarah from QLD
Answer
Was this helpful?
Helpful?
Yes
Another hint is to buy about a yard of nylon netting. I put that in my washer with the clothes as they wash. Somehow it helps reduce the lint. I'm pretty sure I found this on TF! I have also put it in the dryer. I just use it over and over till it gets so limp I have to buy another yard. It costs practically nothing.
Reply
Was this helpful?
Helpful?
Yes
Read More Answers...
A friend gave me a lint shaver. It is battery operated and takes all those little pills of fuzz off of clothing. I keep it in the laundry room and use it all the time. It has even kept my husband's work t-shirts looking newer longer, as well as my favorite sweater that I accidentally washed with towels.
Source: My very good and thoughtful friend, Connie.
By eiw from Lancaster, PA
A roll of masking tape doubles; triples; quadruples as savings for you at home. Just like the much more expensive commercial lint roller used for clothing, a roll of ($1.25) masking tape wound around your hand will remove lint as easily as its counterpart.

If you have a pet that leaves it's fur on beds and couches and in your auto just use the same easy and inexpensive technique and you'll save time and money. Why not spend your free time doing what you LOVE to do!

By Lorin Elkin
Comment
Was this helpful?
Helpful?
Yes